The iPhone 11 Pro is one of the best camera phones around right now, but although it has only been on sale for a few weeks the speculation as to what the 2020 iPhone will look like.
New rumors and renders from PhoneArena suggest the top-of-the-range iPhone 12 Pro models will have increase the number of cameras from three to four. Joining the standard,, wide and telephoto cameras seen on the iPhone 11 Pro and iPhone 11 Pro Max will be an additional time-of-flight camera. This will not shoot pictures at such, but will measure depth in the scene - allowing better bokeh effects for instance, or to help with augmented reality apps.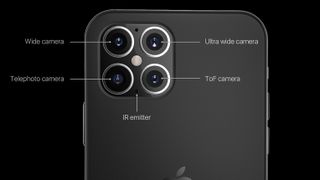 It is widely expected that the next generation of Apple handsets are also be Apple's first 5G camera phones.
Renders produced by Phone Arena also suggest that the iPhone 12 series will also return to a boxier design, reminiscent of the much-loved iPhone 4. And the website is also predicting the return of a Rose Gold option for the 2020 iPhone, which is likely to be launched in September next year.
Read more:
Which is the best iPhone for photography?