The Manfrotto Pixi Evo is clever, adaptable and, with this Cyber Monday deal, even more affordable! When closed, the legs fit together to make a handy grip for selfies and vlogging, and they open out in an instant to make a sturdy table top tripod.
It's a great buy if you're looking for an ultra-compact travel tripod, and the Pixi is one of the best iPhone and camera phone supports – all you need is a phone clamp to go with it.
The Pix Evo's party tricky, however, is its 2-section leg extensions which offer increased height and stability. It also has a simple but sturdy ball head AND you can get it in red (arguably the best bit).
Don't forget, the Cyber Monday 2019 sales are on until midnight December 2, so you've still got time to get those Cyber Monday camera bargains!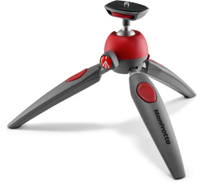 Manfrotto Pixi Evo mini tripod in red, just $27.95
The Pixi Evo is a table top tripod which also doubles as a grip for selfies and vlogging. It has a unique 2-section leg system for a wider, more stable platform, and a quick and easy ball head for camera adjustments. US deal
Read more:
The best cheap cameras and deals in 2019
The best photography magazine subscription deals
The best photobooks to buy online this holiday season
The best Cyber Monday camera deals
These are the best cameras for beginners right now