Digital Camera's November issue focuses on new ways to shoot landscapes – taking advantage of improvements in imaging technology and photo editing software in the past few years.
In a specially extended cover feature, we show our readers how to get the most out of exposure blending, focus stacking and HDR… whether in-camera or in software.
You'll find plenty of inspiration over 14 pages of hints and tips from our resident expert James Abbott.
Other highlights in Digital Camera's November issue
There's also a compelling range of photo projects this month, in Photo Active. Discover how to turn plastic cutlery into abstract art using a polarising filter, find out how to start your own home photo studio for the cost of an inexpensive flashgun and learn what's involved in taking long-exposure images of bioluminescence.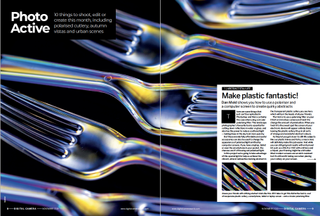 In other regular Digital Camera features, Camera College explores the world of 4K video, and shows how, even if you don't actually film video sequences, you can use 4K footage to extract high-quality still images.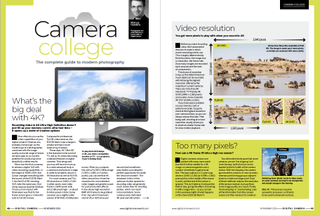 Our Hotshots gallery features highlights from Wildlife Photographer of the Year 2019, while Shot of the Month profiles an incredible image from the forthcoming Remembering Lions book.
Photo Answers covers a range of reader queries, including Image Rescue, and suggests six ways to shoot shadows and silhouettes. There are more stunning photos in our Q&A interview with Stephen Wilkes, discussing his new Day to Night photobook.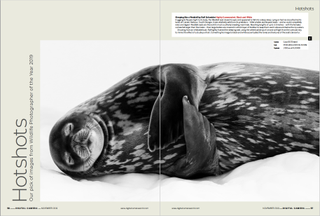 Camera reviews this issue major on a full test of the Canon EOS 90D, plus we assess eight leading 35mm prime lenses for full-frame street photography in our group test.
Lens reviews lead on a new Canon superzoom, the RF 24-240mm f/4-6.3 IS USM, and the latest prime for full-frame mirrorless Nikons, the Nikkor Z 85mm f/1.8 S.
The newest phone by Apple comes under our scrutiny, too – is the iPhone 11 Pro Max the best camera phone on the market?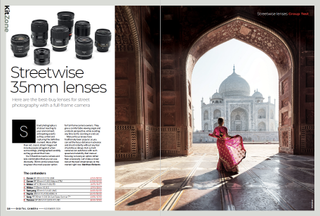 Other highlights of Digital Camera's November 2019 issue include 13 gifts: a fabulous 2020 photo calendar, nine all-new photo tips cards, 76 minutes of Photoshop and Lightroom video tutorials, a landscapes enhancer kit and a 148-page camera gear ebook.
The November 2019 issue of Digital Camera comes with 13 fabulous gifts
2020 calendar to help plan your best-ever photo year
9 all-new photo tips cards covering astro, landscapes, portraits… and more!
Video disc featuring 76 minutes of Photoshop and Lightroom video training
Landscapes enhancer kit for Photoshop
148-page Camera Shopper ebook packed full of buying advice
Subscribe now
Every issue of Digital Camera magazine is packed with tips, techniques, pro advice, reviews, news and inspiration. To make sure of your copy every month, subscribe at our online shop from just £12.50!
You can buy limited back issues of Digital Camera magazine in print at our MyFavouriteMagazines secure store.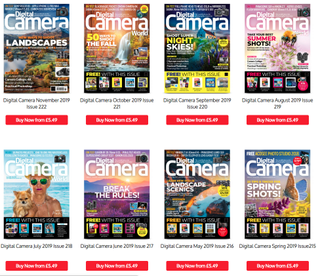 Alternatively, there are a number of different digital options available, including:
• Apple app (for iPad or iPhone)
• Zinio app (multi-platform app for desktop or smartphone)
• Google Play (for Android devices)
• Readly (digital magazine subscription service )