Today Fujifilm is finally bringing its widest focal length prime to the X-Mount – the Fujifilm XF 8mm f/3.5 R WR.
The XF 8mm has been promised for quite a while now after appearing as the final lens on Fujifilm's lens roadmap at last year's X-Summit event. At 8mm, this is now the widest-angle prime in Fujifilm's XF lineup, with an equivalent focal length of 12mm on a full-frame camera – offering a lighter, and less expensive option to the Fujifilm XF 8-16mm f/2.8 R LM WR.
The XF8mm has a viewing angle that measures 121-degrees, which is twice the angle of vision of the human eye, allowing a huge amount of view to be captured and offering an extraordinary and unique perspective. This lens is the ideal companion for landscape and travel photographers, or street photographers looking to get a different viewpoint.
The XF8mmF3.5 R WR lens is made up of 12 lens elements in nine groups including three aspherical elements and two ED elements, to help control distortion, aberrations and ghosting. Fujifilm is promising edge-to-edge clarity and amazing resolving powers to capture even the most intricate details.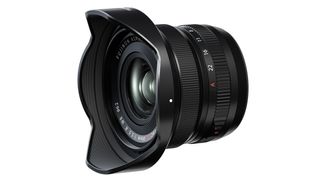 The XF 8mm is incredibly small and compact, measuring just 52.8mm long (without the lens hood), and weighing only 215g, this is an ideal lens to carry for long periods without the weight becoming a burden. Despite its diminutive size, the lens still manages to include a manual aperture ring and a focus ring. The aperture ranges from f/3.5 for low light situations and greater depth of field, as well as a minimum aperture of f/22 for front-to-back sharpness. The XF 8mm lens has a 62mm screw-in filter thread for compatible screw-in filters such a UV and polarizing filters.
The XF 8mm has an internal focusing mechanism and can focus as fast as 0.02 seconds, which is especially useful when combined with the subject tracking autofocus on Fujifilm's latest cameras including the just announced Fujifilm X-S20.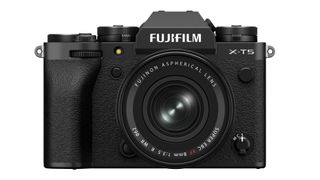 The Fujifilm XF 8mm also has the WR designation, meaning this lens is weather resistant. The barrel of the XF 8mm is weather-sealed at 10 locations to keep out dust and moisture, and the lens is capable of operating in temperatures as low as -10℃. The front element of the lens has a fluorine coating to repel water, grease, and stains.
The Fujifilm XF 8mm R WR is available for pre-order right now, with it arriving in stores in June, and will cost $799 / £799 / AU$1,429.
You can find out more about Fujifilm in our guides to the best Fujifilm lenses and the best Fujifilm cameras. Not a Fujifilm shooter, check out our guide for all the best wide-angle lenses.