We have been waiting for the XF 8mm f/3.5 R WR for what seems like an eternity in the world of camera journalism. Fujifilm dropped this lens onto its official roadmap a year ago to get everyone tantalized, but the day has finally arrived.
The XF 8mm lens offers the widest focal length prime lens currently available for Fujifilm X-Mount cameras (in first-party lenses at least), and I doubt there will be anything wider unless Fujifilm decides to make a fisheye lens.
Previous to this lens the widest offering from Fujifilm directly was the XF 8-16mm f/2.8 R LM WR, although this is a bulky and expensive lens. By contrast, the XF 8mm f/3.5 R WR is incredibly light and compact, and won't break the bank. But is this decreased size a compromise and will the XF 8mm actually be any good?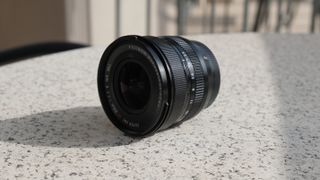 XF 8mm f/3.5 R WR: Specifications
Focal length: 8mm
Lens mount: Fujifilm X
Full frame: No
Image stabilization: No
Aperture range: f/3.5-22
Angle of view: 121°
Minimum focus distance: 18cm
Maximum magnification ratio: 0.12x
Number of elements: 12
Number of groups: 9
Diaphragm blades: 9
Filter size: 62mm
Weather sealing: Yes
Dimensions: 68.4 x 53mm
Weight: 215g
XF 8mm f/3.5 R WR: Key features
The XF8mm lens boasts a massive 121-degree viewing angle, double what our human eyes can see. That means you can capture some seriously wide and unique shots. Landscape and travel photographers, as well as street shooters looking for a fresh perspective, will absolutely love what this lens brings to the table.
The XF8mmF3.5 R WR lens is made up of 12 lens elements in nine groups, including three aspherical elements and two ED elements. Fancy jargon aside, what this means is that it's designed to minimize distortion, aberrations, and ghosting, giving you sharp and clear images with all the tiny details intact.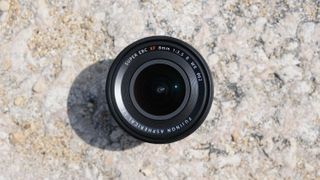 The lens is also incredibly compact, at just 52.8mm in length (without the lens hood) and a featherlight weight of only 215g. You can carry it around all day without feeling like you're lugging around a ton of gear. Despite its small size, Fujifilm managed to squeeze in a manual aperture ring and a focus ring, so you still get that hands-on control. You've got an aperture range from f/3.5 for those low-light situations to f/22 for front-to-back focus. There is also a 62mm screw-in filter thread for all your filter needs, like UV and polarizing filters.
The XF8mm should be lightning-fast when it comes to focusing, with Fujifilm claiming it locks onto your subject in just 0.02 seconds, which is especially handy when paired with Fujifilm's latest cameras featuring subject-tracking autofocus.
The build is also tough. It's weather resistant, so it can handle some rough conditions, Fujifilm sealed the barrel at ten different spots to keep out dust and moisture, and it's even designed to work in freezing temperatures as low as -10ºC. Additionally, the front element is coated with a special fluorine coating that repels water, grease, and stains, so no need to worry about smudges ruining your shots.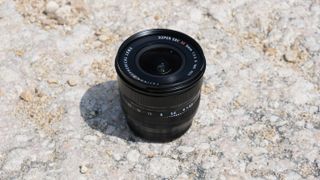 XF 8mm f/3.5 R WR: Build & hHandling
The build of the lens is superb, the XF 8mm fits in effortlessly with the rest of Fujifilm's lens lineup with their classic aesthetic, with the metal chassis feeling great in the hand. The lens's weather sealings and coatings all really got put through their paces during an intensive few days of testing in Malta, with the lens being subjected to a lot of sea spray and hot dusty streets, and I am glad to report no obvious sign of any immediate damage internally, and the front wiped clean with a soft cloth.
What surprised me most is how compact and lightweight the lens is. Usually, wide-angle lenses are some of the heaviest and bulkiest lenses around, as they typically contain more glass elements to flatten out the picture. Fujifilm's design team has done a great job here, I could carry around the lens on the Fujifilm X-S20 without it feeling obtrusive at all.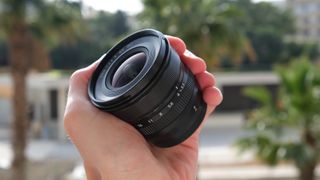 The lens has a manual focus ring that turns smoothly, and the ring has a textured metallic finish that is grippy, but not quite near the level or rubberized focus rings of other brands, although this is a trade-off of classic retro looks versus functionality which I am happy to accept.
The lens aperture ring is tighter than some of the other Fujifilm lenses I have tested. I know that there is some debate over this, but I prefer my aperture rings more on the stiff side, otherwise, I frequently find it naturally slipping into the wrong aperture without me noticing. The aperture ring turns smoothly, but also ticks nicely into each aperture value. The aperture ring also locks in Auto, and can be unlocked with a little catch on the lens, which is perfect to again prevent accidental movement, or for anyone who prefers to dial in their aperture on the camera instead.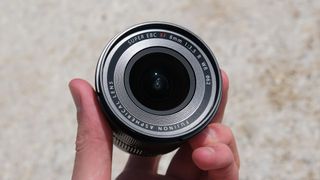 XF 8mm f/3.5 R WR: Performance
Photo performance surprised me quite a lot, I was not expecting a lens of this size and weight to be able to produce images as clear across the entire frame as the XF8mm produced. There are some issues with diminishing corner sharpness, although that is really to be expected at this field of view even on the best of lenses, and honestly, on the XF 8mm, it is not that bad.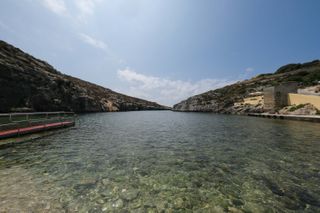 The perspective, while not verging into fisheye territory can be distorted when presented with a lot of vertical straight lines, although this can be corrected somewhat in post-production, although I also enjoyed shooting in tighter spaces and the unique field of view offering a sense of scale, with big buildings looming over me. But the perspective is perfect for open landscapes, or immersive feeling shots. This lens was perfect for shooting on big open cliffs overlooking the Mediterranean Sea.
I will admit that I am not usually a fan of a wide-angle perspective, as I usually like to focus my photography on smaller details. Affordable wide-angle lenses' photo quality is often a little tacky, and good wide-angle lenses tend to be a big financial investment as well taking a large spot in my kit bag. However, the Fujifilm XF 8mm is the perfect combination of size, price, and quality for me to get excited about wide-angle photography.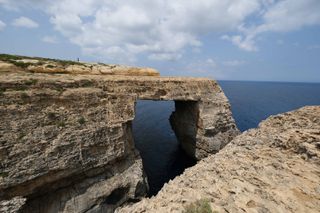 XF 8mm f/3.5 R WR: Sample gallery
XF 8mm f/3.5 R WR: Lab results
We run a range of lab tests under controlled conditions, using the Imatest Master testing suite. Photos of test charts are taken across the range of apertures and zooms (where available), then analyzed for sharpness, distortion and chromatic aberrations.

We use Imatest SFR (spatial frequency response) charts and analysis software to plot lens resolution at the center of the image frame, corners and mid-point distances, across the range of aperture settings and, with zoom lenses, at four different focal lengths. The tests also measure distortion and color fringing (chromatic aberration).
Sharpness: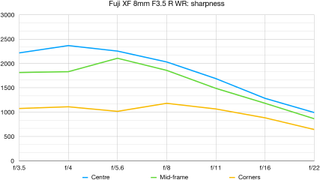 Sharpness is excellent in the centre and mid-frame, even when shooting wide open. Any ultra-wide lens will struggle to generate high corner sharpness scores when shooting our close-range test chart, as the corners of the chart are so far away from the lens, relative to the centre. Even so, the XF 8mm still returns respectable corner sharpness scores for a lens so wide.
Fringing: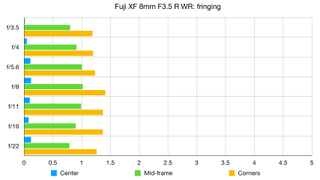 Lateral chromatic aberration is just about visible in the corners of frame, and is so at all apertures, though it's by no means distracting.
Distortion: -6.77
The lens produces pronounced barrel distortion if corrections are disabled during raw processing, but in-camera distortion compensation would normally eliminate this.
XF 8mm f/3.5 R WR: Verdict
Fujifilm shooters have an affordable first-party ultra-wide-angle lens worthy of the system. With an impressive 8mm focal length (equivalent to 12mm on a full-frame camera), this lens allows you to capture an expansive scene that will leave you in awe. Despite its small and lightweight design, the lens boasts excellent build quality, featuring a smooth focus ring and a well-dampened aperture ring that ensures precise f-stop adjustments.
The image quality remains very strong in the center of the frame, it slightly underperforms in the corners, which is a common characteristic of such a wide-angle lens, distortion is also minimal depending on your subject. However, before making your purchase, it's crucial to consider whether 8mm is the right choice for you, as the extreme angle of view can be challenging to work with. However, if you are a Fujifilm shooter looking for the ultra-wide-angle lens experience, then there is certainly a lot to love about the XF8mm.
You might also like...
If you are a Fujifilm shooter and looking for more wide-angle options, your other best choice is the Fujifilm XF 8-16mm f/2.8 R LM WR lens, although this is a very large and expensive beast. Although this does give you the versatility of shooting from 8mm to 16mm, which is equivalent to 12-24mm on a full frame camera.
Alternatively, the Fujifilm XF 10-24mm f/4 R OIS WR is a smaller and lighter option, however, is not quite as wide and has a narrower maximum aperture, this lens however does have optical image stabilization, so if you plan on shooting video, this could be the deciding factor.
Find out more about the best wide-angle lenses in our guide. You can also find out our choices for the best Fujifilm lenses, and the best Fujifilm cameras.