The new issue of Digital Photographer (opens in new tab) is out now.
As the winter season rolls in we have another amazing issue for you, packed full of pro techniques, advice and insight.
Extreme weather photography
(opens in new tab)
Winter provides a huge number of possibilities for photography - you just need to know the tricks for getting the most out of it! It is a highly challenging season, on several levels, but our feature on shooting in extreme conditions will help you out.
From planning your shoots, to deciding what gear to pack, and from constructing the perfect composition to calculating the ideal exposure, our guide will help you overcome the biggest difficulties of winter photography.
Creative indoor portraits
Once your back in the warmth, from your winter shoot, put your feet up by the fire and read our feature on 5 creative indoor portrait techniques. Tom Carlton walks us through 5 of the best lighting setups for impactful shots taken inside. Tom proves that you don't need a huge dedicated studio space to produce magnetic, professional results, with tips on neon effects at home, direct flash, shutter drag techniques and simple one light setups.
Macro magic
(opens in new tab)
Macro shots are often very formulaic, and while it is important to avoid background distractions, a little extra sparkle can go a long way towards an image with depth. Take a look at our macro workshop project where we introduce you to an exciting and simple way of adding subtle bokeh details behind your subject, from the setup to the shooting and editing stages. Something for you to try at home!
Shoot like a pro
(opens in new tab)
Get your copy of DP Issue 234 today! (opens in new tab)
Get a digital copy instantly for £3.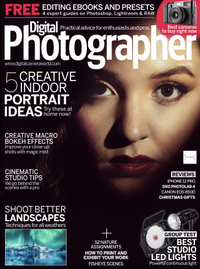 (opens in new tab)
Digital Photographer (opens in new tab) is a monthly magazine, and the kitbag essential for enthusiasts and amateurs alike!
Inside, you'll find practical guides, shooting tips and techniques from working photographers, plus all the latest industry news.
Where to find Digital Photographer
Plus we've got the usual tutorials, interviews, insight and opinion, from a range of experienced pro photographers from across the industry.
Don't miss out on all of this essential professional-level advice. Get your copy of Digital Photographer now.
Why not Subscribe (opens in new tab) for a print copy or you can read us on your mobile device with a digital subscription.
You can get your copy of Digital Photographer in stores that are still open - but if you can't get out, then order a copy direct from us – either in print or digital form.
For printed back issues go to Magazines Direct (opens in new tab)
For digital editions of the magazine, you have a variety of options available:
Apple app (opens in new tab) (for iPhone and iPad)
PocketMags app (opens in new tab) (multi-platform app for Android and other devices)
Zinio app (opens in new tab) (multi-platform app for desktop and smartphone)
Readly (opens in new tab) (all-you-can-eat digital magazine subscription service)
Connect with us
Find us on Facebook and Twitter and subscribe to Digital Photographer, to ensure you never miss an issue!
Digital Photographer on Facebook (opens in new tab)
Digital Photographer on Instagram (opens in new tab)
Digital Photographer on Twitter (opens in new tab)
Subscribe to us today (opens in new tab)
Read more:
Printer maintenance explained (opens in new tab): Get the most out of your photo printer
The best camera gear for landscape photography (opens in new tab)
The best cameras for vlogging in 2020 (opens in new tab)