What do budding photographers need to go pro? Well, a large dollop of skill, a few tablespoons of camera knowhow and... perhaps a pinch of inspiration? And the latest issue of ProPhoto shares the entire recipe with you – from the camera that can help you achieve your dreams to offering up some inspiration.
ProPhoto's April/May 2021 issue is on stands now!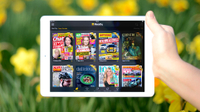 INSIDE THE NEW ISSUE
Fujifilm GFX 100S: Why you can't ignore digital medium format anymore
Fujifilm is redefining what medium format photography means. It's still the purview of the professional world, but by shrinking body size and weight, along with the price tag, the Japanese camera maker is trying to make it more mainstream. Find out in our in-depth review how it stacks up.
Fine arts: Sony World Photography Awards' Professional category winners
That inspiration we mentioned earlier? Maybe you'll find it here, with a pick of the winning images from the Professional category of the 14th edition of the Sony World Photography Awards.
Face to face with legends
Peter Adams invested 38 years of his life in his new book, pursuing the world's great photographers. That's finally come to fruition and ProPhoto was there to talk to him about his life's work.
Plus news from around the photography world, with product launches, firmware updates and so much more.
Subscribe to the print edition
Published continuously since 1937, ProPhoto is Australia's top magazine for professional photographers, emerging artists and students of photography. The magazine is published bi-monthly, with print subscriptions available from Future Australia's dedicated Techmags website.


Get the digital edition today!
ProPhoto's print edition is available to buy from all good newsagents across Australia, but you don't need to leave your house to get a copy. You can download the magazine in digital format from Zinio right now for the ultimate in convenience.
To maximise your savings, you can opt for an annual subcription, which gets you six issues over 12 months that you'll automatically receive on your PC, phone or tablet as soon as each new issue is released. Or you can opt to purchase a single issue of ProPhoto if you prefer.
For more details, simply click on the image below.