Why shouldn't action cameras be modular? A brand known for 360 cameras, Insta360 has today announced full details of the Insta360 One R, an action camera described as 'adaptive' that comes with up to three interchangeable lens/sensor units – and one of them even has a 1-inch sensor developed with Leica.
Launched at CES 2020, the standard package is called the Insta360 One R Twin Edition, which comprises two interchangeable lens units for both 360º and 4K wide angle wideangle shooting. It's on sale from today for $479.99/£365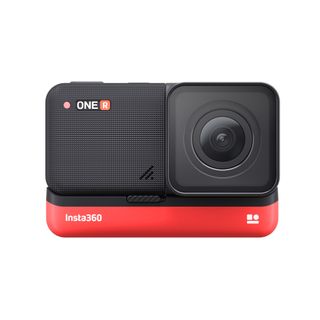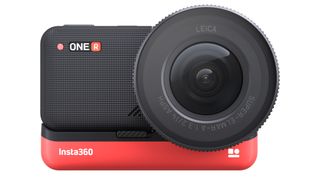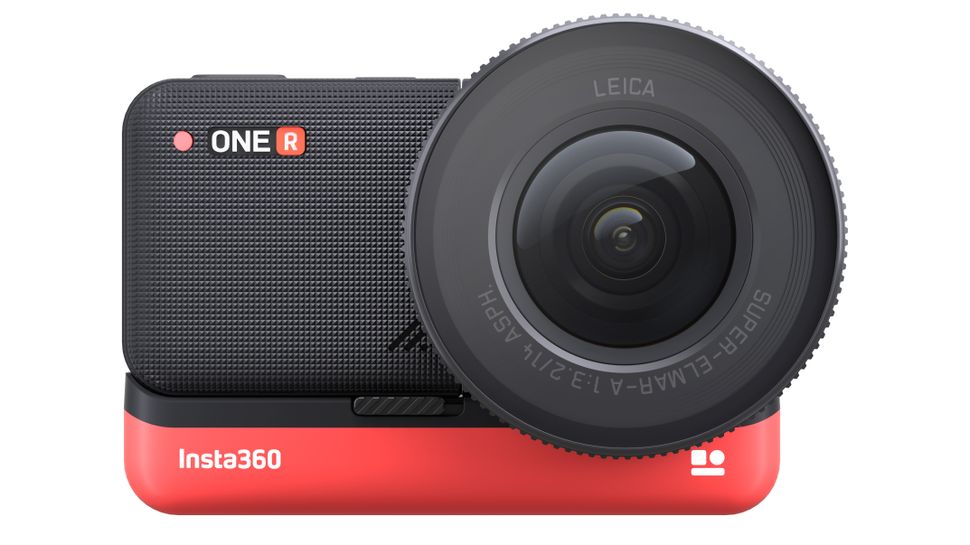 However, a groundbreaking Insta360 One R 1-Inch Edition – co-engineered with Leica and capable of 5.3K capture – will also be available for $549.99/£456.
A further option is the Insta360 One R 4K Edition, which comes with just the 4K lens, for $299.99/£228.
"With Insta360, we have found the right partner to bring decades of Leica optical and digital imaging expertise into a new product segment," said Matthias Harsch, CEO of Leica Camera AG. "We think that Insta360 has an extremely high level of know-how in the software sector, especially in the field of 360º acquisition technologies. The aim of our cooperation is to develop innovative technologies under the highest image and quality standards, trying to push the limits of what is technically possible."
In a concept new to the action camera market, the core square module of the Insta 360 One R acts as a processor that snugly affixes a separate square lens module, be it the dual-lens 360º, 4K or 1-inch lens modules. Once snapped together, they sit upon a battery base, which also adds extra strength. However, the processor module – which hosts a touchscreen – can be easily reversed for selfie angles.
• Read hands-on Insta360 One R Twin Edition review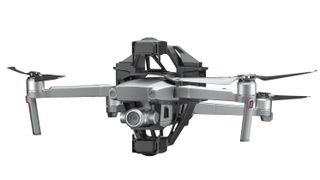 Also announced was the Insta360 ONE R Aerial Edition, which offers a specialized mounting system to make supported DJI drones (Mavic Pro, Mavic 2 Pro, Mavic 2 Zoom) completely invisible. Capturing an unobstructed, airborne 360º view, it will include a drone mount, a special modified version of the Dual-Lens 360 Mod that can be split in two (official name: Split-Lens 360 Mod) and a special battery that fits into the mount.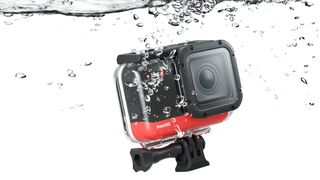 Once assembled, the Insta 360 One R is IPX8 waterproof to depths of 5m/16.4 ft out of the box, though also available as an add-on will be a dive case to extend that to 60m/197 ft.
Also in the box of the Insta 360 One R Twin Edition are lens caps for the 360º module, a mounting bracket, mount adaptor and 'invisible' selfie stick that's processed-out of finished images and video.
Insta360 has become known for its signature FlowState stabilization tech – which is similar to GoPro's HyperSmooth – which works on a six-axis gyroscope, and is beefed-up on the ONE R. Also included on the One R are Auto Frames Auto TimeShift, FlashCut auto-editing, pose detection and an AI-powered subject-tracking algorithm called Deep Track, Starlapse for long exposure night sky shots, and download-free editing. All lens modules can capture in RAW as well as JPG, while video is captured in the INSV format with a video bitrate of up to 100mpbs.
A few innovative audio features are also included. As well as offering voice control for when the One R is mounted on a helmet or out of reach, it can record audio via a paired pair of Apple AirPods (or any other Bluetooth mic). It also supports third-party mics via a dedicated accessory shoe.
Insta360 One R – the lens Mods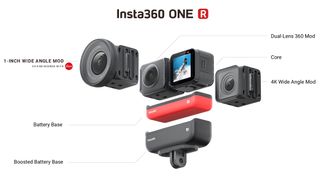 Here are some more details of the three modular lenses:
Dual-Lens 360º Mod
– 5.7K capture on two /f2.8 lenses
– enables a real-time 360º preview on One R's touchscreen
– new innovations include Color Plus, HDR video and Night Shot
– maker claims that it achieves the best color accuracy and low-light performance in any consumer 360 camera
4K Wide Angle Mod
– 4K at 60fps on a f2.0 lens
– supports up to 8x slow mo
– reversible design lets you flip the touchscreen from back to front for real-time feedback when filming yourself.
1-Inch Wide Angle Mod
– co-engineered with Leica
– 1-inch sensor
– 5.3K video and 19MP photos on a f/3.2 lens
Preorder at B&H Photo
Preorder Insta360 ONE R Twin Edition |
Preorder Insta360 ONE 4K Edition |
Preorder Insta360 ONE 1in Edition
Read more:
The best action cameras in 2020
The best waterproof cameras in 2020