UPDATE (28/6): The Canon EOS R5 listing on Amazon Australia during Prime Day 2021 was 23% off. That's now cheaper still at a much better 25% off. Similarly, the EOS R6 had a 22% discount last week, but is now a better 23% off. We've updated our original story below to reflect that change.
After the slight disappointment that was the Canon EOS R, the Japanese camera maker exceeded expectations with the EOS R5 and the EOS R6. They're truly astonishing cameras that come with some excellent specs to suit different needs.
Where the headline-making EOS R5 offers a high-res 45MP sensor for spectacular stills and is capable of shooting 8K video, the EOS R6 keeps it a bit more real with a 20.1MP sensor for blitzing speed and performance.
They both have their pros and cons, but both are some of the best full-frame mirrorless cameras today, and they're steeply discounted on Amazon Australia right now with far better prices than we saw during Prime Day 2021.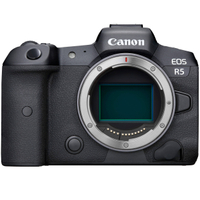 Canon EOS R5 (body only) | AU$6,999 AU$5,274 (save AU$1,725)
The headline-making EOS R5 is an expensive beast but it justifies the cost with its performance. But there's no need to pay full price when you can go click-happy for less. At well under AU$5,300, this is the best price we've seen so far on Canon's flagship full-framer.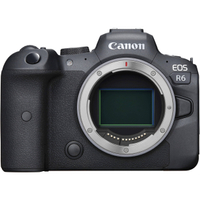 Canon EOS R6 (body only) | AU$4,499 AU$3,458 (save AU$1,041)
If you don't need the high-res sensor and 8K video capabilities of the EOS R5, then the EOS R6 is definitely on top of our list of the best mirrorless full-framers. It's also a lot more affordable as compared to its high-res sibling. And now cheaper by over a grand for the body alone.
It goes without saying that if you're after some topnotch video capabilities, then you'll need to pick the EOS R5. It's also perfect for those high-resolution shots – whether landscape or wildlife – for very detailed and crisp images.
Needless to say that might be overkill for some users, and that's where the EOS R6 comes in. It's a more sensible option for most photographers and also happens to be a much cheaper alternative to the flagship Canon EOS 1-D X Mark III sports DSLR. It's also better for low-light photography, thanks to the lower pixel count (hence bigger pixels), and its dual card slots support the cheaper and more commonly available SD format.
And the number of native RF lenses is progressively increasing with some truly innovative glass now available. So snap up one of the Canon cameras for less now before these great prices disappear.
Read more:
Best Canon RF lenses
Best full-frame cameras
Best Canon cameras
Canon EOS R5 vs R6