Sick of mirrorless lenses being so expensive? The Meike 25mm f/1.8 is here to soothe your woes, because this brilliant little bargain lens is just $75. Yes, a proper optic (not a plastic toy lens) with a fast f/1.8 aperture for just $75.
The Meike 25mm f/1.8 has just been released for the Nikon Z mount, though it is already available for Canon EF-M, Sony E, Fujifilm X and Micro Four Thirds – and it has carved out a reputation for itself as one of the best cheap lenses you can buy for your otherwise unfathomably expensive mirrorless camera kit.
It's an APS-C lens (and one that's designed specifically for mirrorless flange distances, so it won't fit an APS-C DSLR), which means that it's nice and compact – making it a perfect companion to a svelte system like the Nikon Z50.
Since it is an APS-C lens, it won't give you full sensor coverage on a full-frame camera. However, using the new Z-mount version as an example, you can mount it to the Nikon Z7, Nikon Z6 or the new Nikon Z5 and the camera will shoot in cropped mode – so it's still a handy and pocket-friendly option.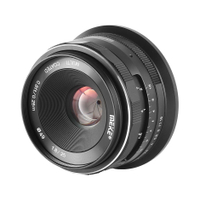 Meike 25mm f/1.8: $75
This pocket rocket prime is compact and quick, being small and light enough to fit in your pocket and featuring a fast aperture that's ideal for low light and blurry backgrounds.
As you'd expect of a $75 lens, it's completely manual – so you'll be adjusting an aperture ring and finding focus the old fashioned way (though obviously focus peaking makes life much easier if you've never done it before). It's also a dumb lens, as it has no electrical contacts – so your camera won't receive or record any EXIF data (and, in fact, you'll have to change the camera's "shoot without lens attached" setting, as it won't know that there's a lens attached).
The optical quality obviously isn't going to rival that of the best wide-angle lenses, but for a sliver of the price of a regular 25mm f/1.8 you're getting a fast, fun and pocket-sized lens that punches well above its weight (which is just 190g).
On Nikon, Sony and Fujifilm cameras it possesses an equivalent 37.5mm angle of view, while it becomes a 40mm equivalent on Canon and 50mm on Olympus and Panasonic bodies, making it an ideal lens to keep in your pocket for street, walkabout and everyday photography.
The Nikon version is currently only available directly from Meike, but expect it to arrive at your favorite retailers soon.
Read more:
The best Canon wide-angle zooms: lenses that give you the big picture!
The best Nikon wide-angle zoom lenses: for DSLRs and Nikon Z cameras
Nikon Nikkor Z 24mm f/1.8 S review