Canon will be releasing seven R-system cameras in 2021, according to a new report, including the much-anticipated high resolution and professional bodies.
Since the release of the original Canon EOS R there have been persistent rumors of a version with as many as 100 megapixels, which would effectively replace the Canon EOS 5DS series. There have also been longstanding stories about a mirrorless replacement for the flagship Canon EOS-1D X Mark III, both of which are reputedly due to arrive next year.
Joining them will be a replacement for and a successor to the Canon EOS RP, a smaller APS-C body, and two new Cinema EOS cameras. Here's a closer look at what is said to be on the way in 2021.
90MP Canon EOS RS
Described as "a high-resolution EOS R5 type body" by Canon Rumors, this appears to be an evolution of the Canon EOS R5's capabilities in terms of raw pixel count. We've already reported about a 90MP Canon EOS RS "finished product" that's currently being field tested, which seems to be the camera in question.
"One of the worst kept secrets is that Canon will announce a high-megapixel RF mount camera," says the site in its roundup of the new cameras. "The latest I am told is that it's an R5 body with 'twice the resolution'. I would suspect video features won't be front and center for such a camera body."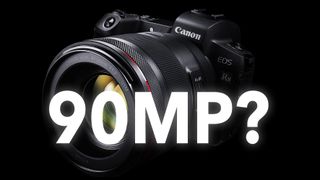 Professional Canon EOS R1
With the Tokyo Olympic Games being shunted to 2021, it seems that Canon is pivoting to release its mirrorless flagship sports camera to market (and there are concurrent reports that Sony is doing the same with its Sony A9S).
Canon EOS RP replacement
As well as the premium bodies, Canon will be repositioning the lower end of its R system lineup. This will begin with a replacement model for the entry level RP, which will be cheaper than the current model. And that's not all…
Canon EOS RP 'big brother'
"There will be a big price gap between the EOS RP replacement and the EOS R6 at $2499," says Canon Rumors. "I have been told a second camera will fit between these two bodies. It won't be an 'EOS R Mark II'."
APS-C Canon EOS R7
Despite initially shying from the idea, it seems that the manufacturer will press ahead with an RF camera featuring an APS-C sensor. This seems set to be the Canon EOS R7, which we've written about previously – though there seems to be some uncertainty over whether smaller RF lenses will be produced, as this would no doubt make the existing EOS M cameras completely redundant.
Canon EOS C50 and C90
While 2020 saw the launch of the Canon EOS C70, the first cinema camera to feature an RF mount, there were also reports that a C50 and C90 would join it – apparently these will now materialize in the first half of 2021.
Read more:
Canon EOS R review
Canon EOS RP review
Canon EOS R5 review
Canon EOS R6 review
Best Canon RF lenses