2020 has certainly been a memorable year, and also one most of us would probably prefer to forget. But against the odds, camera manufacturers have still managed to launch some terrific new models that have made photography even more enjoyable, even if we haven't always been able to actually get out and shoot.
From stunning new mirrorless cameras, through to the weird, wacky, or simply technically incredible; here are our top 10 cameras that blew us away in 2020...
1. Fujifilm X-T4
The 2018 Fujifilm X-T3 was such a great camera that it was hard to find any fault with it at all - the only thing it lacked that we really wanted was in-body image stabilization. With the X-T4, Fujifilm has well and truly addressed this with an impressive 6.5-stop IBIS system. A vari-angle touchscreen and increased battery life further enhance the X-T4's appeal over the already-excellent X-T3. What's more, the X-T4 isn't just a terrific stills camera - it also has cutting edge 4K video performance, with 60p 10-bit internal recording, and the new IBIS system is just as effective for ironing out camera shake when filming. The X-T4 is as close to a perfect camera as you could rightfully expect for under $2000, making it a solid contender for the best camera of 2020.
Why we were wowed: Great specs and terrific all-round performance at a fair price: the X-T4 is simply superb.
Read more: Fujifilm X-T4 review
2. Canon EOS R5
Canon's first foray into the full-frame mirrorless market - the EOS R - was a capable camera, but one which was somewhat overshadowed by rivals like the Nikon Z 7 and Panasonic S1R, both of which pack more megapixels and in-body image stabilization. It was clear Canon needed to up its game, and it did exactly that with the EOS R5. If the 45MP sensor wasn't impressive enough, Canon really upped the ante with 8K 30p video. Though much press was given to its overheating and resulting shooting time limitations, these have little impact on real-world use and shouldn't detract from the R5's technical achievement. Factor its stunning AF, superb in-body stabilization and rapid burst shooting, and we reckon the EOS R5 could well be the best Canon camera ever.
Why we were wowed: Canon pulled out all the stops with the EOS R5 to create a true halo product - it's a real show-stopper.
Read more: Canon EOS R5 review
3. Sony A7S III
The A7S III may have been five years in the making, but it was certainly worth the wait, blending class-leading video and low light performance. It might not boast 6K or 8K video resolution like some of its rivals, but the A7S III excels when it comes to 4K and Full HD video capture, which is what the vast majority of filmmakers want. The A7S III is special for being the only camera (apart from a big and expensive cinema camera) that can shoot 4K at 60p full frame with no crop, recorded internally, in 10-bit 4:2:2 with no limitations on recording time and with all the advanced AF functions still working. The A7S III's unique dual CFexpress Type A and UHS-II SD card slots also makes it stand out from other cameras.
Why we were wowed: Sony didn't just try grabbing headlines with more video resolution. Instead, the A7S III absolutely nails the video features that matter most.
Read more: Sony A7S III review
4. Olympus OM-D E-M10 Mark IV
It's not just high-end flagship cameras that wowed us in 2020. The Olympus OM-D E-M10 Mark IV doesn't set any particular records, but its new 20MP sensor, improved in-body image stabilization and new flip-down and tiltable monitor give it even more appeal than the already-excellent Mark III. Add 4K video and Olympus's signature attractive styling and the Mark IV makes a simply superb entry-level camera that can do pretty much everything. Whether you're a smartphone enthusiast looking to make the jump to a 'proper' camera, you want to capture high quality family snaps, or you're simply searching for a lightweight camera to take with you on your travels, the Olympus OM-D E-M10 Mark IV is a great choice.
Why we were wowed: You wont get a more accomplished beginner mirrorless camera for the money
Read more: Olympus OM-D E-M10 Mark IV
5. Hasselblad 907X 50C
We love cameras that are a little different from the norm, and that was certainly the case with the Hasselblad 907X 50C. Technically it has a lot in common with Hasselblad's existing, and more conventional, X1D II 50C. The 907X 50C, by contrast, uses a modular design, splitting the lens mount section into one component - the 907x - and housing the sensor, electronics and touchscreen in a separate CFV II 50C digital back. What's the point in that, you say? Well, it means you can attach the CVF II 50C back directly to a Hasselblad 500 c/m film camera, without adapters, without modifications, without calibration, and without any extra accessories. While this isn't a camera for most users, it is an interesting prospect for professional/commercial/fine art photographers who need adaptability of operation and design and, above all, quality of results, and who are prepare to slow down to get it.
Why we were wowed: An innovative camera design that's capable of stunning results.
Read more: Hasselblad 907X 50C review
6. Sony FX9
At $11,000 body-only, Sony's FX9 cinema camera is far from 'cheap', but it still takes the crown of being the least expensive full-frame cinema camera on the market. With its big new sensor, incredible autofocus and stunning image quality, the FX9 is the camera that many independent filmmakers will be taking a long look at, especially since rival cameras like the Canon EOS C500 Mark II will set you back around $16k. The FX9 can be used for live streaming, as a documentary camera, or a full-blown cinema camera. And that's easier than ever as its new autofocus system is excellent. If you're looking to step up Super35 cinema camera, the FX9 is a fantastic option than can handle any situation with ease.
Why we were wowed: The most accessibly-priced full-frame cinema camera, and it performs brilliantly
Read more: Sony FX9 review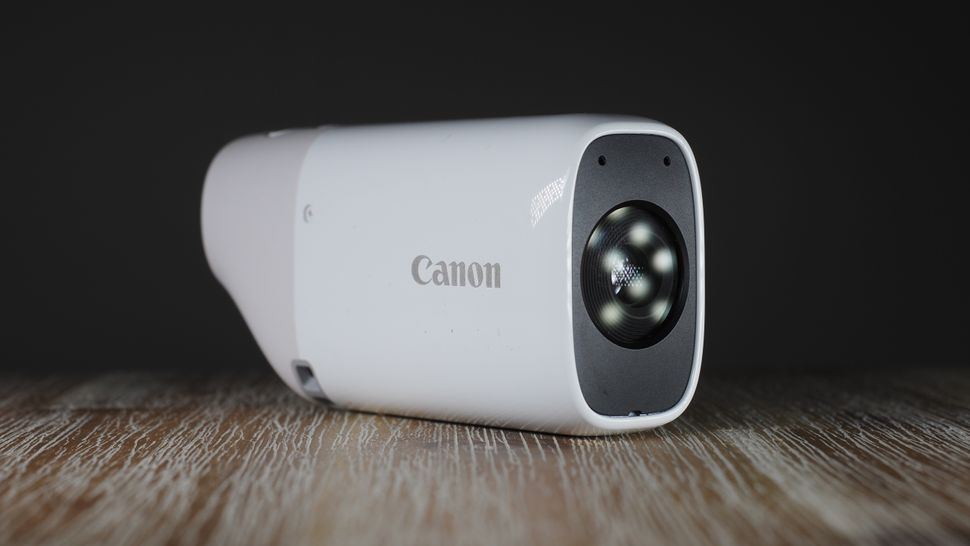 7. Canon PowerShot Zoom
It's not often that a camera comes along that really stands out from the crowd, so we were pleasantly surprised at Canon's fresh take on a compact camera. The weird monocular design results in easily pocketable 33.4 x 50.8 x 103.2mm dimensions, which is all the more impressive given the huge 400mm-equivalent optical zoom on offer. This can even be upped to 800mm with some digital trickery, plus the Digic 8 processor enables a rapid 10fps burst rate, built-in WiFi and Bluetooth. Inevitably with just a 12.1MP 1/3-inch sensor, image quality was never going to be a show-stopper, but it's a compromise you'll have to make unless you'd rather carry a huge - and expensive - DSLR/super telephoto lens combo.
Why we were wowed: A reinvention of the traditional compact camera - it's fun, different and unique - we love it.
Read more: Canon PowerShot Zoom review
8. Polaroid Now
The resurgence in instant camera popularity started long before 2020, but this year's release of the Polaroid Now marked a new high for the genre. Following on from the excellent Polaroid OneStep 2, the Now delivers superior image quality and does away with extraneous controls to give a more focused and 'pure' Polaroid experience. Its headline feature is a newly developed autofocus lens system, which automatically switches between dedicated distance and portrait lenses to provide more precise results when shooting. An improved flash, metering system and USB-chargeable Li-ion battery give the Now an even bigger edge over the OneStep2, coming together to produce noticeably better image quality and performance.
Why we were wowed: The Polaroid Now is an instant classic, and you can't say that about most cameras!
Read more: Polaroid Now review
9. DJI Mini 2
When numerous countries started imposing registration rules on all but the lightest drones, DJI came to the rescue with the featherweight 249g Mavic Mini, undercutting the 250g registration limit. This miniature miracle of a quadcopter managed to combine a capable airframe with decent video quality, although the latter was compromised in terms of resolution and bit-rate. The new DJI Mini 2 addressed almost all the original Mini's flaws by boasting 100Mbps 4K video, improved battery life, and more powerful motors for better stability in crosswinds. Sure, its light weight rules out additional - heavier - computing power for more advanced object tracking, and at 249g, strong winds are still your enemy. But when it comes to cramming in as much tech and performance as possible into a sub-250g package, the DJI Mini 2 is the standout drone of 2020.
Why we were wowed: DJI's ability to cram so much tech into such a light drone is simply incredible.
Read more: DJI Mini 2 review
10. Huawei P40 Pro Plus
When Huawei was dealt a mighty blow by being banned from using Google Services on its Android phones, many thought it would be the death of its phone sector. While this has undoubtedly dented the appeal of Huawei phones, we were impressed to see just how far Huawei has gone to keep its flagship camera phones ahead of the competition, at least technically. Packing no fewer than five rear-facing cameras, including a huge 10x optical zoom 'periscope' camera, along with a stunning 50MP primary camera with a massive (for a camera phone) 1/1.28" sensor; the P40 Pro Plus pushed the boundaries of what a camera phone is capable of more than any other phone in 2020. Huawei even made a solid attempt at getting around the Google Services/Play Store ban with its effective Petal Search Engine that sources your favorite apps from alternative app stores. But sadly the fact remains that the overall app experience isn't as slick as on rival phones.
Why we were wowed: The P40 Pro Plus is technically the best camera phone of 2020, even if few will buy one.
Read more: Huawei P40 Pro Plus review
Read more:
• We pick the best action cameras right now
• The best medium format cameras today
• These are the best camera phones for photography
• The best DSLRs for beginners, enthusiasts and pros
• We help you choose the best mirrorless camera
• The best 4K cameras for filmmaking
• These are the best 360 cameras to buy