The Canon PowerShot Zoom is something completely different from Canon. Remember when this was the company that always played it safe, and never took any risks? Now it's a company that releases groundbreaking 8K cameras like the Canon EOS R5, crazy conceptual carabiner cameras like the Canon Ivy Rec, and pocket monocular cameras like the Zoom.
From appearances, it's not immediately obvious what the Canon PowerShot Zoom is or does. In short, it's a pocket monocular with a camera sensor in it, enabling you to take photographs and video at 100mm, 400mm or 800mm (the former two via optical zoom, the latter digitally).
Technically it's a compact – and, in its way, it's the best compact camera you'll ever own, because you won't just throw it in a bag or glovebox and forget to use it when you go on a trip.
It's a telephoto camera that you can keep in your pocket or around your neck anywhere you go, so you can snap that squirrel while you're out on your morning walk, or photograph that bird you sometimes see when you walk your dog in the evening (but that you don't see often enough to make it worth lugging around your proper camera kit 'just in case').
So it's a unique and innovative product, and it promises a lot, but does the PowerShot Zoom actually deliver?
Canon PowerShot Zoom: Specifications
Sensor: 12.1MP 1/3-inch CMOS
Image processor: Digic 8
Autofocus: Contrast detection (100% coverage)
ISO range: Auto (fixed 100-3200)
Image stabilization: Optical IS
Video: 1080p at 24, 25, 30p
Viewfinder: 0.39-inch OLED EVF, 2.36m dots, 100% coverage, 60Hz refresh rate
Memory card: 1x microSD / microSDHC / microSDXC
LCD: N/A
Max burst: 10fps
Connectivity: USB Type-C, 2.4GHz Wi-Fi, Bluetooth 4.2
Size: 33.4 x 50.8 x 103.2mm
Weight: 145g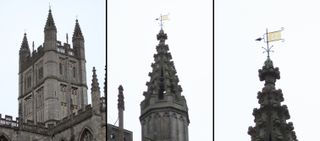 Canon PowerShot Zoom: Key features
Obviously, the Zoom's headline feature is its remarkable zoom range. These are three fixed settings, so you either shoot at 100mm, 400mm or (digitally) 800mm – you cannot, for example, shoot at in-between focal lengths like 200mm.
This is achieved by dual 13.8mm f/5.7 and 55.5mm f/6.2 lenses, with an approximate crop factor of 7.25x, producing equivalent 100mm and 400mm optical focal lengths in full-frame terms. As noted, the 800mm zoom is achieved digitally – in other words, it's a punched-in version of the 400mm frame.
Obviously shooting at those ranges is going to invoke some degree of camera shake, so thankfully the Zoom possesses optical 4-axis stabilization to take some of the sting out of unwanted movement.
It features an impressive burst rate of 10fps – and while this is by no means a sports camera, that kind of continuous shooting is enough to keep up with fast-moving subjects like birds (provided that you can keep up with them, as we'll get to!).
The Zoom is chargeable via USB-C, making it easy to top up with a powerbank, and it has built-in WiFi and Bluetooth to connect to Canon's Camera Connect app – which enables you to either view and transfer your files, or to use your smartphone as a large viewfinder so that you can shoot without looking through the eyepiece.
Canon PowerShot Zoom: Build and handling
This camera is nothing if not brilliantly designed – it feels like an Apple product. Its compact shell fits perfectly in the hand, and slips easily into a pocket on your jeans or jacket. It really is something that you can and will take anywhere, and is so light and small that you can wear it around your neck without it causing you irritation.
The controls take a while for your fingers and thumbs to get used to, as the muscle memory is completely different from using a normal camera and zoom lens setup. And that's a really key takeaway – the PowerShot Zoom isn't designed to be like a camera, and it isn't designed for people who use cameras. Rather, it's designed so that anyone can pick it up and use it, simply by pressing two buttons.
On the top of the camera, controlled by your index finger, are three buttons: Zoom, Power and Menu. Truthfully you don't ever really need to go into the menus (though if you do, you'll find a familiar and friendly EOS-style layout), so all you really need to press here is the great big Zoom button. It's extra-large to make it easy to find (like a spacebar on your computer), and it cycles through the three zoom ranges.
On the bottom, controlled by your thumb, is a diopter and two buttons: Photo and Record. The Photo button acts like a shutter; half-press to focus, fully press to take a shot, and keep it depressed to fire off a burst of images. The Record button is exactly as it is on other cameras; press once to start recording, press again to stop.
While the body isn't weather sealed, it feels like it would withstand a few drops of rain, and it's sturdy enough that it shouldn't shatter if you give it a drop or a knock. Which you shouldn't, as it's easily grippable and there's a pillar to attach the enclosed wrist strap or a lanyard.
A small manhole cover-style flap conceals the microSD card slot and USB-C port, but otherwise there's not much else to the Zoom's exterior – its design is very clean.
Canon PowerShot Zoom: Performance
So, then, here's the rub: by normal photographic standards, the images captures by the Canon PowerShot Zoom aren't great. They aren't bad, they're just average – in truth, they are exactly what you would expect of a 100-800mm zoom on a camera with a 1/3-inch image sensor.
In other words, the Zoom isn't going to give you anywhere near as good photographs as a 100mm, 400mm or 800mm lens on a DSLR or mirrorless camera. Here's another rub, though – it's not really supposed to.
This isn't a device that's intended to replace your "proper" telephoto setup; it's a device that enables you to capture shots you'd otherwise never be able to take, because you seldom ever take those 100mm, 400mm or 800mm lenses when you walk the dog (assuming you even own them). And while the best camera phones likewise possess superior image quality, they don't have the same zoom capability.
Still, however you orient your expectations, the images and video that the Zoom captures don't compare to what your proper camera can do. It's the detail that's really lacking, as the limitations of the tiny sensor with low resolution are amplified by the small apertures and high ISOs that are required to shoot.
With excellent light, at 100mm or 400mm, you can get surprisingly crisp and clean shots that wouldn't look out of place on your iPhone camera roll. However, because everything on the Zoom is full automatic – from the focus to the exposure controls – you can't adjust the shutter speeds to rebalance the exposure triangle in your favor.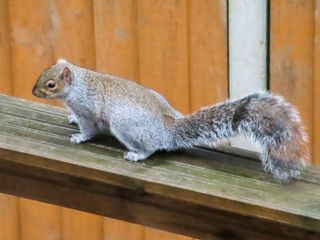 So you're at the mercy of the camera's auto mode. And being a contrast AF-based system, that does lead to some exposure issues when shooting things like birds or buildings against an overcast sky – and there's also a slight color shift between the 100mm and 400mm lenses.
The autofocus, meanwhile, is surprisingly good at shooting moving subjects. As evidences by the sequence above of a bird in flight, the C-AF kept up with a bird as it flew past windows and foreground obstacles – and it held focus for all 10 of its 10fps burst. On the other hand, especially at 400mm, the AF does seem more twitchy and can be apt to focus on the background rather than the subject, depending on the business of your scene.
The stabilization works well enough to keep things steady at 100mm, though it gets noticeably wobbly at 400mm. By 800mm it's a jello fest, though honestly we wouldn't recommend using the Zoom for anything at 800mm – it is, after all, just a digital crop of the 400mm image, so you may as well just shoot at 400mm and crop it yourself in Photoshop to get the composition you want (it's also nigh impossible to track a subject at 800mm!).
As far as video goes, it's disappointing that the Zoom is limited to 1080p – though completely understandable at this price point. The shortcomings in image quality are for more forgivable when it comes to viewing videos, though, and this is arguably a much more satisfying device to use for filming than it is still shooting.
As you can see from the sample footage below, the results are quite smartphone-like – our only real qualms here are that the autofocus sometimes takes a second to catch up when you switch back and forth between the 100mm and 400mm lenses, and despite the stabilization the footage can still be a bit shaky. It's a shame that there isn't a tripod mount, as being able to stick this camera on something like a GorillaPod would be brilliant.
Canon PowerShot Zoom: Sample images and video
Watch the video: Canon PowerShot Zoom sample video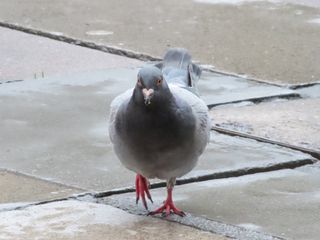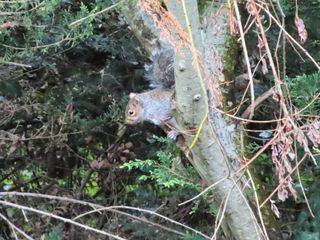 Canon PowerShot Zoom: Verdict
The Canon PowerShot Zoom is a camera that doesn't take the best quality images, so in that sense it's a less than satisfying proposition. However, it's really not designed to be a camera that supplants a $12,000 lens like the Canon EF 400mm f/2.8L IS II USM.
Instead, this is a camera that's designed to keep in your pocket, to snap those shots that you would otherwise never be able to take – either because it's too far away for your smartphone to get a good picture of, or because you probably don't have your 400mm lens with you when you're going rock climbing, or picking the kids up from school, or taking the dog for a stroll.
It's also, to be blunt, not strictly a camera aimed at photographers, either. This is very much a casual camera – a one-click wonder, designed to be completely automatic and easy to use, so that anyone can pick it up and take that silly shot of a squirrel in a tree, or a picture of that mystery bird so it can be identified later, or the number on the side of the plane or train as it passes by.
As such, this is as much a camera for birdwatchers, plane and trainspotters, walkers and ramblers as it is for photographers – a camera for taking quick, simple snaps. It also arguably has value for vloggers, enabling them to snag some down and dirty telephoto video and B-roll when they only have a wide-angle lens on their camera.
It's a fascinating product, then, and perhaps better considered as a photographic gadget than a pure camera. For what it's worth, we would happily buy one to keep in our own camera bag, despite its shortcomings.
Read more: