When I was challenged to build an entire camera kit bag from scratch with $5,000, my eyes couldn't help but light up in glee. Coincidentally, I've actually been considering upgrading my camera gear anyway, so this challenge comes at a good time. While my budget is admittedly smaller than the (sadly imaginary) $5,000/£5000 I've been granted, this will definitely be a fun wish fulfillment exercise!
I'm currently shooting with a Nikon D800, which is beginning to show its age more and more with each shoot. After having tested newer, shinier cameras, the little things that didn't use to bother me (such as a painfully slow Live View and a frankly unwieldy weight that seems designed to exacerbate my carpal tunnel), are now starting to grate on my nerves.
• Read more: Everything photographers need to work from home
It's undeniable that the bigger your budget, the more your choice of camera equipment begins to come down to a matter of preference rather than necessity. The gear below builds my dream kitbag – but it might be your nightmare! While smaller budgets such as Ben Andrew's $500 or Rod Lawton's $1,000 might point to more obvious candidates, larger budgets begin to give you the opportunity to specialize based on your personal brand loyalties and, more importantly, your chosen photographic genre.
$5,000 Camera Challenge Rules
Why you can trust Digital Camera World Our expert reviewers spend hours testing and comparing products and services so you can choose the best for you. Find out how we test.
Before we continue, just a little reminder of the rules:
1) No going over-budget (well, maybe 10%, to allow for local price variations)
2) No used or hard-to-get kit. Everything has to be easily available today
Before I began my research, I was fairly confident that I wanted to remain with Nikon. I love their ergonomic handling and I've always remained impressed with the D800's image quality and the way it handles shadows and highlights. However, my biggest question was whether I would stay with the D800 line and upgrade to the Nikon D850, or whether I'd dip my toe into the inviting waters of the Nikon Z family.
Ultimately, what camera equipment you would buy with $5,000 comes down to what your individual needs as a photographer are. I'm probably a bit of a jack-of-all-trades with my photography, but I enjoy shooting portraits and weddings most of all. I tend to lean towards enjoying fast primes, rather than the flexibility of zoom lenses – and I can't resist the allure of a camera with a high megapixel count.
See how I spent my hypothetical $5,000 below – and don't forget to let us know how you'd spend yours in the comment section!

01. Nikon D850
As previously mentioned, it was a definite toss-up between a Nikon Z camera and the Nikon D850 for me – especially since the Nikon Z7 and the Nikon D850 are currently pretty evenly matched in terms of price. I actually prefer the handling of the Nikon Z7 – after years of lugging around a camera that almost weighs 1kg (without a lens!) it was a breath of fresh air to have a play around with something so small and light.
However, the real deciding factor came down to that familiar bugbear – the single card slot on the Z7. While I only occasionally shoot weddings, the idea of a memory card corrupting on the day is more anxiety-inducing than literally anything else I can think of, so dual card slots are a must. This means that the Nikon D850 is the way to go.
Not that this is by any means a hardship! The Nikon D850 is a true powerhouse of a camera, sporting an impressive 45.7MP sensor, 9fps continuous shooting and a 153-point AF system. The D850 could easily last for at least a good five years of professional shooting – and likely be a faithful companion long beyond that.
02. Nikon 50mm f/1.8 G AF-S lens
I've waxed poetic about the wonders of the nifty fifty for years – and I'm sure I'll continue to do so for many more. Despite having a £5,000 budget, I can't see a future where I wouldn't want one of these rattling around in my kitbag. Clocking in at around the $200 / £200 mark, the Nikon 50mm f/1.8 is stunningly good value for money.
Small, light and with a wide f/1.8 maximum aperture, the Nikon 50mm f/1.8 is a lens that literally every Nikon shooter should have in their kitbag.
• The best 50mm lenses in 2020
03. Sigma 85mm f/1.4 Art DG HSM lens
From the first moment I borrowed one for work, I've lusted after a Sigma 85mm f/1.4 Art DG HSM lens. I'm a sucker for super-wide maximum apertures, which is why I tend to prefer primes over zoom lenses – and the Sigma 85mm f/1.4 definitely delivers in that department. This stunning piece of glass is perfect for portraiture and,
While the Sigma 85mm f/1.4 is the second most expensive piece of kit on this list, compared to other wide maximum aperture portrait lenses it's actually pretty affordable (Nikon's own 85mm f/1.4 is around £500 more expensive).
• The best lenses for portraits
04. Sigma 35mm f/1.4 DG HSM Art lens
To round off my trio of lenses, the Sigma 35mm f/1.4 is a great pick for those who want a wider angle of view, but aren't a huge fan of the distortion you get at focal lengths of around 20mm. This lens is very popular amongst wedding photographers thanks to its super wide maximum aperture and standard focal length.
• The best lenses for street photography
05. Memory cards
The Nikon D850 comes complete with dual card slots, with one for XQD and one for USH-II SD. While it's laughable to think that you could shoot a wedding with one pair of 64GB cards, the Sony 64GB XQD Flash Memory Card - G Series is a great place to start to fill the XQD slot. With a read speed of 440MB/s and a write speed of 400MB/s, this card is perfect for situations when you can't risk filling up your buffer.
Meanwhile, the SanDisk Extreme Pro 64GB is a great option for the second SD card slot. Even though it has a significantly slower write speed of 90MB/s, it's still a fairly speedy option.
• The best memory card in 2020
06. BlackRapid Sport Breathe Camera Strap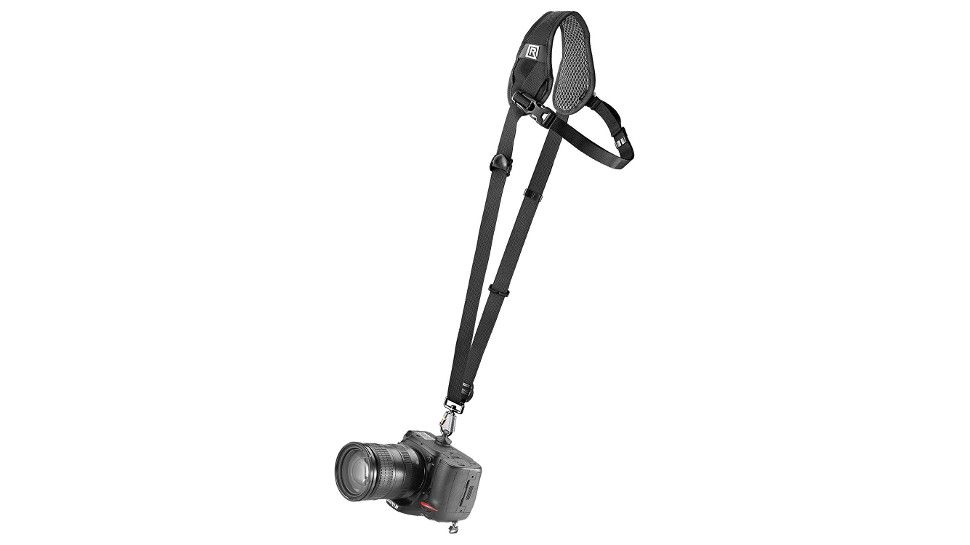 As a long-term loather of camera neck straps, one of the best investments I ever made was a cross-body camera strap. As convenient as neck straps can be, the pinnacle of ergonomic engineering they are most certainly not. Luckily, camera sling straps are a great way to even the load and save your neck from hours of discomfort.
07. Lowepro m-Trekker HP BeltPack 120
Yes, you might risk looking seriously uncool, but a beltpack (or a bum bag as I've always known it) is a great way to store bits of gear like flashguns or lenses without having to lug a whole backpack around. This means that you can quickly and easily change lenses if you need to – plus, the fact that it's around your waist means that it's totally hands-free and you'll never need to worry about it sliding off your shoulder.
• The best camera bags and cases
08. Lowepro ProTactic BP 350 AW II Backpack
Thanks to my healthy $5,000 budget, I've now bought myself enough hypothetical gear that a camera bag with plenty of room has become an essential. This Lowepro ProTactic BP 350 AW II backback has got space for a standard DSLR, 3-4 lenses, a flashgun – and it even has a neatly designed space to fit your tripod on the front of the bag too.
09. Nikon Speedlight SB-700 AF TTL Flashgun
I have to be honest, out of all the possible pieces of kit in the world, flashguns excite me the least. As an ardent lover of natural light, I just can't find the same passion about artificial lighting. However, shooting a wedding without a flashgun in your kitbag is pretty much just asking for trouble, so I've selected the capable Nikon Speedlight SB-700 as my flashgun companion.
10. Lastolite Ezybox Speed-Lite 2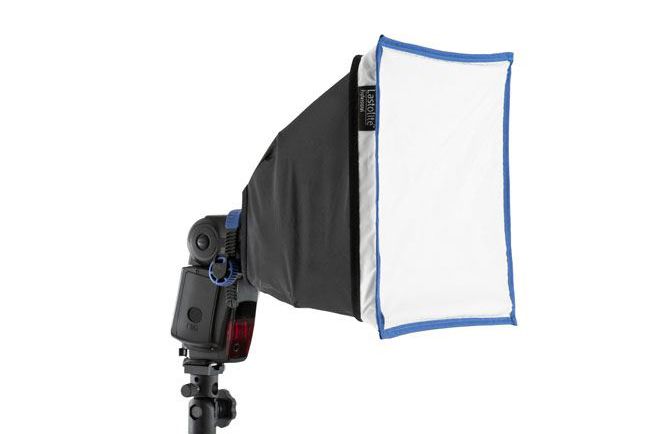 What would a flashgun be without a flashgun diffuser? (Even more horrible!) This handy flashgun softbox diffuser easily slides onto your speedlight – and when you're done it folds down nicely into a package so small it can fit in most camera bag front pockets. This mini softbox includes removable inner and outer diffusion layers to help you control the softness of your light.
• The best flash diffusers, softboxes and modifiers
In conclusion…
While £5,000 is certainly a big number to work with, it does get eaten up surprisingly quickly when you're trying to build a working pro kitbag. There are definitely items that I compromised on (only a single flashgun with no light stands or triggers) and items that I missed out altogether (no second camera body!). If anything, this shows how much pro photographers invest in their kit to make sure they've got everything they need for any situation.
But forget what I think! How would you spend your £5,000? Let us know in the comment section and keep an eye out for our next installment in the camera budget challenge…
Read more
Best camera, lens and accessories for wedding photography
Best camera backpack in 2020: carry camera gear, lenses, laptops, and more
Best Nikon camera in 2020: including Nikon DSLRs, Nikon Z and Coolpix