The Nikon Z7, along with its slightly lower specified 24MP Nikon Z6 sibling, was the manufacturer's big news of late 2018 – an indication that Nikon was, finally, taking mirrorless cameras seriously after some very tentative false starts. Was it too little too late, some wondered? Fortunately we need not have worried, as the full frame camera has been critically acclaimed by photographers and reviewers alike as an instant classic, and, as we ourselves opined: 'Nikon has learnt its mirrorless lesson'.
That said, it's hard to get away from the suspicion that Nikon's tentativeness in jumping into the full frame mirrorless market was a desire not to cannibalise sales of its own DSLRs. Like, for example, the high-end full frame D850, which we're comparing and contrasting the Z7 with here.
While the Z7 comes with its maker's completely new 'Z' mount, the Nikon D850 utilises Nikon's existing full frame format 'FX' camera mount.
In the case of the latter this means a plentiful supply of directly compatible lenses, including, in most advantageous fashion, old 35mm film format lenses. That's something that can't be said of the Z7, unless, of course if you opt for using a 'FTZ' adapter, which is, admittedly, hardly a deal breaker.
The difference arises because at 55mm across, the Nikon Z mount is 11mm wider than its Nikon F DSLR mount. The thinking was/is that this extra girth will allow Nikon lens designers to be ambitious, and what Nikon Z system users will receive in return is a step up in terms of image quality.
• Read more: Best Nikon camera
On review, however, we also spoke of the FX format Nikon D850 itself in glowing terms as possibly the greatest high-resolution full frame DSLR there'll ever be. High up among the appealing aspects of this DSLR is obviously its very high 45.7 megapixel effective resolution. That's the exact same pixel count offered by the mirrorless Z7, so it will be interesting to see how the cameras otherwise stack up.
Whichever of these two digital behemoths you choose, with the Nikon Z7 and the Nikon D850 you'll still end up with a more than capable camera that should provide you with years of reliable service. But to help you make that first step towards choosing one or the other, we've provided a bunch of comparisons in terms of specification and performance to help tip the balance in your own mind. So, read on below…
Sensor and processor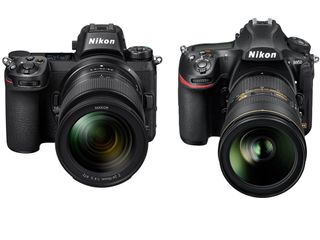 • Nikon Z7: 45.7 megapixel Full frame CMOS sensor (35.9x23.9mm) and EXPEED 6 processor
• Nikon D850: 45.7 megapixel Full frame CMOS sensor (35.9x23.9mm) and EXPEED 5 processor
The mirrorless Nikon Z7 and the more conventional DSLR D850 both offer the obvious bonus of full frame photography – meaning that the size of their identically matched sensors is the same as that of a frame of 35mm film and that the focal length given on any attached lens will directly translate to what photographers actually get to play with. It also ensures that, in theory, image quality will be noticeably better than that achievable with a standard (smaller) APS-C sensor DSLR - especially when combined with directly compatible full frame format lenses.
As we noted in our intro, both the Z7 and the D850 share a 45.7 effective megapixel full frame chip. This suggests the potential for very large image prints – say billboard-sized reproductions – while providing the wherewithal to be able to capture every precise stitch on a wedding dress, or every wrinkle and blemish on a subject's face. So, in terms of resolving power, both the Nikon Z7 and D850 are matched for their mighty resolving power.
It's worth further noting that the D850's back illuminated sensor has been designed with no anti-aliasing feature, so as to be able to eke out just that extra amount of precious detail. However, the D850's chip's photo sites are smaller than the higher-end Nikon D5 DSLR and the ISO range is lower than that camera – while still being very good indeed at ISO32 to 102,400 equivalent in expanded mode.
Read more:
• Best Nikon lenses
As regards the Nikon Z7's sensor, the difference here is that its maker has built in a sophisticated on-sensor phase detection system, with its whopping 493 phase detection AF points covering 90% of the image area and working in conjunction with a conventional contrast AF system; more on this later.
An updated EXPEED 5 processor in the D850 has been put there to cope with the data hungry demands of 4K capture, along with burst capture at high resolution, while the Z7 gets an even newer EXPEED 6 processor for the same purposes, enabling an even quicker native burst rate.
Video
• Nikon Z7: 4K at up to 29.97fps
• Nikon D850: 4K at up to 29.97fps
The mirrorless Nikon Z7 and D850 both keep up with the times and offer a certain level of future proofing in providing users with the possibility of 4K capture, up to an actual maximum of 29.97fps. The Z7 can additionally record Full HD footage at up to 120P for those looking to achieve a slow motion look. Another advantage is the ability to capture and extract still frames whether filming in 4K or at Full HD.
Nikon also suggests that oversampling from 8K has enabled it to provide 4K footage with spectacular detail here – handy for wedding photographers who are also being asked to shot video. As suggested in our intro, the latest generation EXPEED 6 processor likewise struts its stuff here, helping to deliver clean lines and noise and moiré free imagery.
While it may be a more traditional option, we nevertheless described the Nikon D850's video features as amazing upon reviewing the camera, adding that it is one of the best 4K shooting DSLR options around. So those who need such a feature would do well to investigate its specifics further.
For example, as well as 'regular' 4K video, the D850 can capture and process 4K time lapse footage in camera, or, as also offered by the Z7, stunning 8K time lapse movies with silent interval timer shooting, even if external software is required to combine 8K frames into a 'movie'. In conclusion the cameras are fairly level pegged when it comes to video, although the smaller size and portability of the Z7 may tip the edge for some filmmakers – particularly those shooting in a more fast-and-loose 'guerilla' style.
Burst shooting (fps)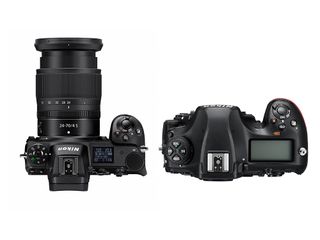 • Nikon Z7: Up to 9fps
• Nikon D850: Up to 7fps (or 9fps with optional MB-D18 battery grip)
The Nikon Z7 is capable of shooting up to an impressive 9fps in continuous shooting mode, which, while it isn't designed as a dedicated tool for sports and wildlife photography in particular, nevertheless makes it suitable for shooting both.
The Nikon D850's native maximum frame rate is a slightly lower 7fps. But the story doesn't end there, as if we add an optional MB-D18 battery grip, this can be pushed further to match the Z7 at 9fps. The D850 boasts a 'best case' buffer capacity of 51 uncompressed 14-bit Raw files, if shooting at 7fps and with high speed, high capacity memory cards, of course. The D850 provides two card slots for the purpose: one compatible with XQD cards and the second the more commonly used UHS-II SD card.
Despite the higher achievable 9fps frame rate straight out of the blocks with the Nikon Z7, the one 'controversy' as regards this mirrorless option is its reliance on XQD cards only, and the fact that there is just the one card slot. The thinking is that the fast and robust format is ideal for the high-end camera and its equally high-end audience, but it does mean further investment for anyone who already has a drawer full of older SD and CF cards.
In summation, both the Z7 and D850 are intended to be all-rounders for shooting a variety of subjects and being pretty much all the camera you may ever need. Which is our way of saying there are cameras that offer a better frame rate if you're prepared to spend more for those features specifically, but what's on offer here will more than do for most of us.
AF system
• Nikon Z7: 493 point auto focus system
• Nikon D850: 153 point auto focus system
As noted earlier, the Nikon Z7 offers users a sophisticated on-sensor phase detection system, with 493 phase detection AF points covering 90% of the image area and working in conjunction with a conventional contrast AF system – thereby delivering a pretty spectacular full frame hybrid auto focus system. It may be its manufacturer's first attempt at full frame mirrorless camera, but it certainly appears to have hit the ground running with the Z7's AF performance.
It's worth mentioning for those with an already significant collection of Nikon 'glass' that the new Z mount does not have an autofocus screw drive, so older AF lenses are restricted to manual focus. However if investing in an optional FTZ lens adapter a wide compatibility with existing Nikon F lenses will enable existing Nikon users to migrate to the new system in their own time and at their own pace.
By contrast, on its DSLR rival we get a still highly proficient auto focus system with 153 points. The D850 also has the same high tech metering and AF modules fitted to Nikon's high end D5 and D500 DSLRs, so in other words there is pedigree in spades here.
OK, so the D850 doesn't have the likes of Canon's Dual Pixel CMOS AF, meaning live view shooting and video recording relies on the slower contrast AF, but this scarcely scuppers the D850's all-round appeal. Its Multi-CAM 20K AF sensor is powerful but its coverage does not extend to the edges of the frame.
That said, users can always switch to Live View, although this still uses the relatively slow contrast autofocus. A new pinpoint AF mode also allows photographers to identify tiny targets; useful given the camera's level of resolution.
For general-purpose photography, however, the Nikon D850's AF is fast and positive, while obviously being dependent on the lens in use. A small joystick on the camera back is in a sensible location for the thumb to determine while your eye is occupied by the viewfinder itself.
In conclusion the AF system incorporated into the D850, as also found on the Nikon D5 and D50, is its manufacturer's best yet for a DSLR. Plus you won't need a lens adapter to be able to access the majority of Nikon or third party glass.
Viewfinder & LCD
• Nikon Z7: Electronic viewfinder with 3,690K dots and offering 100% frame coverage; 3.2-inch LCD with 3,690K dot resolution
• Nikon D850: Eye level pentaprism single lens reflex viewfinder offering 100% frame coverage; 3.2-inch LCD with 2,359,000 dot resolution
Offering an electronic as opposed to optical viewfinder, the Nikon Z7 supplements this with a 3.2-inch tilting LCD touch screen at the rear. The backplate monitor's own high resolution of over 2.1 million dots delivers a life-like image when composing and reviewing shots - whether in stills capture or video mode. Those who prefer to shoot with the camera held at eye level will equally marvel at the EVF, which boasts an even higher 3,690K-dot resolution.
In short, the EVF is so sharp that you'll forget you're not using an optical viewfinder – should you have a pre-existing preference one way or the other – with its digital nature only becoming apparent if moving the camera very quickly, which can occasionally result in some slight lag or blurring. That said, this is less pronounced than rival cameras we've tried.
In conclusion, Nikon has clearly made the quality of its viewfinder here a priority, utilising an aspherical element and fluorine coatings for the viewfinder's eyepiece.
By contrast, for photo purists the Nikon D850 offers the traditional optical viewfinder while like the Z7 featuring a larger than average 3.2-inch LCD screen at the back, here boasting a display resolution of over 2.3 million dots.
Like on the Z7, the D850's LCD offers the convenience of a tilting, touch screen display. It can be set up for touch focus and even touch shutter operation. The screen's high resolution ensures images are superbly sharp when the camera is placed in Live View mode.
In terms of the eye level optical viewfinder, on the D850 this is Nikon's largest and most expansive offering yet. It's not only big but it's also bright and clear, leading us to surmise that in a world where mirrorless cameras sporting EVFs like the Z7 are gaining ground, there is still a lot to be said for the classic optical viewfinder.
In short, both cameras' viewfinders and screens are mightily impressive, whether for reviewing shots or framing up compositions in the first place.
Build and design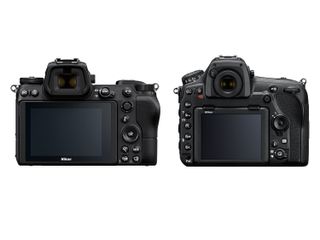 • Nikon Z7: Magnesium alloy weather sealed construction, capable of operating in temperatures between 0°C and 40°C
• Nikon D850: Polycarbonate construction, capable of operating in temperatures between 0°C and 40°C
Build-wise, the Z7, which features an in-camera image stabilisation system, looks quite different from Nikon's DSLR range and we'd argue more closely resembles rival Sony's own hugely successful mirrorless A7 series. It's also much smaller than the Nikon D850, should that be a significant factor in its favor when choosing your camera.
In truth, for Z7 users, the size factor has its own plus and minus points. Yes it's more lightweight and portable than the D850 – which we'd expect from any mirrorless system – yet it can make the overall handling feel a tad unbalanced when using larger and weightier lenses.
The more compact body also leaves less space for external controls, although its maker still finds room on he back plate for a focus point level and AF-on button, even if the four-way navigation pad feels a bit small and stiff for our liking.
All this being said, the Nikon Z7 is no lightweight in terms of construction quality and solid feel, however. Adding to the peace of mind, the camera boasts a weather resistant magnesium alloy body with a 200,000 shot shutter life.
While the pro-grade build of the chunkier D850 may delight, as well as dissuade some – it's down to personal choice and preference after all – the camera nevertheless manages to achieve this without the heft and chunkiness normally associated with pro grade DSLRs.
It's still relatively compact camera, given the generosity of its spec, and a vertical grip is available as an add-on, should you want to super-size the set up further.
It takes the D850 up to a comparable size to the likes of the Nikon D5 or EOS-1D X II while throwing in faster capture speed and longer battery life with it, obviously. We also get a handy set of duplicate controls to make vertical shooting more comfortable.
Without the grip, the D850 weighs 1,005g with battery and memory card, while its dimensions measure 146x124x78.5mm. By contrast the Z7 is a lighter 675g without lens. As noted in our description above, its own dimensions measure a more compact 134x101x68mm.
Other features
As we've noted earlier in our write up, the Nikon D850 omits an anti aliasing filter in order to eke out that nth degree of detail. Plus it has another trick up its sleeve when placed in Live View mode – namely a silent photography mode where the D850 switches to its electronic shutter and can shoot without making any noise at all.
Of course the Nikon D850's major selling point is that very high 45.7MP resolution, which does mean that any user or lens error is thereby magnified in the resultant images. On the D850, perfectly focused detail is so sharp that any drop off in terms of sharpness becomes quite readily visible.
On the Z7 we get the advantage of the same very high pixel count coupled with Nikon's new in-camera stabilization system – in the past its cameras have required the use of VR (Vibration Reduction) lenses. By offering a body integral anti-shake system, those purchasing the Z7 now have the benefit of a new five axis, five stop equivalent VR system, even without the use of dedicated VR optics.
And, as likewise noted earlier, on the mirrorless Z7 we also get the debut of a new lens mount, on which the flange to sensor distance is just 16mm, which is a good degree shorter than the regular Nikon F mount. This allows plenty of space also for the brand's FTZ adapter, which, when affixed, affords the possibility of using the camera with 90-odd current Nikon optics and achieving full auto focus and auto exposure into the bargain.
Battery life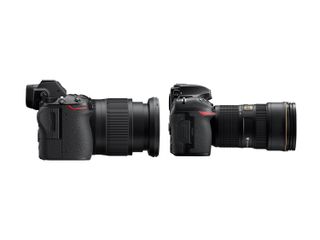 The Nikon D850 utilises the same EN-EL15a cell found in other high-end Nikons. And yet, instead of being particularly power hungry as one might expect, this DSLR is pretty frugal, being able to eke out 1,840 shots on a single charge which is reasonably impressive.
Far more modest, if still perfectly respectable, is the performance given by the Z7 in conjunction with its own EN-EL15b cell, in being able to eke out up to 330 images from a full charge.
While that still looks pretty miserly in comparison with the D850's performance, it's nevertheless comparable with others in the mirrorless camera market. It is, however, one area in which there still looks to be room for improvement, and, for 'power users', a spare cell is advisable to avoid frustration.
Verdict
In conclusion and in comparison, we feel that the Nikon Z7 is a very impressive step into the full frame mirrorless market for Nikon.
Given that it's a first attempt, it's all the more remarkable. In fact, in our noting the strong feature set and polished performance, you'd think Nikon had been making Z series cameras for yonks.
With straight fives for features, construction and handling, the Nikon Z7 could be therefore labeled an instant classic. So if it's the more lightweight mirrorless camera format that has you tempted, then you won't go far wrong in stumping up the cash for this one. Maybe pack a spare battery though!
One of the very few criticisms we levelled at the also five-star garlanded, 4K video recording D850 when we tested it was that images can get fairly noisy at high ISO setting – a trade off for cramming that many pixels onto its sensor, some may suggest.
By contrast, the Nikon Z7 proved slightly less noisy in our tests across its ISO range. Its dynamic range was also slightly more impressive than the D850; both points perhaps down to the inclusion here of a newer EXPEED 6 image processor for the Z7.
Still, if it is the tried and tested DSLR camera format you personally prefer, you'll discover the Nikon D850 is a capable and future proof camera that features its maker's biggest viewfinder to date and its best auto focus system. It delivers all the image quality, handling and features we loved in the previous D810, in delivering a degree of detail and capture speed not much shy of remarkable.
In short, if you have the need and the wherewithal for a high-end DSLR, this is a camera with which you cannot go far wrong.
In summation, the D850 is the camera for more ambitious photographers – namely the advanced amateur and the pro – with a greater degree of disposable income to go for, while the Z7 represents a very impressive first attempt for those looking to make the switch to full frame mirrorless, whilst still being able to access Nikon's acclaimed and very broad range of lenses, if investing in its optional lens adapter.
Read more
Best Nikon lenses: expand your Nikon system with these lenses
Nikon D750 vs Nikon D850: what's the difference?
Nikon Z6 vs Z7: what's the difference?