Nikon D750 vs Nikon D850? Which full-frame Nikon DSLR is the right one for you? The Nikon D750 may be four years old, but it's still a very capable option for those photo enthusiasts looking to make that step up from APS-C sensor DSLRs to full frame photography for a reasonable outlay. Plus, the fact that this full frame DSLR is longer in the tooth than most means that there are some great value deals to be had on the D750. Ancient it may be in digital camera terms, but that doesn't distract from the fact that this camera remains a very capable all rounder.
Both this and the Nikon D850 which sits above it in its maker's line up utilize Nikon's full frame format 'FX' camera mount - with a specific array of directly compatible lenses available in this format. If you, alternatively, use a Nikon APS-C DX format lens on the cameras you'll end up with a cropped image. But the obvious advantage of opting for a Nikon full frame DSLR is that users have a huge array of lenses and accessories to choose from, from both the manufacturer itself and third parties - and you can even use old film lenses on them.
Speaking of the Nikon D850, on review we described this camera in very hallowed terms as possibly the greatest high resolution full frame DSLR there ill ever be. High praise indeed! Yes, we do get almost double the pixel count of the D750, but the D850 is more expensive still as a result, so there is the need to weigh up whether the 24.3MP resolution of the D750 will suit your purposes just fine, or you really do need the extra oomph of the 45.7MP count of the Nikon D850.
Whichever you choose, with the Nikon D750 and the Nikon D850 you'll still end up with a very capable camera that should provide you with years of reliable service. But to help you make that initial choice, we've provided a bunch of comparisons in terms of specification and performance to help tip the balance in your own mind one way or the other…
• Read more: Best lenses for the Nikon D750
Nikon D750 vs Nikon D850 Sensor and processor
Why you can trust Digital Camera World Our expert reviewers spend hours testing and comparing products and services so you can choose the best for you. Find out how we test.
The Nikon D750 and its D850 bigger brother both offers the obvious bonus of full frame photography - meaning that the size of its sensor is the same as that of a frame of 35mm film and that the focal length given on any attached lens will be what you get in actuality. It also ensures that, in theory, image quality will be noticeably better than that achievable with a standard (smaller) APS-C sensor DSLR - especially when combined with directly compatible full frame format lenses.
The D750 offers an effective resolution of 24.3 megapixels from that self same sensor - perfectly respectable for most intended purposes that photographers would put the camera to. This is coupled to a standard EXPEED 4 processor that keeps things zipping along and affords the higher frame rates when shooting video in particular.
Alternatively if it is resolution you need and the potential for very large image prints - say up to bill board size for commercial photography, or to capture every precise stitch on a wedding dress - then the Nikon D850 will be the obvious one to go for, due to its whopping 45.7 megapixel count. Broadly speaking, as we all know more megapixels equals more detail. So, in terms of resolving power, the Nikon D850 is a mighty option indeed, making it suitable for a broad variety of photographic disciplines, as noted.
It's worth adding that the D850's back illuminated sensor has been designed with no anti-aliasing feature, so as to be able to eke out just that extra amount of precious detail. However the chip's photo sites are smaller than the higher-end Nikon D5 and the ISO range is lower than that camera - while still being very good indeed at ISO32 to 102,400 equivalent in expanded mode. In comparison with the older D750 we also get the advantage of a next generation EXPEED 5 processor in the D850, no doubt to help cope with the data hungry demands of 4K capture, amongst an improved frame rate, higher stills resolution and more.
Nikon D750 vs Nikon D850 video
The Nikon D750 DSLR offers the possibility of shooting Full HD resolution video at up to an actual maximum frame rate of 59.94fps, as opposed to 4K video capture offered by newer, more expensive DSLR alternatives - such as the Nikon D850. Nevertheless, on the D750 we get stereo microphone and headphone ports, which videographers will certainly appreciate. Alternatively, if using the built-in microphone, a setting can be applied which reduced wind noise when filming. The tilting LCD screen on the D750 is another definite advantage when composing video, and a light sensitivity range from ISO100 up to 51200 equivalent can also be accessed in this mode.
On top of this it could be argued that, when it comes to the D750, most amateur photographers will be perfectly happy with Full HD capture - even if the option of 4K on the Nikon D850 does make that more expensive camera more 'future proof' because of it. We've also described the Nikon D850's video features as amazing upon reviewing the camera, adding that it is one of the best 4K shooting DSLR options around. So those who need such a feature would do well to investigate its specifics further.
For example, as well as 'regular' 4K video, the D850 can capture and process 4K time lapse footage in camera, or stunning 8K time lapse movies with silent interval timer shooting, though external software is required to combine 8K frames into a 'movie'.
• Best 4K cameras for filmmaking
Nikon D750 vs Nikon D850 burst shooting (fps)
The Nikon D750 is capable of shooting up to a respectable 6.5fps in continuous shooting mode, which is fair for this class of camera and, while it isn't quite top-of-the-range, nevertheless makes it suitable for both occasional sports and wildlife photography.
Maximum continuous capture speed for the Nikon D850 goes 'one louder' than the D750 in pushing maximum frame rate up to 7fps - while, if adding an optional MB-D18 battery grip this can be pushed further to 9fps, which is very impressive. The camera offers a 'best case' scenario of a buffer capacity of 51 uncompressed 14-bit Raw files, if shooting at 7fps and with high speed, high capacity memory cards, of course. Speaking of which the D850 provides two card slots - one for XQD cards or a second for more common use UHS-II SD cards.
As both the D750 and D850 are intended to be all rounders for shooting a variety of subjects, there are cameras that offer a better frame rate if you're prepared to spend more than you would do on these general-purpose full frame offerings.
Nikon D750 vs Nikon D850 AF system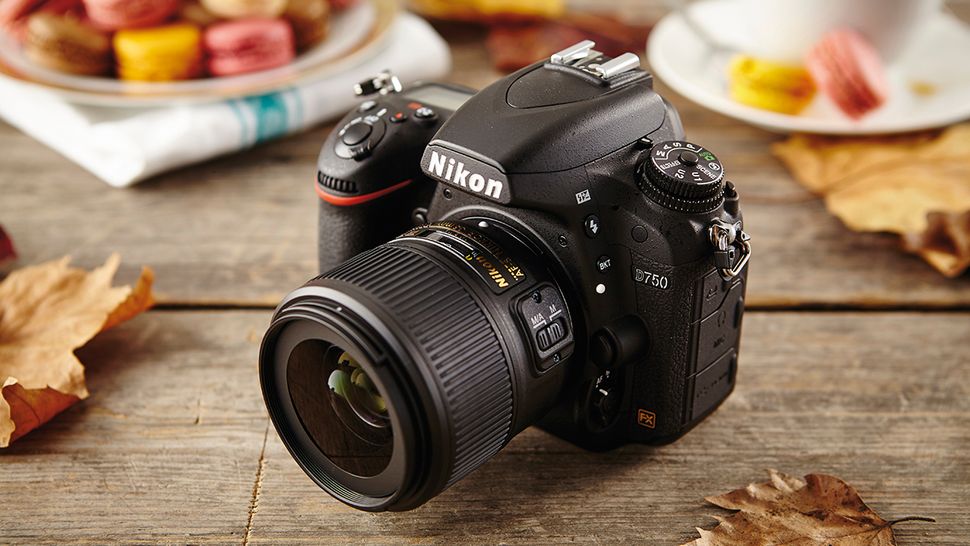 The Nikon D750 offers a highly proficient 51 point AF (auto focus) system with very reliable metering to boot. However the pricier Nikon D850 arguably blows its older sibling out of the proverbial water thanks to an upgraded auto focus system with 153 points. The D850 also has the same high tech metering and AF modules fitted to Nikon's high end D5 and D500 DSLRs, so there is pedigree in spades accessible here.
OK, so the D850 doesn't have the likes of Canon's Dual Pixel CMOS AF, meaning live view shooting and video recording relies on the slower contrast AF, but this scarcely scuppers the D850's all-round appeal. Its Multi-CAM 20K AF sensor is powerful but its coverage does not extend to the edges of the frame. That said, users can always switch to Live View, although this still uses the relatively slow contrast autofocus. A new pinpoint AF mode also allows photographers to identify tiny targets - which is useful given the camera's level of resolution.
For general purpose photography, however, the Nikon D850's AF is fast and positive, while obviously being dependent on the lens in use. A small joystick on the camera back is in a sensible location for the thumb to determine while your eye is occupied by the viewfinder itself. In conclusion the AF system incorporated into the D850, as also found on the Nikon D5 and D50, is its manufacturer's best yet.
Nikon D750 vs Nikon D850 Viewfinder/LCD
Offering an eye level pentaprism type viewfinder, the Nikon D750 supplements this with a 3.2-inch tilting LCD screen at the rear. The monitor's high resolution of over 1.2 million dots delivers a life-like image when composing and reviewing shots - whether in stills capture or video mode. Of course the alternative is to utilise the eye level optional viewfinder to compose images, though of course you'll need to refer back to said LCD screen to review what has been captured.
The Nikon D850 again offers the traditional optical viewfinder plus features the same larger than average 3.2-inch LCD screen, but on this model the resolution of the latter has been hiked up to over 2.3 million dots. It's also a tilting, touch screen display. This means that you can set this up for touch focus and even touch shutter operation. The screen's high resolution ensures images are superbly sharp when the camera is placed in Live View mode.
In terms of the eye level viewfinder, on the D850 this is Nikon's largest and most expansive offering yet. It's not only big but it's also bright and clear, leading us to surmise that in a world where mirrorless cameras sporting EVFs are gaining ground, there is still a lot to be said for the classic optical viewfinder.
Nikon D750 vs Nikon D850 build and design
Aimed at both the enthusiast and the professional on a budget, the commendably weather-sealed D750 offers that familiar Nikon DSLR look and feel that will enable you to pick up and start using this camera straight away if you've been used to handling DSLRs either lower down or further up the range.
Comparing the D750 with the D850, the lightweight bodied D750 is less solidly built in terms of its looks, feel and handling, while hardly being a deal breaker for this reason alone. Its control layout also feels a lot more consumer than professional DSLR, should that also cause you pause for thought. Nikon claims that its kevlar/carbon fibre composite shutter has been road tested up to 150,000 releases, while the camera's 'monocoque' (single shell) construction aids durability.
The fact that the D850, by contrast, features a pro grade build may dissuade as much as delight some, but it manages to achieve this without the heft and chunkiness normally associated with pro grade DSLRs. It's still relatively compact camera, given the generosity of its spec, and of course a vertical grip is available as an add-on, should you want to super-size the set up further. It takes the D850 up to a comparable size to the likes of the Nikon D5 or EOS-1D X II while throwing in faster capture speed and longer battery life with it, obviously. We also get a handy set of duplicate controls to make vertical shooting more comfortable.
Without the grip, the D850 weighs 1,005g with battery and memory card, while its dimensions measure 146x124x78.5mm. By contrast the D750 is a lighter 840g with the same lens-less set up. Its own dimensions measure a marginally more compact 140.5x113x78mm.
Nikon D750 vs Nikon D850: other features
As we've noted elsewhere, the Nikon D850 omits an anti aliasing filter in order to eke out that nth degree of detail. Plus it has another trick up its sleeve when placed in Live View mode - namely a silent photography mode where the D850 switches to its electronic shutter and can shoot without making any noise at all.
Of course the Nikon D850's major selling point its its very high resolution, which does mean that any user or lens error is thereby magnified in the resultant images. On the D850, perfectly focused detail is so sharp that any drop off in terms of sharpness becomes quite readily visible. Resolution is quite literally off the scale!
On the D750 we get various effects modes, including the ability to combine two shots to achieve High Dynamic Range imagery. Time lapse functions, two card slots (SDXC and UHS-I compatible) plus built in Wi-Fi for connecting to your other smart devices (as likewise offered by the D850) further the D750's overall usability. It may not offer the pixel count of the D850, but, if you don't require 4K video, then it's hardly a lightweight in terms of its own overall feature set.
Nikon D750 vs Nikon D850 battery life
The Nikon D850 utilizes the same EN-EL15a cell found in other high-end Nikons. And yet, instead of being particularly power hungry as one might expect, this DSLR is fairly frugal, being able to eke out 1,840 shots on a single charge which is reasonably impressive.
Less impressive but still perfectly respectable is the performance given by the D750 in conjunction with its own EN-EL15 cell, in being able to eke out up to 1230 images from a full charge.
Nikon D750 vs Nikon D850: Verdict
Full frame DSLRs aimed at high end enthusiasts and professional photographers usually cost a fair amount more than smaller sensor, more obviously consumer orientated APS-C DSLRs. But with the Nikon D750 being fairly long in the tooth at the time of writing it can be 'snapped up' forgive the pun for a price very close to what a brand new, high-end APS-C DSLR will cost you. So instead of the latest, why not go for the greatest? It's certainly an enticing thought if you're making a purchase decision.
Yes, the Nikon D750 has been around for a while now, but, arguably, that means that users have had more time to appreciate its value for money, high image quality (when compared to an APS-C DSLR) at higher ISO settings in particular, plus all round versatility and creative flexibility. In short, the Nikon D750 is still the manufacturer's most appealing and cost effective DSLR for those photography enthusiasts seeking to make the step up to full frame capture - as long as they don't mind the fact that, for video, 'just' Full HD video capture is offered here, rather than the latest and greatest 4K.
One of the very few criticisms we made of the five star garlanded, 4K video recording D850 when we tested it was that images can get fairly noisy at high ISO setting - a trade off for cramming that many pixels onto its sensor, some may suggest. This is a complex, capable and reasonably future proof camera that features Nikon's biggest viewfinder to date and its best auto focus system. It delivers all the image quality, handling and features we loved in the previous D810, while delivering a degree of detail and capture speed not much shy of remarkable. In short, if you have the need and the wherewithal for a D850, this is a camera with which you cannot go far wrong.
In summation, the D850 is the camera for more ambitious photographers – namely the advanced amateur and the pro - with a greater degree of disposable income to go for, while the D750 represents something of a bargain for those looking to make the step up to full frame photography without blowing the budget at the same time.
Read more
The best Nikon lenses