Choosing the best Sony video lenses is actually quite a task because practically all of them are just as well suited to video as stills photography. Nevertheless, there are some that stand out because of their specific video adaptations.
Many of the lenses in our list are already among the best Sony lenses all-round, but we've paid special attention to lenses designed for vloggers and filmmakers. The best Sony cameras are renowned for their video capabilities and are amongst the best hybrid cameras to buy right now.
But for this list we are looking for a handful of specific qualities:
• Constant maximum aperture:
Obviously this is one attraction of prime lenses, but when shooting with a zoom for more scope and convenience, you want to be able to zoom in and out without having to work around changing iris values.
• Aperture ring:
Being able to see and set the iris value externally is very useful, especially if the aperture rings is 'de-clickable'. This enables you to make smooth and silent iris adjustments while filming.
• Wide angles of view:
This is useful for filmmaking or vlogging in small interiors but practically essential for 'selfie vlogging', where you often want to get the background in the shot as well as yourself. Don't forget that some video modes bring a digital crop, as does Sony's digital image stabilization.
• Power zoom:
An electrically powered zoom mechanism is not essential and many filmmakers won't zoom while filming anyway. But if zooming and zoom effects are your style, it's a lot easier and smoother with a power zoom than trying to do it manually. Some Sony cameras, like the ZV-E10, even have a zoom lever on the body.
You can't always get all of these features in any single lens, but they are things you might want to look out for nonetheless.
Best Sony video lenses in 2023
Why you can trust Digital Camera World Our expert reviewers spend hours testing and comparing products and services so you can choose the best for you. Find out how we test.
While not designed specifically for video, the Sony FE 20-70mm F4 G covers a really useful focal range that's wide enough for selfie vlogging, even with the extra crop factor of digital stabilization. It also delivers both optical quality, handling and portability, though it does depend on optical in-camera corrections. The f/4 maximum aperture is not much of a compromise for the extended focal range and light weight either. The only drawback is the price, at least in some territories – it's a lot to pay for an f/4 standard zoom, no matter how good or useful.
• Read more: Sony FE 20-70mm F4 G review
Sony is billing this as "the world's lightest compact constant F4 wide-angle Power Zoom G Lens", which is definitely is as it is also the only one! Key features include the use of Sony's XD (extreme dynamic) Linear Motors not just for the AF actuator but for the zoom control too, which also has variable zoom speed. The overall barrel length remains the same even when focusing or zooming, which should make the new lens a little more manageable on a gimbal – as will its surprisingly modest weight of just 353g. The Sony FE PZ 16-35mm f/4 G is also dust and moisture-resistant. It's also one-quarter the price of Sony's massive 16-35mm T3.1 cine lens. The equivalent 24-54mm focal length on APS-C Sonys or Super35 mode on full-frame models is a useful range in itself.
If you're filming with a gimbal, it's a lot easier to balance the camera and handle the rig with smaller lighter lenses, especially primes. The Sony FE 24mm f/2.8 G is hard to fault as a design. It's small and light, it has an aperture ring which can be de-clicked for video, its AF is fast, smooth and effectively silent, and it feels really well made. However, it does huge barrel distortion when uncorrected, and like many newer lenses it doesn't just benefit from digital corrections, it relies on them as part of its design. This will be corrected automatically by the camera, however, so it's something you will probably never even be aware of.
See our full Sony FE 24mm f/2.8 G review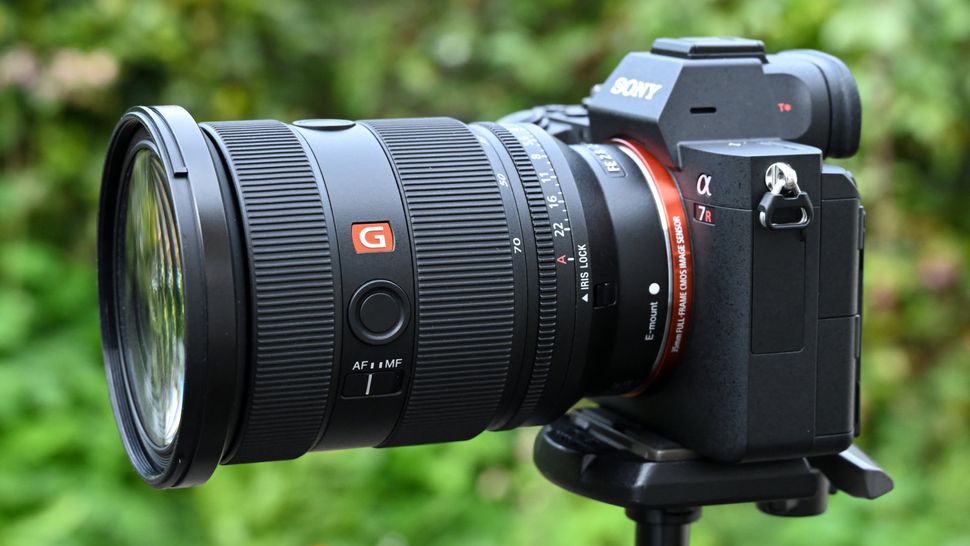 This second-generation 24-70mm f/2.8 G Master II is a lot smaller and lighter than the original and a more manageable proposition for shooting video. It also has an aperture ring, that the first version did not. There was absolutely nothing wrong with the original edition of Sony's G Master trinity standard zoom for photography, but the second incarnation is even better in every way. It packs a host of new features, improved handling characteristics and a completely redesigned optical path into a smaller, more lightweight build. It's more comprehensively weather-sealed as well. The GM II is undeniably pricey, but you get what you pay for and more besides.
• Read more: Sony FE 24-70mm f/2.8 GM II review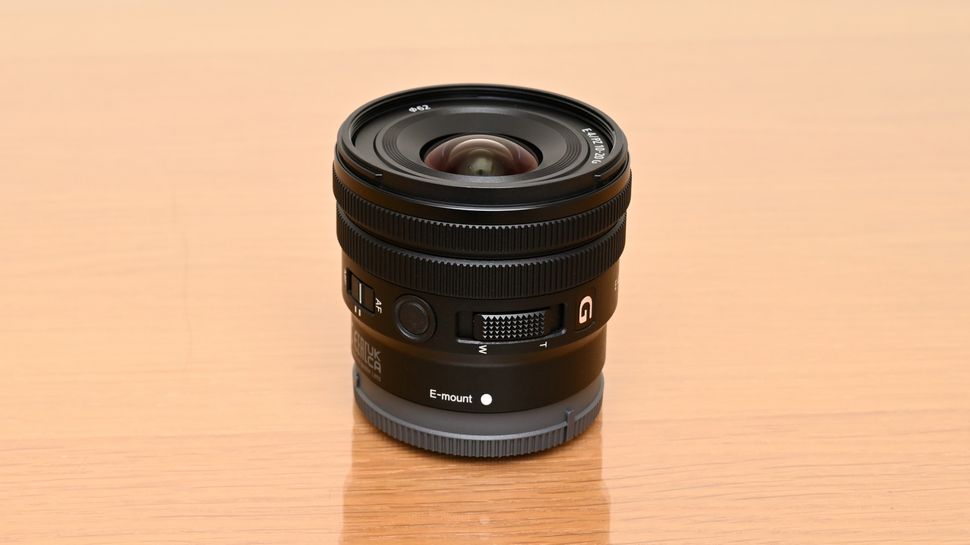 This new Sony APS-C ultra-wide zoom joins the existing 10-18mm f/4 lens in the range, but is specifically optimized for video with a power zoom mechanism. The first thing that hits you about this ultra-wide-angle zoom lens for Sony's APS-C format mirrorless cameras is just how small it is. The size and weight are more akin to an ultra-compact standard kit zoom with a variable (and slow) aperture rating. The fact that Sony has managed to shoehorn such an expansive zoom range with a constant f/4 aperture into such a small lens, complete with motorized zoom, really is quite something. Especially as image quality and overall performance are so excellent. It's pricey for an APS-C format zoom but well worth the money.
• Read more: Sony E PZ 10-20mm f/4 G review
The best Sony cameras for video offer full-width oversampled 4K video, but some full frame models rely on a cropped Super35 mode for some resolutions and frame rates, so APS-C E-mount lenses like this on could prove useful on larger cameras too. The 18-105mm focal range offers the equivalent of 27-158mm in full frame terms, which is very good for a lens with a constant f/4 aperture. The built in optical stabilizer is another advantage, as is the power zoom lever, though as with other Sony E APS-C lenses, there's no aperture ring. This could be the ideal all-purpose standard zoom for filming, but it is pretty big and heavy and especially so when fitted to Sony A6000-series bodies or the ZV-E10.
Other video accessory guides
Best video tripods
Best gimbals for DSLRs and mirrorless cameras
Best microphones for filmmaking and vlogging
Best variable ND filters
Best on-camera monitors