The Sony FE 24mm f/2.8 G is like a breath of fresh air in the Sony lens range. It's one of three new, physically almost identical, compact primes launched by Sony at the same time – the others are the FE 40mm f/2.5 G and FE 50mm f/2.5 G.
For a long time it's seemed as if Sony has had two separate design teams; one producing cameras as small as possible, the other designing lenses for performance first and size definitely second. As we write this we're looking at a Sony A1 fitted with a Sony FE 24-70mm f/2.8 G Master. It's not a comfortable combination.
When you fit the FE 24mm f/2.8 G, the Sony A1 is transformed into a compact, portable and easily handled walkaround camera that would be ideal for stills, vlogging and travel (when we can all travel again).
Sony does make a couple of prime lenses in and around this focal range already, but the FE 24mm F1.4 GM is a big, heavy and expensive pro lens, the FE 28mm F2 is a physical and optically longer than this latest lens, and the only lens that's similarly small and compact is the even longer (and slower) Zeiss Sonnar T* FE 35mm F2.8 ZA
There is a third-party alternative in the form of the Sigma 24mm f3.5 DG DN I C Lens, but this is 2/3 of a stop slower than the new FE 24mm f/2.8 G.
• Read our full reviews of the other two lenses in this family:
• Sony FE 40mm F2.8 G review
• Sony FE 50mm F2.5 G review
Specifications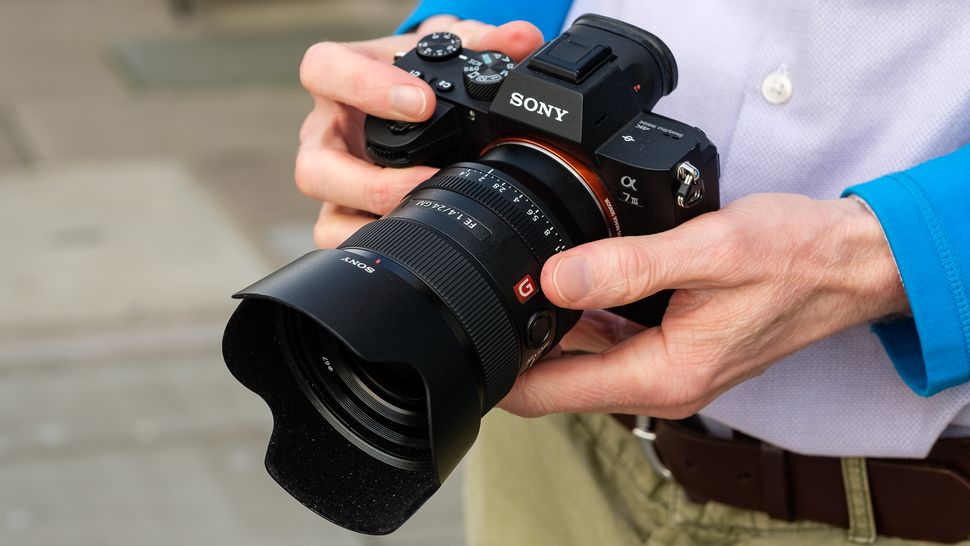 Format: Full frame
Focal length: 24mm
Maximum aperture: f/2.8
Optical construction: 8 elements in 7 groups
Minimum focus distance: 0.24m
Filter size: 49mm
Dimensions: 68mm (W) x 45mm (D)
Weight: 162g
Key features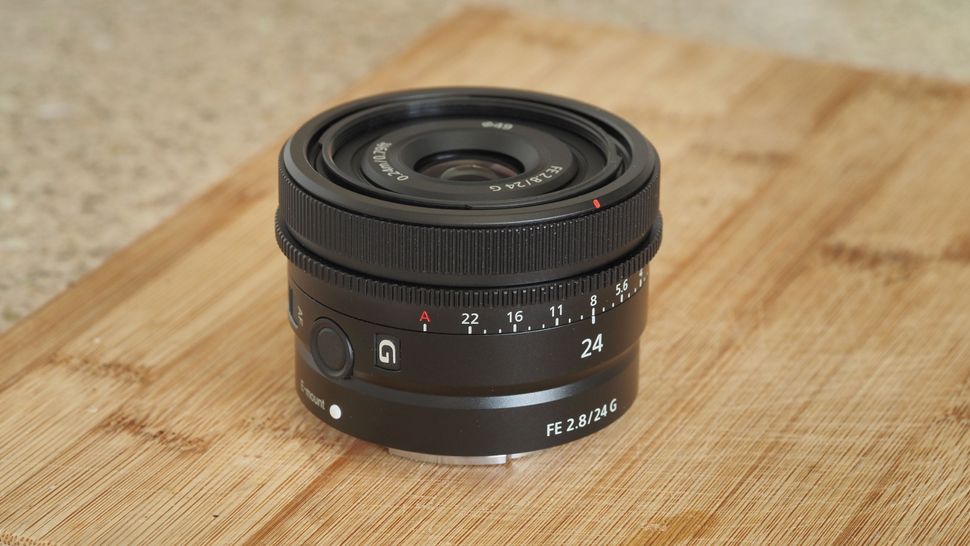 The most obvious feature of the Sony FE 24mm f/2.8 G is its size. The only other comparable lenses in the full frame Sony range are the Zeiss Sonnar T* FE 35mm F2.8 ZA and the FE 28-60mm F4-5.6 pancake zoom introduced with the Sony A7C.
The new lens is not exactly a cheap prime lens alternative, however. There's a bit more to it than that. It's not cheap, for a start. It also has a number of features aimed at serious photographers and videographers.
One of these is the aperture ring, and it's really nice to see these making a comeback on prime lenses – you can see what aperture you've set even while the camera is off.
That's not all. This aperture ring is 'declickable' for video use, via a switch on the underside of the lens. In this mode you can adjust the iris steplessly and silently while filming.
Sony has even found space on this super-compact lens for a customisable focus hold button, and the AF system itself uses twin linear motors for fast, smooth autofocus which is effectively silent. Clearly Sony's trio of new compact lenses has been designed for performance and versatility, not just compactness.
Build and handling
It's hard to fault the way the FE 24mm f/2.8 G handles. The controls feel tight, firm and positive, and light as it is, it still feels really well made. The aperture click-stops are quite firm but the action becomes super-smooth with the click stops disabled.
However, it's disappointing that there's no focus distance scale. This is becoming a feature (or a lack of a feature) on many new mirrorless lenses, and the side-effect is that there are no depth of field markings either. Prime lenses have traditionally been perfect for zone focusing and hyperfocal focusing, but not this one.
Interestingly, Sony has equipped the FE 24mm f/2.8 G with a circular lens hood, while the new 40mm and 50mm primes launched at the same time have dedicated rectangular hoods. You would have thought the 24mm would benefit especially from a rectangular hood, but maybe it would have been too bulky and detracted from the 'family' look of the three new lenses.
Performance
This lens's autofocus performance was first rate in our tests. It proved fast, positive and silent.
The optical performance was a bit disappointing, though. The FE 24mm f/2.8 G is super-sharp in the center of the frame, but you can see some drop off in sharpness at the frame edges even at smaller apertures. It's not bad by any means, but it doesn't have quite the edge to edge sharpness we'd hope for in a relatively unambitious optical specification like this.
Worse, when we compared our RAW files to the JPEGs in Adobe Bridge, it became obvious that the camera was applying heavy distortion correction. The uncorrected images have so much barrel distortion that you simply wouldn't use them in that state. We expect that Adobe and others will soon add lens profiles for this lens that will remove the distortion by default, even from raw files, but until then you should expect to have to apply some heavy corrections to your raw files.
This is by no means the only lens to rely on digital corrections. The Sony E 18-135mm superzoom does, for example, as does the Canon RF 24-240mm, both excellent lenses when digitally corrected. We can probably expect to see many more lenses that rely on digital and optical corrections combined. We did not expect to see this in a relatively simple prime lens, however, and it may point to some of the compromises Somy has had to make to keep this lens so small and the same size as the new 40mm and 50mm.
Lab tests
We run a range of lab tests under controlled conditions, using the Imatest Master testing suite. Photos of test charts are taken across the range of apertures and zooms (where available), then analyzed for sharpness, distortion and chromatic aberrations.
We use Imatest SFR (spatial frequency response) charts and analysis software to plot lens resolution at the centre of the image frame, corners and mid-point distances, across the range of aperture settings and, with zoom lenses, at four different focal lengths. The tests also measure distortion and color fringing (chromatic aberration).
Sharpness:
Centre sharpness is outstanding , right from wide open through to f/11. Inevitably mid-frame and corner sharpness aren't quite as impressive, but this is to be expected as our sharpness test necessitates shooting a large, flat test chart at close range with a wide lens like this - a nightmare scenario for maintaining good centre and corner sharpness, especially at large apertures with minimal depth of field.
Fringing:
Levels of chromatic aberration are about as low as you could reasonably expect from a lens - a stellar result. You simply won't see any fringing from this lens in real-world use.
Distortion: -9
While the lens appears to be distortion-free when you're out shooting with it, once you come to view raw files, a huge amount of barrel distortion is revealed. However, once Adobe releases a Camera Raw profile for this lens, such distortion should essentially become a non-issue. Even so, it's interesting to see the degree of optical distortion present in some lenses before it's digitally corrected.
Verdict
The Sony FE 24mm f/2.8 G is a really nice lens to use, with some great features. Its size means that Sony A7 series cameras handle in a much lighter, less front-heavy way, and the aperture ring and it's de-clicking switch make this lens great for both stills and video.
The optical performance didn't quite live up to the promise, however. It's good, but not great, and the reliance on digital distortion correction is both unexpected and disappointing.
• Pre-order the Sony FE 24mm f/2.8 G from Wex
• Pre-order the Sony FE 24mm f/2.8 G from Park Cameras
Read more:
• Best Sony lenses
• Best Sony cameras
• Best wide-angle lenses
• Sony FE 24mm F1.4 GM
• Sony FE 35mm F1.4 GM