The Fujinon XF 10-24mm F4 R OIS is a new version of a lens that's been in the Fujifilm line-up for a while. It keeps the optical configuration of the original XF 10-24mm lens, but adds an aperture ring, weatherproofing and improved optical stabilisation.
The flagship ultra-wide zoom in the Fujinon range is the Fujinon XF 8-16mm f/2.8 R LM WR, but this is a big, heavy and expensive lens that offers a wider maximum aperture but no image stabilization.
For many, the cheaper XF 10-24mm F4 R OIS will be a more useful everyday lens. It sacrifices a little in angle of view and light gathering power, but makes up for it with cost, ease of use and portability.
Specifications
Lens mount: Fujifilm X
Autofocus: Yes
Full frame: No
Image stabilization: Yes
Lens configuration: 14 elements in 10 groups (including four aspherical elements and four extra-low dispersion elements)
Angle of view: 110°-61.2°
Maximum aperture: f/4
Aperture blades: 7 (rounded diaphragm opening)
Minimum focus distance: 0.5m (Macro 0.24m)
Maximum magnification: 0.16x
Dimensions: 78×87mm
Weight: 385g
Filter size: 72mm
Key features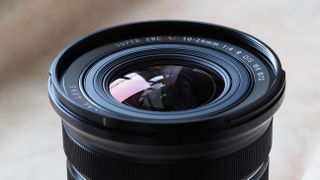 The XF 10-24mm F4 R OIS has an effective focal length of 15-36mm, a standard ultra-wide zoom range. It goes wide enough to squeeze in tall buildings, expansive interiors and narrow streets, but it also goes long enough for regular semi-wide-angle photography. It's not the widest there is, but you won't have to keep changing lenses so much.
Optically, the XF 10-24mm F4 R OIS is the same as the old lens, with but slimmer focus and zoom rings and a modest but useful weight saving of 25g.
More importantly, the new lens now has weather sealing to add a level of dust and moisture resistance that the old lens didn't have.
Best of all, Fujifilm has added an aperture ring, replacing the simple auto/manual switch on the old lens and making this lens much more appealing to fans of manual aperture control, and a better match with the external exposure controls on Fujifilm's more advanced X-mount cameras.
Build and handling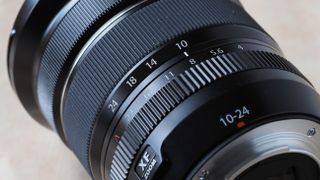 We were impressed with the build quality of the new Fujifilm X-S10 when we reviewed it, and we tested the XF 10-24mm F4 R OIS with the Fujifilm X-T4, which has the same extremely high quality of finish and 'feel'.
The zoom ring has quite a short throw and a light action with no sticky points or changes in weighting. The outer barrel doesn't change in length, so although the inner assembly moves during zooming, this lens effectively has an internal zoom.
The focus ring is light and smooth, and while there's no distance scale on the lens, you do get one in the viewfinder and on the rear LCD as soon as you change the focus manually.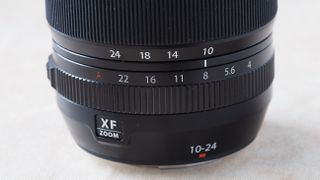 One of the advantages of a fairly modest spec ultra-wide lens is that you don't have a huge and bulbous front element, so the XF 10-24mm F4 R OIS can take regular filters (72mm, the same as the Fujinon XF 16-80mm F4 R OIS WR we are also testing).
The aperture ring is really nice. It's fairly light, but has definitely click-stops both at full aperture settings and at 1/3-stop increments. There is an A (automatic) setting past the minimum aperture of f/22, but you have to hold down a button first, so there's less risk of accidentally switching auto and manual aperture control.
The design, operation and materials used in this lens are first rate. It's a little long for a 10-24mm, but that's the way lens design is going as optical formulations, AF actuators and image stabilisation systems evolve.
Performance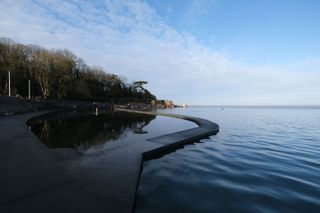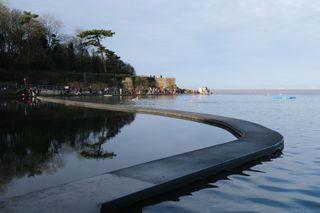 We found no problems with the way this lens performs physically, and the autofocus is fast, quiet and smooth. The image quality proved more of a mixed bag, however. The lab tests show poor corner sharpness at longer focal lengths, and this became very evident in our real-world tests. The XF 10-24mm F4 R OIS WR is by no means bad in this respect as most ultra-wide zooms start to soften at the edges, but it's clear to see at 24mm, the longest end of the zoom range, that the edges are not as sharp as the center.
On the upside, at the widest focal length, 10mm, the edge sharpness looks pretty good, and that wider focal length is probably what most people would buy this lens for anyway.
Even so, this is a pretty expensive lens for an f/4, and we would have hoped for a more consistent level of edge sharpness.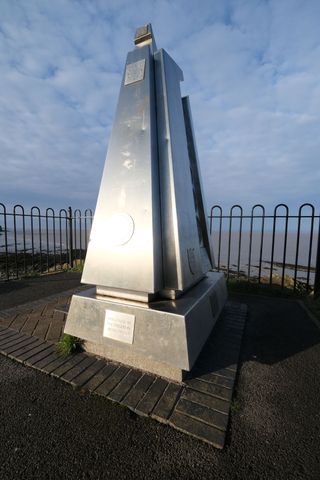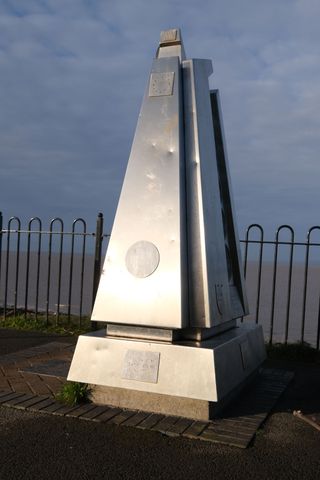 On the other hand, chromatic aberration and distortion are essentially non-existent because of the way Fujifilm embeds lens corrections in the image files, both RAW and JPEG. Most RAW processors will apply these corrections automatically.
Lab data
Sharpness:
The sharpness scores in the graphs below are produced by shooting a monochrome test chart covered in multiple sharp boundaries between black and white. This image is then assessed by specialist software, with the extent of blur on the contrast boundaries at the centre, mid and edges of the image converted into a spatial frequency value to determine how many line widths per picture height the lens is capable of resolving. A higher spatial frequency corresponds to a greater number of finer lines over a given distance that the lens can resolve - this number is the sharpness score.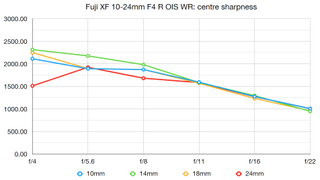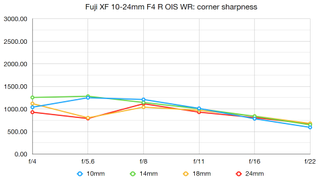 Centre sharpness is excellent, right from wide open at f/4 through to f/11. The only blip is at 24mm at f/4, though this could be an issue specific to our test sample lens. Corner sharpness scores are inevitably much lower, as any wide-angle lenses will struggle to keep the corners of our large, flat test chart in focus as the distance from the lens to the corners is so much greater than the distance to the centre of the chart. However, even making these allowances, the 10-24mm is a little softer at the corners than we'd expect, especially at f/5.6 in conjunction with longer focal lengths.
Fringing:
The chromatic aberration scores are calculated using the same chart we use for measuring sharpness. This time the processing software assesses the sharp black-white contrast boundaries and determines the width in pixels of the colour fringe that divides black from white - the larger the width of the fringe, the greater - and worse - the fringing score.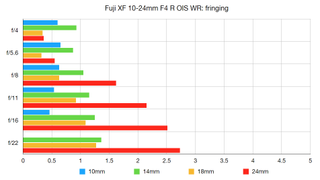 Fringing is well controlled at 10mm at all apertures, and only becomes barely visible as you zoom in to 14mm and 18mm. But, aberrations rapidly become an issue at 24mm. At f/8 and narrower, the lens generates significantly more fringing, and by f/22 at 24mm aberrations are obvious.
Distortion:
At the top and bottom of our lens test chart are horizontal black bars that run its full width. A lens that bulges these lines towards the edges of frame produces barrel distortion, the degree of which is indicated by a negative score. Shrinking (pincushion) distortion, usually produced by a telephoto lens, produces a positive score. The higher the number - positive or negative - the greater the distortion. A score of zero indicates no distortion.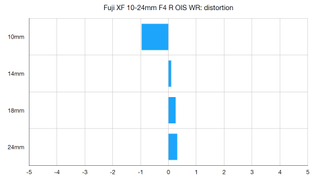 Thanks mainly to in-camera distortion correction baked into Fujifilm raw files, distortion is minimal. These figures don't represent the true optical distortion of the lens though, so shouldn't be compared against other lenses that aren't being flattered by in-camera corrections.
Verdict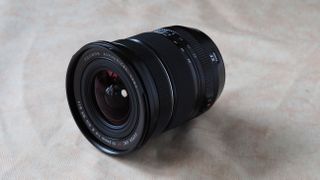 The Fujinon XF 10-24mm F4 R OIS WR is a really nice lens to use. The build quality, finish and handling are absolutely top-drawer, the constant f/4 maximum aperture is handy for photographers and videographers who like to work with fixed apertures regardless of zoom setting, and the aperture ring is wonderful to have.
If only the optical performance hit the same standard. It's great at 10mm, but the softer edges at 24mm are a disappointment, and they are apparent not just in the lab but in real-world samples too.
Read more:
• Best Fujifilm cameras
• Best Fujifilm lenses
• Best mirrorless cameras
• Best enthusiast cameras
• Best camera lenses to buy