When launched back in 2008, Tamron's original 10-24mm lens beat every other APS-C format competitor for outright zoom range. Its successor, the Tamron 10-24mm f/3.5-4.5 Di II VC HLD, arrived on the scene in 2017, with major enhancements throughout. A new optical line-up includes enhanced aspherical and LD (Low Dispersion) elements. There's also a new HLD (High/Low toque-modulated Drive) autofocus system and VC (Vibration Compensation) stabilization, both of which were lacking in the original lens.
The HLD autofocus is faster, quieter and more accurate. It also gives a big boost to handling, as the focus no longer rotates during autofocus. Full-time manual override of autofocus is available, for those who like to take precise control at critical moments.
Unlike many similar APS-C lenses, the Tamron is fitted with weather-seals, including a rubber ring around its mount, plus a fluorine coating on the front element to repel moisture and grease, which also aids in easy cleaning. Build quality feels improved compared with the original, making for a sturdy and reliable lens across the board.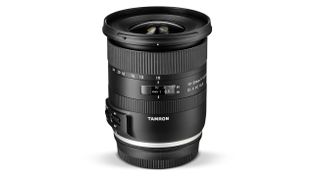 Performance
The HLD autofocus system proved quick and unerringly accurate in our tests, although it's not as near-silent as most ring-type ultrasonic alternatives, let alone Canon's STM system. Shooting at close range, the Tamron delivered mediocre results in our lab tests. It was a different story in our 'real-world' tests, however, where sharpness proved excellent across the entire image frame, throughout the entire zoom range. Short-zoom barrel distortion at everything other than very close focus settings also becomes minimal.
The modest size and weight of the lens is reflected in its 77mm filter thread, and it comes supplied with a petal-shaped hood for use in ultra-bright light. A little care is needed when operating the lens in order to avoid knocking the AF/MF and VC switches, which are quite large and prominent, but once you get used to this it isn't an issue.
Read more: