One thing that's really special about the Canon EF 16-35mm f/4L IS USM is the value it represents.
If you're a photographer who's generally working to a tight budget, you may have assumed that Canon's premium L-series lenses, which are generally agreed to be among the best Canon lenses around, would always be out of your reach. Indeed, many of these pro-spec optics can and do come sporting price tags running into the multi-thousands. The Canon EF 16-35mm f/4L IS USM, however, can be picked up for much less. So, if you're a user of Canon DSLR cameras, is this still a premium lens that's worthy of your time?
This Canon lens has a lot going for it. It's worth comparing it to the range-topping EF 16-35mm f/2.8L III USM, a more expensive and high-end version, with a maximum aperture of f/2.8. However, the f/4 lens isn't just an inferior version of the same zoom range – it is also more compact and lightweight, and for many, that combination of advantages will outweigh the extra f/stop in aperture rating of the f/2.8 lens, especially as the f/4 only costs about half as much to buy.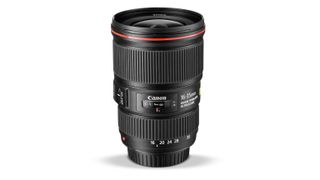 This lens is built to a pro-grade standard. As such, it's robust and weather-sealed, with excellent handling. Optical highlights include two UD (Ultra-low Dispersion) elements and Super Spectra coating. Fluorine coatings are also applied to the front and rear elements.
As it's a full-frame lens, the 108-degree viewing angle of the EF 16-35mm f/4L IS is comparable to using a zoom lens starting at 10mm on an APS-C camera. However, an upside to the Canon EF 16-35mm f/4L IS USM is that its tele end stretches further than many of these competing lenses, so it's a good choice if you'd prefer not to swap the optic on the front of your camera too often.
Performance
We put the Canon EF 16-35mm f/4L IS USM through a series of rigorous optical tests. Our results found that it produces superb centre-sharpness, but drops off towards the edges and corners of the frame. Colour fringing is controlled well, and there's little barrel and pincushion distortion at the short and long ends of the zoom range respectively.
The focus ring of the EF 16-35mm f/4L IS USM is nice and wide, and in use it has a smooth and fluid feel to its operation. The lens also features an image stabiliser, which helps keep handheld shots smooth and blur-free. It comes with a filter attachment thread – not always guaranteed on a full-frame lens – and comes supplied with a hood in the box for keeping out stray light. A full set of weather seals and fluorine coatings on the front and rear elements also make the EF 16-35mm f/4L IS USM well-suited for outdoor use even in poor weather – this pairs well with its lightweight build to make it an ideal lens for intrepid landscape photographers.
Read more: