Blackmagic has been making cameras for about six years, ranging from small form-factor film cameras through to pro-grade studio cameras, all with a focus on video.
The Pocket Cinema Camera lineup received a solid reception when it launched, although the sacrifices made in terms of ports and battery life always held the series back.
Now, the Pocket Cinema Camera 4K has arrived, combining a new design, a killer port array and better battery life, as well as dual memory card slots in a compact body. With an Micro Four Thirds lens mount, there's plenty of fantastic glass you can pick up at launch – from Olympus, Panasonic, Zeiss, Voigtländer, Sigma and others. The Dual Native ISO suggests promising noise handling at a higher range than we've seen before from a pro-grade video camera in this price range.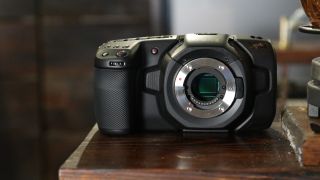 Price and availability
You can pre-order the Pocket Cinema Camera 4K now. The body-only price is £1,055/$1,295 with lens bundles available from third-party resellers.
Officially, the product will be globally available to buy at the end of September. Having spoken to Blackmagic regarding distribution, demand suggests you'll be able to get your hands on it nearer the beginning of October.
The best 4K cameras for filmmaking
Key features
18.96mm x 10mm MFT (Micro Four Thirds) sensor
MFT lens mount
Dual Native ISO ranges – 400 and 3200
4096 x 2160 (4K DCI), 3840 x 2160 (Ultra HD), 1920 x 1080 (HD) shooting resolutions
13-stops of dynamic range
5-inch Full-HD fixed touchscreen
Integrated stereo microphone
Polycarbonate/carbon fibre composite body
Dual SD/CFast card support
Includes full DaVinci Resolve edit software licence
Blackmagic OS touch interface
Records RAW internally
External recording to USB-C hard drive
LP‑E6 Battery with USB-C charging
Lockable DC port on side – Weipu 2-pin connector
Design
Weighing 722g and sporting a retro, 90s aesthetic, the Pocket Cinema Camera 4K is decent feeling bit of kit. Ditching the weather-sealed magnesium alloy of some more premium cameras has kept the weight manageable, though it still packs enough heft to deliver good weighting when steadied in two hands.
The body has a combination of textures, with a ribbed grip for a secure hold. The front of the Pocket Cinema Camera 4K houses the lens mount, a horizontal rotating dial and a new improved dual microphone set-up. There's also a front-mounted record button and an LED light.
The main topside buttons include a record button and a 4K stills capture button along with quick access to ISO, shutter angle and white balance. Three handy customisable function buttons are also in easy reach as too is the power switch.
Rigging options aplenty, the Pocket Cinema Camera 4K has a standard tripod thread mount at the base with an additional mount where the hot shoe might be on a stills camera, perfect for an external monitor or LED light.
The incredibly spacious Full HD capacitive touchscreen on the back measures in at five inches, is nice and responsive and showcases Blackmagic OS, the company's proprietary interface. This is paired with focus-check, HFR, menu and playback physical buttons.
At the base is a battery door which is removable, to the left sits a dual card slot while to the right are all the ports.
Pro video
You may be wondering: why would you get this instead of a stills camera that can shoot in 4K video?
From a design point of view, a lot of it comes down to the screen. Clocking in at 5-inches, that's significantly larger than the 3.2-inch screen found on the Panasonic GH5S. When you consider its 16:9 aspect ratio vs the traditional 3:2 aspect ratio of photography camera viewfinders and displays, you get a lot more bang for buck with the Pocket Camera 4K.
This screen size and aspect ratio are invaluable when using the onboard display for focus checks. Even simple touch interaction is a joy as you swipe and tap through its comfortably spacious video-focused touch UI.
Blackmagic missed a trick by not making the screen articulating. This will be a black mark against it for vloggers or self-shooters.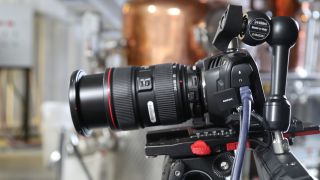 The other key reasons for the Pocket Cinema Camera 4K to exist in a world of mirrorless 4K shooters are down to its video capturing capabilities. For starters, it's able to shoot RAW video out of the box, giving filmmakers and enthusiasts much more retrospective control over their productions.
With 13-stops of dynamic range and its dual native ISOs, the Pocket Camera 4K is also tuned to handling noise and retaining tonal detail in situations notoriously hard for video. This also means it's all set to capture HDR content.
Blackmagic has also created an extended video mode, sitting somewhere between RAW and compressed, which delivers a broader tonal range ready for grading. Paired with a free copy of Davinci Resolve with every camera sold, you don't even need to invest in any pricey software to get cracking with your 4K edits.
When you consider the fact you have a mini XLR audio input as well as USB-C storage support for recording to hard drives, a full sized HDMI port and dual card slots, the Pocket Cinema Camera 4K leapfrogs the competition in almost every video-centric area.
Ports and storage
Having briefly covered the ports, it's worth explaining why what's here makes so much sense from a video perspective in a bit more detail.
Starting with the audio options, the Pocket Camera 4K features higher-quality microphones than we've seen from the Blackmagic pocket series before. Output and input options are also comprehensive, with 3.5mm headphone out and separate 3.5mm microphone in.
While audio can be fed in using the 3.5mm microphone input, the mini XLR port will be a more likely option for video professionals, complete with Phantom Power support. This is the type of connector that plays nicely with everything from wireless mics through to concert hall audio rigs, adding a huge amount of audio clout to this small camera.
While the LP-E6 batteries, quoted at 50 minutes, are passable when out and about and are relatively inexpensive, the 2-pin DC connector is perfect for studio shoots, when hard-wired power options are a blessing.
The USB-C port is primarily available for data transfer, but offers up some great additional utility. For starters, you can charge your Pocket Camera 4K using it, so if you have a 2017/18 Android phone, you could leave the house with just one charger. While it won't power the camera live when out and about and shooting, it will enable external HDD recording in compressed formats.
On the subject of storage, the Pocket Cinema Camera 4K also features one SDXC card slot and a CFast slot, with the latter being the only current card type that can support RAW 4K filming.
Lens options
The standard Micro Four Thirds (MFT) lens mount and no in-body stabilisation make the Pocket Cinema Camera 4K very comparable to the Panasonic GH5S in both these departments.
There's a huge amount of excellent native glass available to pick up for the camera at launch. In addition, chances are, if you have a bunch of incompatible lenses, you'll be able to buy an inexpensive adapter without any trouble.
Blackmagic hasn't included continuous autofocus here, so Canon is still winning that battle. The lack of ND filter also means if you need to flit between shooting indoors and outdoors at a moment's notice regularly, you will still be better served with something like a Cinema EOS C100.
That said, it always comes back to bang for buck with the Pocket Cinema Camera 4K.
Early verdict
The Pocket Cinema Camera 4K is a decent-looking bit of kit that does much, much more than its retro aesthetic lets on.
This is a serious filmmaking tool that ships with a full licence for Davinci Resolve, an excellent bit of pro video-editing software that costs £239.
While we can't comment on video quality in too much detail as we couldn't take away the footage we shot, on-device footage looked mightily impressive, and the videos released by Blackmagic showcasing the Pocket Cinema Camera 4K also impress.
There are three things that are 'missing' from the Blackmagic Pocket Camera 4K – an ND filter, continuous autofocus and an articulating screen. At its price however, nothing else offers up any of those with everything else bundled in here.
This means that if the reality lives up to the hype when we get this in for our full review, the Blackmagic Pocket Cinema Camera 4K looks set to be the benchmark for entry-level filmmaking pro cameras.
Also read
The best 4K cameras for filmmaking
The 12 best cameras for vlogging
Top 25 films about fictional photographers