Adobe Premiere Pro CC 2021 is a well established non-linear editing package that's favored by many professionals as the best video editing software. Running on both PC and Mac it features a host of high-end tools that enable you to turn raw footage into tightly edited programs complete with post-production trappings such as titles, transitions, picture in picture effects and composited elements using masks and chromakey.
One of Premiere Pro's key strengths is its integration with other Adobe apps such as Photoshop and After Effects. You can create layered assets for your video projects in Photoshop and drop them into that app's Libraries panel. This panel uploads the assets to the Creative Cloud, enabling you to access them in Premiere Pro's Libraries module. This allows you to share assets easily between apps and from any location thats's connected to the Web - so if you're working on a laptop in a coffee shop you can access your library of assets with ease by connecting to the Adobe Creative Cloud.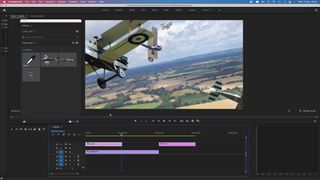 Interface and usability
As with Apple's comparable Final Cut Pro X, Premiere Pro 2021's interface features clean white icons and text labels against black and grey panels. This neutral workspace enables you to concentrate on editing your content without being distracted by showy icons. Labels at the top of the interface take you to different modules such as Editing, Color and Audio. You can access even more tools from the Windows drop down menu.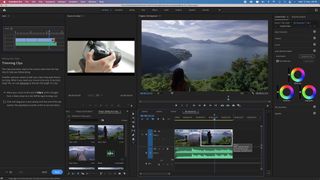 If you're new to Premiere Pro CC 2021 - or non-linear video editing in general - then you can access a range of tutorials from within the app's Learn panel to guide you through the basics. These step-by-step walkthroughs are an effective way to get to know key panels and tools in Premiere Pro's workspace.
Your project's assets live in the Project panel. A useful feature is the ability to slide the cursor across a Project panel's video thumbnail to quickly preview its contents. You can also set In and Out points while viewing a thumbnail by tapping I and O. You can then drag the edited clip straight to the timeline. This shortcut saves you the hassle of adding the entire clip to the timeline and then trimming or cutting it there. Little touches like this enable video editors to hone their content more quickly.
Key features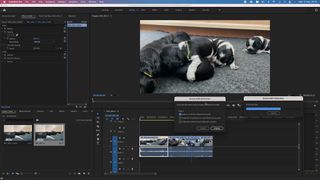 One way to save valuable editing time is to use the new Scene Detection feature. A single video clip may contain a variety of shot sizes, especially if you jump between various lenses on an iPhone Pro 12 during a single take for example. Scene Edit Detection uses machine learning to recognises these various changes in composition and automatically places cuts between them in the timeline. This enables you to speed up your workflow so you can jump straight to colour and tone tweaking without having to manually cut a long clip into smaller scenes. We found that this new useful feature works well.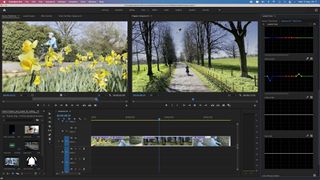 Premiere Pro 2021 provides you with professional-quality color grading and correction tools in its Lumetri Color workspace. Here you can apply basic color corrections or produce more creative looks using sliders and controls. The one-click Auto button is a good place to start as it adjusts the various sliders to create a better looking clip. You can then tweak sliders to get the look you're after. The one-click white balance eyedropper is an effective way to banish cold or warm color casts caused by a camera's in-effective white balance operation. Lumetri Color is broken up into a range of panels such as Basic and Creative. The latter panel features Color Wheels that you can tweak to tint shadows and highlights independently and produce creative shifts in color hue. Color wheels are the springboard to a range of creative graded looks such as the split-tone effect.
If you have clips from multiple sources and need to make them look consistent then the Color Match tool can grade a target clip in a click to make its colors and tones match the look of a selected source clip. If you're familiar with Adobe Lightroom then you'll soon get to grips with many of these comparable color grading tools. As with Final Cut Pro X you can also use a powerful Color Curves tool to target and tweak the hue, saturation and brightness of any color.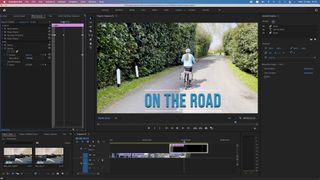 Another useful resource is the Essential Graphics panel. This is packed full of preset text animations (or motion graphics) that you can customize to enhance the timeline's content. You can also create custom graphics from scratch by combining layered shapes and text - much as you would when creating graphics in Photoshop. Apple's Final Cut Pro X displays a yellow vertical or horizontal line that indicates when you've manually dragged a title into the centre of the frame. Premiere Pro's auto horizontal or vertical alignment icons provide a faster way to centre your text vertically and horizontally.
Premiere Pro also boasts sophisticated Audio tools that will duck music automatically when someone speaks and then raise the level to fill gaps in dialogue. Auto ducking can be fine-tuned using sliders to make it sound more natural and subtle. You can also browse stock audio assets by bpm (beats per minute), mood and genre. After previewing the tracks in sync with your timeline you can license the audio stock asset from within Premiere Pro.
Quality of results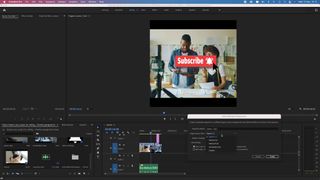 Some social media platforms automatically crop your carefully edited video content. This can cause key subjects at the edge of the frame to disappear, destroying your footage's careful composition. The new Auto Reframe Sequence tool is designed to quickly turn a 16:9 programmed into a 1:1 cropped version for sites such as Instagram for example. Auto Reframe Sequence tries to make key elements such as faces and graphics remain visible in the cropped version by using motion tracking to adjust the position of each clip's contents.
The Auto Reframe Sequence command is a great idea but we found it was less impressive in practice. It slides the original footage around in an attempt to keep key components (such as faces) in frame at all times. However this motion tracking can cause the clip to pan back and forth in a clumsy and distracting way, completely changing your original camera work. You can dial down the default strength of Premiere's Auto Reframe motion tracking but Final Cut Pro X's similar Smart Conform tool does a better job as it just re-frames each clip without adding any digital pans.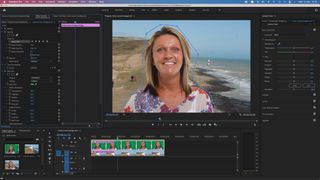 Verdict
Adobe Premiere Pro 2021 boasts a powerful collection of non-linear editing tools that can help you hone your raw footage into professional looking productions. If you already subscribe to the Adobe Creative Cloud All Apps Plan then this should be your professional video editing app of choice as it will seamlessly slot into your creative workflow. Premiere Pro CC 2021 also comes with Premiere Rush, an all-in-one iOS or Android compatible app that works on mobile devices. After filming and editing on your phone you can open Premiere Rush files in Premiere Pro 2021 to continue editing them with more advanced tools.
Read more:
• The best laptop for video editing
• Best cinema cameras
• Best filmmaking cameras
• Best vlogging cameras
• Best video editing monitors
• Best keyboard for video editing
• Best audio recorders
• The best desktop computers
• The best photo-editing software you can buy
• The best VPN
• The best website builders for photographers
• Best recovery software for photos
• Best password manager