What's the best camera for portraits? Traditionally, portrait professionals look for two key things in their gear: a focal length that gives you the best shooting distance for flattering facial features, and fast apertures that can create beautiful background blur and subject separation.
However, these days there is more to it than just the lens that goes on the front of your body. The best cameras for portraits boast sophisticated autofocus systems that offer eye, face, and head detection, removing the need to manually place focus points and meaning that you can focus on shooting – leaving the camera to focus on the focusing.
Another factor that comes down to the camera, rather than the optics, is the sensor size. The larger the camera format, the easier it is to get the background blur characteristic of portrait shots. This is because the larger the physical size of the sensor, the shallower depth of field it is capable of achieving. So this gives full-frame cameras (opens in new tab) an advantage (and medium format cameras (opens in new tab), for that matter), but you shouldn't rule out APS-C or Micro Four Thirds cameras (opens in new tab) with the right lenses.
So here's our list of what we think are the best cameras for portraits right now. If there are cheaper options that could do the job almost as well we will mention them, and we'll also suggest some portrait lenses to use with these cameras.
Best camera for portraits in 2023
Why you can trust Digital Camera World Our expert reviewers spend hours testing and comparing products and services so you can choose the best for you. Find out more about how we test.
The EOS R5's 45MP sensor produces images of incredible detail and has a class-leading autofocus system with a whopping 5,940 AF points for photography and eye detect AF – perfect for portraits, including animal portraits should you be a pet portrait photographer (thanks to the animal eye AF deep learning in the Dual Pixel AF II technology). The inclusion of a joystick means that you can take quick manual control over your focus points, too.
A benefit of the R5's resolution is that you can shoot a three-quarter portrait and crop it into a tight headshot, should you need to. It also has a fantastic feature in the form of Frame Grab, which enables you to extract high-resolution 35.4MP stills (as JPEGs) from 8K video footage. You also get dual card slots, to protect against card failure, and crucially the camera offers up to eight stops of in-body image stabilization (IBIS), enabling you to shoot at longer focal lengths without introducing camera shake.
Canon has a great choice of RF portrait lenses, too, and we love the Canon RF 85mm f/1.2L USM (opens in new tab). It's a hefty lens with a hefty price tag, but camera-lens portrait combinations don't come better than this. You can also adapt Canon's vast range of EF-mount DSLR lenses, too.
Read our full Canon EOS R5 review (opens in new tab) for more details
The EOS R5 is an expensive camera, so if your budget won't stretch anywhere near that far there's always the Canon EOS RP. The EOS RP was Canon's second full frame mirrorless camera, and it's smaller, lighter, and a lot cheaper than all the others. It's designed to be a compact, affordable, and easy-to-use entry point into Canon's full frame mirrorless system, and it succeeds brilliantly.
Its small dimensions mean it can sometimes feel overbalanced by larger lenses, though this is offset somewhat by the better balancing offered by Canon's more compact and affordable optics. The manufacturer's speedy Dual Pixel AF (mark I) system is excellent, though it isn't quite as accurate or reliable as that seen in the R5 and it lacks in-bo.
For a portrait lens to go with it, we'd recommend the Canon RF 85mm f/2 Macro IS STM (opens in new tab). Its f/2 maximum aperture combined with the classic focal length still gives good background blur and subject separation, it's not too expensive, and it can shoot light macro images as well.
Read our full Canon EOS RP review (opens in new tab) for more details
(opens in new tab)
The Z7 II was Nikon's flagship full-frame mirrorless camera until the mighty Nikon Z9 (opens in new tab) came along. Even so, while the Z7 II can't match the Z9's continuous shooting speed or 8K video, it delivers the same super-high resolution and easily enough sports shooting/video capability for everyday non-specialist use.
More to the point, its 45.7MP full frame sensor delivers superb detail. This Mark II version brings dual memory card slots and faster processing but retains the excellent design and handling of the original, and Nikon's equally excellent in-body stabilization system. Its eye-detection AF system has hit some speedbumps in the past, but it's largely superb.
Nikon has quickly built an impressive range of pro-spec Nikkor Z lenses, so the Z7 II makes an extremely good all-round camera for professional use. The lens we would recommend for portraits is the Nikkor Z 85mm f/1.8 S (opens in new tab). It's not as fast as some rivals, but produces beautiful results at a far more affordable price.
Read our full Nikon Z7 II review (opens in new tab) for more details
(opens in new tab)
The RP is Canon's entry-level full-frame mirrorless camera, and it lacks the newest AF tech, IBIS, a joystick, and a second memory card slot. The Nikon Z5, meanwhile, is an entry-level camera that doesn't compromise tech, featuring stabilization, a joystick, and twin card slots… more than enough to make it a budget-friendly alternative to the Nikon Z7 II.
It takes design cues from its bigger brother but makes some sensible additions like a beginner-friendly mode dial. It produces fantastic-looking images, and having a full-frame sensor with the sophisticated Z-mount is a tough combo to argue with. It makes a few compromises, such as lacking a back-illuminated sensor, but these sacrifices are what enable the Z5's real ace in the hole: its tempting price tag.
The best portrait lens to get is the same as we recommend for the Z7 II above – it's the Nikkor Z 85mm f/1.8S (opens in new tab).
Read our full Nikon Z5 review for more details
(opens in new tab)
If you're looking for the most detail possible, look no further than the Sony A7R V. Toting a spectacular 61MP sensor, making it the highest resolution camera without going medium format, it's the ideal choice for those who favor portraits with ridiculous levels of detail. We're big fans of Sony's Eye AF, which can not only recognize human eyes but animals' too, and the new AI-powered autofocus can also detect subjects by limbs and body shape – though its IBIS system is the least effective of any major camera brand.
Other fantastic features include a super-high resolution viewfinder and a useful tilting touchscreen. The A7R IV is pretty pricey, and there is the cheaper Sony A7 IV (opens in new tab) – but it's not a lot cheaper, and it's currently proving quite hard to get hold of.
Sony has been in the full-frame mirrorless game the longest, so its lens line-up is the broadest, which some stunningly sharp G Master lenses to elevate your portraits to the next level. Our recommendation is the Sony FE 85mm f/1.4 G Master (opens in new tab), a stunning portrait lens that's the perfect partner for the A7R V's high-resolution sensor. Consider the Sony FE 85mm f/1.8 (opens in new tab) lens if your budget is tighter.
Read our Sony A7R V review (opens in new tab) for more details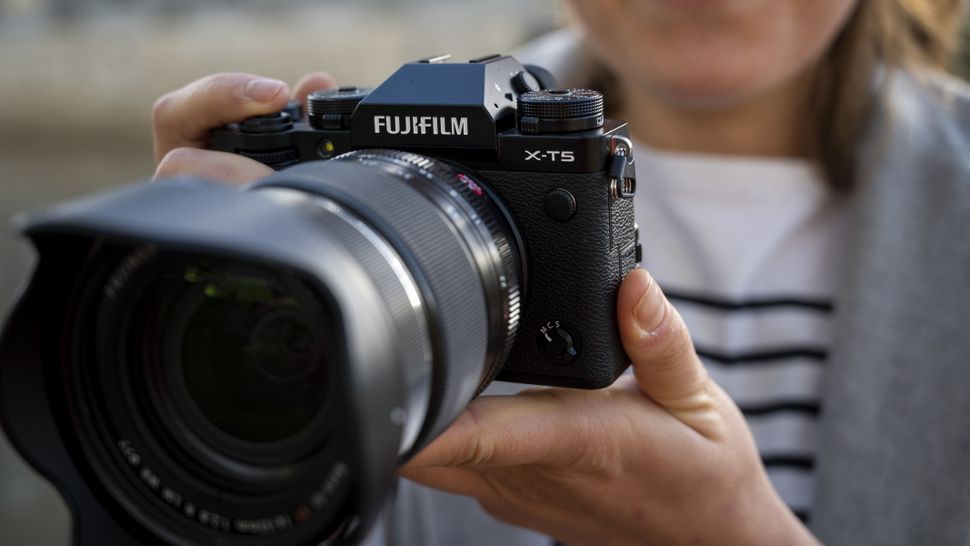 (opens in new tab)
The knock on APS-C cameras has always been twofold: the smaller sensor was limited to 26MP resolution, and it couldn't deliver the same shallow depth of field as larger full frame sensors. While the latter is still true, the Fujifilm X-T5 shatters resolution restrictions with its new 40.2MP sensor – delivering a ludicrously packed amount of pixels and an unprecedented level of detail for APS-C cameras.
The smaller sensor not only results in a smaller and lighter body but also moderately smaller and lighter lenses – so if you're looking for more lightweight gear that's easier to lug around and shoot with, this is a major win in the X-T5's favor. (Just be aware of the 1.5x crop factor – essentially, you multiply the focal length by 1.5x to get the effective focal length that will be rendered by your camera.) It also boasts a number of classic Fujifilm film simulations, giving you in-camera creative options unavailable on other systems.
If the X-T5 is outside your budget, get the Fujifilm X-S10 (opens in new tab) instead. For both cameras, we'd recommend the excellent Fujinon 56mm f/1.2 R APD (opens in new tab) portrait lens if you can afford it (which is an 84mm equivalent), or the Fujinon XF 50mm f/2 (opens in new tab) WR (75mm equivalent) if not.
Read our Fujifilm X-T5 review (opens in new tab) for more details
How we test cameras
We test cameras both in real-world shooting scenarios (opens in new tab) and in carefully controlled lab conditions. Our lab tests measure resolution, dynamic range, and signal-to-noise ratio. Resolution is measured using ISO resolution charts, dynamic range is measured using DxO Analyzer test equipment and DxO Analyzer is also used for noise analysis across the camera's ISO range. We use both real-world testing and lab results to inform our comments in buying guides.
Read more:
The best lens for portraits: the best 85mm lenses (opens in new tab)
Best DSLRs (opens in new tab) to buy right now
Best mirrorless cameras (opens in new tab) to buy today
best camera phone (opens in new tab)? We help you choose!