It's been two weeks since we switched to the iPhone 15 Pro Max. Despite reports of heating affecting specific devices – including a friend's phone, which we verified ran hot when doing basic tasks – ours stayed cool to warm even after an hour of gaming.
We think you'll love this phone unless you're unlucky enough to pick up one of the dodgy units. After all, apple's cohesive ecosystem, matched with 2023-grade performance, ensured the 15 Pro Max was a powerhouse in our time with it, but the camera has a few limitations.
When we first saw its specs, we weren't sure the 15 Pro Max would be the best iPhone for photography.
Apple's 15 Pro Max's optical reach bumped up to a 5x zoom equivalent versus the 3x zoom 15 Pro. The Pro Max introduces Apple's tetra-prism periscope zoom camera, which is the most powerful zoom ever to grace an iPhone. But is it the most useful?
A 5x zoom is equivalent to around 120mm in full-frame focal length terms, and while that's a mighty reach, with just three cameras, Apple's priciest iPhone also leaves a massive void of optical coverage between 1-5x.
Thanks to the Pro Max's powerful primary sensor, a 1-2.5x reach, up to around 60mm should still look great, but at 60-120, we'd expect quality to start crumbling based on the specs and our experience.
That's a lot of conjecture – but what's the iPhone 15 Pro Max like to live with, both as a phone and a camera?
iPhone 15 Pro Max: Design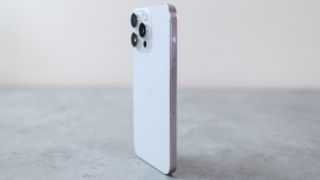 While at first glance, the new iPhone 15 Pro Max might look like a carbon copy of last year's iPhone 14 Pro Max, a closer look reveals a handful of meaningful updates that make for a more pleasant feeling design. The most obvious of these updates is the phone's frame.
Unlike past iPhones, the 15 Pro Max enjoys a matte titanium frame that doesn't attract fingerprints with quite so much intent as the shiny polished steel rims of old. The edges of the frame also curve in to meet the glass, making for a much more comfortable hold when compared to the stark angles we're used to in the Pro line.
The new styling adds an almost unibody feel to the phone, though the back is glass and has a subtly contrasting frosted texture.
New iPhone, new colors, and the 15 Pro and Pro Max are available in Natural Titanium, Blue Titanium, Black Titanium, and White Titanium, which is the version we tested. Apple's Ceramic Shield glass protects the front of the phone, which is IP68 dust and water-resistant.
Weighing 221g, the iPhone 15 Pro Max is slightly lighter than the 240g iPhone 14 Pro Max. This is a big deal, considering the Pro Max has historically been the heaviest phone on the market – but not anymore.
The 15 Pro and Pro Max both see a couple of critical updates dotted around their frames. The first is a USB-C port at the base, which is a very welcome, some would say long overdue move away from Apple's proprietary Lightning Port.
The next significant difference between the 15 Pro Max and the 14 Pro Max is the alert slider, or lack of it, for Apple's 2023 Pro line. This year, it's been swapped out for a customizable Action Button that can change focus mode, launch the camera, torch, Voice Memo app, Magnifier, an accessibility feature, or fire up silent mode.
Ultimately, the iPhone 15 Pro Max's design updates are subtle, but they all combine to create a more enjoyable experience.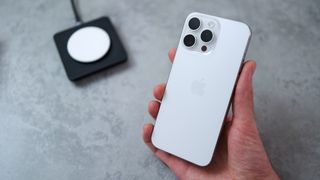 There have been a few reports that the back panel of the iPhone 15 Pro is more susceptible to damage than past iPhones owing to how it's fitted on the phone's frame. We can't speak to this, with our phone looking great after a week of case-free use and a week in a case.
You will probably be using your Pro Max for a year or more if you pick one up, so to protect your iPhone and its resale value (higher for iPhones than any other smartphone), you'll want to pick up both a case and a screen protector.
In our second week with the 15 Pro Max, we chose the Limitless 5.0 - Carbon Fibre case because of its clean, matte, uncomplicated styling.
We also tested out a couple of iPhone screen protectors, settling on the Belkin UltraGlass 2.
Before picking up the Belkin protector, a local shop sold us a lower-cost 15 Pro Max protector with a visible lip around the edges when fitted. The shop assistant assured us this was normal owing to the slightly curved glass of the new iPhone screens. We contacted Belkin shortly after, and that isn't the case.
As a result, we went to an Apple Store, where a staff member fitted the UltraGlass 2 protector on our 15 Pro Max using a dedicated machine that applied it perfectly. While it's pricier than cheaper options, the perfect fit and promise of a better-shielded display made us realize a quality option like the UltraGlass 2 should have been our first port of call.
iPhone 15 Pro Max: Screen
With its 6.7-inch Super Retina XDR display, the Pro Max enjoys the largest screen on an Apple smartphone and the highest-quality panel with its OLED screen technology and display credentials list as long as the best Android phones on the scene.
It's a 120Hz panel and features HDR support with a DCI-P3 wide color gamut as well as Apple's True Tone display tech, so it dials up warmth to compensate for whatever the ambient light is doing where you are.
Like the 14 Pro series, the 15 Pro Max has a Dynamic Island for the front camera system and supports Apple's Always-on Display feature.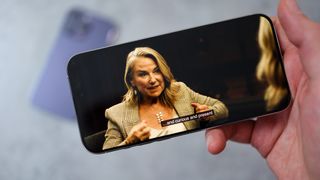 Super bright, the 15 Pro Max's screen shines up to 2,000 nits peak brightness outdoors, 1,600 nits in other bright environments, and has a 1,000 nits typical max brightness.
This is also the first iPhone to support USB-C to HDMI projection, so you can hook the 15 Pro up to a TV or monitor for big-screen YouTube watching or photo sharing.
Unsurprisingly, the Pro Max has a fantastic-looking display, whether head-on or at an angle; colors hold onto their integrity, and viewability is excellent indoors or out. We used it on a boat in direct sunlight and at night, reading before bed, and at both ends of the spectrum, it holds up brilliantly.
iPhone 15 Pro Max: Camera specs
While the iPhone 15 Pro brings back the same camera hardware as the 14 Pro, the 15 Pro Max upgrades the telephoto lens and introduces Apple's new 5x zoom tetraprism periscope system.
The main camera has a 48MP resolution, 1/1.29-inch sensor, and a 24mm f/1.78 aperture lens. Using Apple's second-generation sensor-shift OIS and capturing 48MP and 24MP photos, it combines familiar hardware with a handful of optimizations for 2023.
The 12MP ultra-wide camera features a 13mm focal length and an f/2.2 aperture lens, and the 12MP telephoto camera features a 5x equivalent, 120mm reach with an f/2.8 aperture.
In the specs on the iPhone's product page, Apple cheekily suggests there's a 12MP telephoto lens with a 48mm f/1.78 lens, but this is just a reference to the primary camera and a digital crop. Yes, it can capture a native 12MP image at 48mm owing to the high-resolution sensor, but it wouldn't deliver the optical performance of a dedicated, high-quality 48mm camera, so don't let Apple's optimistic marketing suggest otherwise.
Finally, the telephoto camera is a 12MP sensor with a 120mm focal length and an f/2.2 aperture. This can capture with a 5x optical zoom equivalent and a 25x digital zoom.
The cameras also include new software optimizations that work brilliantly. You can retrospectively activate Portrait Mode, for example, as well as adjust your default focal length when you launch the camera, with options including 24mm (1x), 28mm (1.2x), and 35mm (1.5x), bypassing potential lens distortion and edge softness.
iPhone 15 Pro Max: Camera zoom
With Apple's headline feature for the iPhone 15 Pro Max camera being its zoom, it's great to see the phone deliver such strong results in well-lit environments at a 120mm/5x zoom equivalent range.
Below are two images taken in similar environments demonstrating the shallow depth of field you can achieve with the 15 Pro Max's native 120mm.
The 15 Pro Max's telephoto camera isn't the most versatile around by a long stretch. It has a nearest focus distance of no less than a meter, so it doesn't step in as a telemacro camera like that of the incredible Huawei P60 Pro's periscope camera or Honor Magic 5 Pro's commendable 3.5x telephoto. It's best suited to very well-lit scenes and far away objects.
Apple isn't as afraid of noise as Samsung and other smartphone makers, and with its smaller telephoto sensor versus the iPhone 15 Pro Max's primary camera, when you zoom in past 5x, there's more noise. Detail is strong though, and as you can see in the photo below, this extends to middling and even low light.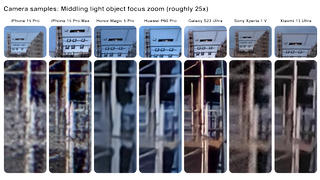 If you don't see yourself leaning on 120mm and beyond, there's an argument for picking up a 15 Pro over the 15 Pro Max. With its 120mm periscope lens, the range between 24mm and 120mm exclusively uses the primary camera's 48MP sensor.
As you can see from the illustration below, the 15 Pro Max has the weakest 4.9x zoom quality of all the competition we tested it against, including the 15 Pro. This isn't surprising, as Honor and Huawei's phones cap out at around 3.5x optical zoom – around 70mm – a typical focal length for portraits, while the Samsung Galaxy S23 Ultra, Xperia 5 V, and Xiaomi 13 Ultra all include optical coverage between their main cameras and furthest reach zooms.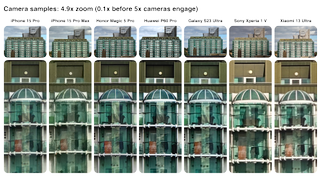 Now that Apple's added reach to the mix, if it wants to compete and win in the smartphone camera wars, specifically when it comes to optical versatility, the iPhone 16 Pro Max, expected in 2024, should have a 50-60mm fourth camera so it covers all the bases.
iPhone 15 Pro Max: Camera performance
Going beyond zoom, how does the new iPhone 15 Pro Max camera stack up? Very well. This isn't the revelation that the 14 Pro and 14 Pro Max were with their larger sensors versus the 13 Pro, though. Instead, the 15 Pro Max is a modestly upgraded photography experience.
As you can see below, detail is abundant across all three cameras in bright environments. Colors are well-matched, dynamic range is strong, and Apple adds a pleasing amount of punch to photos.
Traditionalists will find Apple's processing too heavy-handed, but with 48MP RAW capture, there's a considerable amount of scope to edit shots to great effect.
Unsurprisingly, the cleanest low-light results come from the main camera, with the ultra-wide occasionally creating a slightly muddy-looking image. We were impressed with the telephoto in a couple of situations, see below, suppressing noise while holding onto detail.
Portrait mode is excellent in the day, and perfectly usable at night, however, starts to struggle when lighting becomes more challenging. Specifically, backlit subjects throw-off the wide view, and when cropping in to a 2x portrait view, detail falls off a bit too much.
If you love pinching right into subjects from far away or, like us, use your camera phone to cover launch events when you can't get your dedicated camera in time, the iPhone 15 Pro Max is a solid option. That said, it can't beat the Galaxy S23 Ultra, so we wouldn't call it best in class, but it's a step up in the iPhone camp.
Unlike some Android competition, Apple doesn't pull out all the detail it can from shadows, and that's the case across the zoom range. As a result, you can confidently snap shots without fear of them looking unrealistic 90 percent of the time.
Thanks to its large sensor, nearby photos from the 15 Pro Max have an attractive, shallow depth. The camera defaults to the ultra-wide camera when you are close to a subject, but this feature can be turned off in the settings.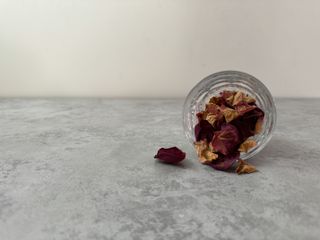 Video from the new iPhone also looks exceptional, whether capturing nearby or faraway subjects. Similar to the 14 Pro Max when using the primary camera, the addition of a periscope takes things up a level for zoomers, stabilizing footage well.
The added scope to shoot ProRes, 4K capture across all three cameras also unlocks a huge amount of potential for filmmakers.
iPhone 15 Pro Max: Additional features
Running iOS 17, the iPhone 15 Pro and Pro Max deliver the latest updates, including near-field Airdrop, auto-transcribed voice notes in messages, photo stickers (more fun than it sounds), and much, much more.
The iOS interface is, without a doubt, the most polished out there, and while it once stood for limiting simplicity, now, it's more complex than most will need it to be. Powering the experience is the Apple A17 Pro chipset, the first to benefit from a 3nm production process, which should result in efficiencies across the board.
The phone unlocks with Face ID and brings back tools like Apple Pay, the LIDAR scanner for advanced depth mapping, Siri, and all of Apple's pre-loaded apps like FaceTime, Pages, Keynote, iMovie, and more.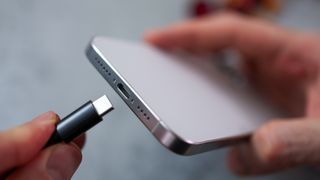 The most notable feature the USB-C port introduces for photo and video enthusiasts is the higher transfer speeds for the 15 Pro and Pro Max. With USB-3 support (though shipping with a slower cable), the new iPhones can wirelessly send data at up to 10GB/s – a boon for anyone who plans on shooting in ProRes.
The USB-C port has another superpower for video enthusiasts. It can capture ProRes at up to 4K 60fps, if you're happy plugging in external storage and shooting to an SSD. What's incredible about this feature is it enables an iPhone 15 Pro Max with minimum storage (256GB) to capture hours of ProRes footage, bypassing its limited internal memory. In the past, folks who wanted to use ProRes needed the highest-capacity option possible. Now, there's scope to be a little kinder to your bank account.
The iPhone 15 Pro Max is available with 256GB, 512GB, or 1TB storage, with pricing matching last year's like-for-like storage option. For the Max, Apple has scrapped the 128GB storage capacity, so the barrier to entry is higher at its 256GB price, though the smaller iPhone 15 Pro can still be had at that 128GB, more affordable price point.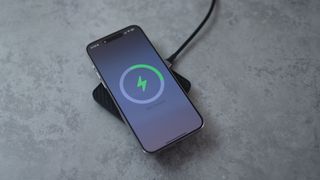 Apple has slightly increased the battery capacity of the Max versus last year, and the 15 Pro Max carries forward the 14 Pro Max's strong performance. There have been mixed results online, though, with some experiencing overheating and poor battery life.
Another highly successful day with the #iPhone15ProMax - 130% battery used, mostly just from reading/writing scripts and streaming music with the screen off. And it's not even half cocking nine. And no, I don't use bloody Instagram. pic.twitter.com/WTJOXhcah6October 3, 2023
This seems to affect specific units, and Apple has stated a software update should remedy the issue, though that's yet to drop at the time of writing this review. Our device, however, performed brilliantly.
In addition to playing back Genshin Impact, one of the most demanding games around, for an hour without becoming too hot, we easily got through a day of moderate to heavy of use with 10-20 percent battery remaining.
Many hoped that Apple would increase the iPhone charging speeds with a new USB-C port, but the phone caps out at around 30W, powering up in roughly two hours – slower than the best Android phones on the scene. MagSafe is also back, so you can pair the new iPhones with existing magnetic chargers and accessories like the Mous modular charging system pictured above.
iPhone 15 Pro Max: Verdict
After two weeks with the iPhone 15 Pro Max, it's unsurprising that it's a good phone – at its price, it has to be – but the level of polish it delivered across the interface and hardware is noteworthy.
Some early buyers experienced overheating on their iPhones, but we didn't, and everything from gaming performance to battery life has been exceptional.
The camera is also very good, brilliant most of the time. Where the 15 Pro Max struggles is when zooming between the 1-5x range, and, in some lowlight situations, boosting shadows without suppressing quite enough noise. Now that four or five optical ranges are more common in Android competition than ever, it's fast becoming the case that if Apple wants to compete and win, it needs to follow suit and add a mid-point portrait camera to the mix.
If you don't think you need the zoom and more than day-long battery life of the 15 Pro Max, then the iPhone 15 Pro or 14 Pro Max are excellent alternatives. And if you can't quite justify spending so much on a smartphone, check out our rundown of the best phones for photography for some lower-cost Android options.
Check out the best iPhone 15 Pro Max cases, the best iPhone stands, and the best iPhone power banks