Flying a true FPV drone is exciting, and as I found out when reviewing the DJI Avata (with and without my son) the company managed to cram the sheer joy of flight into a product, while also producing amazing 4K video you can use in serious projects if you choose. With big discounts of up to $429, the Avata is now our pick of the Black Friday drone deals this year.
The Avata is available in a couple of bundles – both of which are getting a healthy discount. These are the Explorer and the Pro-View, the principal difference being the immersive goggles.
The cheaper Explorer bundle comes with the 'Integra' goggles (which let you 'sit' in the drone's cockpit). Despite being the 'cheaper' option, they still have OLED displays and definitely feel high quality compared to a lot of FPV goggles out there.
The Pro-View, as you might guess from the name, offers slightly more 'Pro', and – preferred by some – the battery is separated and worn, connected by a cable, somewhere convenient like your pocket, reducing the load on your head.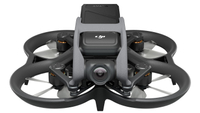 DJI Avata Explorer Combo | £1,099 | £759
SAVE 31% at Amazon This is a great early deal on DJI's best-selling FPV drone – this bundle comes with the Integra goggles and the RC Motion 2 wireless joystick. It's intuitive, exciting, and shoots stabilized 4K video too.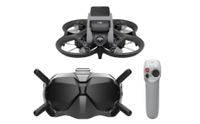 DJI Avata Pro-View Combo | £1,149 | £859
SAVE 25% at Amazon Another record-setting discount on this first-person view - but this kit comes with the newer DJI Goggles V2, as well as the RC Motion 2 controller. It's intuitive, exciting, and shoots stabilized 4K video too.
Want to spend less? Check out Brilliant DJI Mini 2 SE drone drops to best price ever for Black Friday