Watch video: How to back button focus (Nikon cameras)
Back-button focusing is mentioned quite often but, if you're not familiar with it and how (or why) to make use of it, it can be a confusing subject. You might think there's very little to explain – you simply use a button on the back of the camera to focus. However, that doesn't tell the whole story.
Plenty of cameras support back-button focusing, and here we're going to look at how to enable the function on the best Nikon cameras – though the principles are the same on any camera. For it to work effectively, you need to remove the shutter button's ability to engage autofocus when half pressed and you need to switch to continuous-servo AF.
There are several reasons why back-button focus is advantageous and they apply to a variety of shooting situations. For starters, you no longer have to spend time switching between AF-C and AF-S, because when you lock focus (by releasing the back button) you can fire the shutter without the camera hunting or refocusing. This also means that you don't have to use AF-L or switch to manual focus to lock AF. This is particularly helpful when photographing sports or wildlife.
A good example would be capturing a subject in tall grass. A slight breeze could cause blades to obscure your subject and confuse the camera's AF system, making it hunt. With back-button focus you could simply lock onto your subject without switching from AF-C and fire the shutter at will. How you set up back-button focus will depend on your camera. Some Nikons have a dedicated AF-ON button, while others require you to customize the AE-L/AF-L button. Here's how to do it…
How to enable back-button focus (Nikon)
1. Cameras with an AF-ON button
If your camera has an AF-ON button it will already be assigned to engage autofocus; you simply need to remove AF from the shutter button. Press the Menu button and select Custom Setting Menu (pencil icon), then select Autofocus > AF activation > AF-ON only.
2. Know your back button
The higher-end Nikon cameras tend to have the dedicated AF-ON button, including the Nikon Z6 and Z6 II, Nikon Z7 and Z7 II, Nikon D850 and Nikon D6. Cameras such as the Nikon D3500, Nikon D7500, Nikon D750 and Nikon Z50 need to have the similarly positioned AE-L/AF-L button reassigned to act as the AF-ON button.
3. Cameras with no AF-ON button
The first step is still to disable the shutter button's ability to engage autofocus. On our Nikon D3400 this is done by accessing the menu and selecting the Setup Menu (wrench icon). Scroll down and select the Buttons menu, from here you can disable AF Activation.
4. Assign AE-L/AF-L
Still in the Buttons menu, select the Assign AE-L/AF-L button. This button will be set to AE/AF lock by default. To use it as your back button, scroll down and select the AF-ON option. You can now activate autofocus by pressing the AE-L/AF-L button.
5. Switch to AF-C
Perhaps the best thing about back-button focus is that you don't have to keep switching between single-servo AF and continuous-servo AF. By removing AF from the shutter button, you are free to lock focus while in AF-C and activate the shutter without it refocusing, as if you were using AF-S. This is particularly helpful when performing the focus-and-recompose method.
TOP TIP
Firing the shutter without having to worry about hunting or refocusing is a major benefit of using back-button focus. But if you find yourself unable to activate the shutter without placing the AF point over the point of focus, we'd recommend setting up your AF-C and AF-S priority selection so the shutter overrides focus. We set this up on our D850 by heading to the Custom Setting Menu > Autofocus, and setting both AF-C and AF-S priority selection to Release.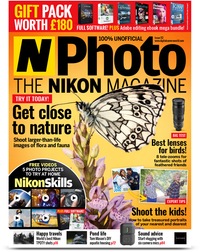 N-Photo: The Nikon Magazine is a monthly publication that's entirely dedicated to Nikon users. For the best news, reviews, projects and more, subscribe to N-Photo today!
Read more