The four-year-old Nikon D750 has just been upgraded in the shape of the Nikon D780. However, while it may now be relatively prehistoric in digital camera terms, the D750 remains a very capable all round DSLR option – particularly for any photo enthusiast looking to make that jump from APS-C sensor DSLRs to full-frame photography for a reasonable spend.
In fact, the Nikon D750 is near the top of our list of the cheapest full frame cameras you can buy. We're seeing this a lot these days: older cameras staying on sale at vastly reduced prices, to produce some of the best camera deals around.
So how does this camera fare in 2020? Is it still one of the best Nikon cameras in its category, but how does it compare to the best full-frame DSLRs today?
If you're still considering your options, we recommend checking out our head-to-head comparisons pitting the Nikon D780 vs Nikon D750 as well as the Nikon D750 vs Nikon D850 and Nikon D750 vs D7500
Keep in mind that a high-end camera that's a few years old may still easily outgun a much newer low-end camera. It's not always about buying the latest kit, but buying the best kit for the money – and the D750 certainly delivers on that.
• Read more: Best lenses for the Nikon D750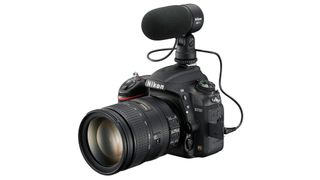 Specifications
Sensor: 24.3MP full-frame CMOS
Viewfinder: Optical pentaprism (approx 100% cover)
ISO range: 100–12,800 (exp. to ISO 50–51,200 equivalent)
Autofocus: 51 phase-detection points (15 cross-type); contrast detection in Live View and video modes
Max burst rate: 6.5fps at full resolution
Video: 1080p at 60fps, 50fps, 30fps, 25fps and 24fps
Screen: 3.2-inch, 1,229k-dot tilting TFT
Shutter speeds: 1/4,000 sec–30 sec plus Bulb and Time
Weight: 750g (body only)
Dimensions: 140 x 113 x 78mm
Memory: 2 x SD / SDHC / SDXC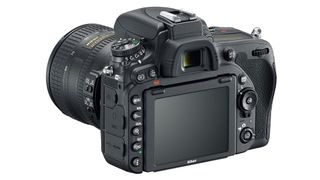 Key features
Aimed at enthusiasts, at its heart the Nikon D750 has a 24.3-megapixel full-frame CMOS sensor and an Expeed 4 processing engine. Unlike many later Nikon models, though, there's an anti-aliasing filter over the sensor.
This sensor and processor combination enables a native sensitivity range of ISO 100–12,800, with extension settings taking this to ISO 50–51,200. It's also possible to shoot at up to 6.5 frames per second, though some sports photographers may want something a bit faster.
Better news for action fans is that the D750 has Nikon's dependable and powerful Multi-Cam 3500 II autofocus module. This has 51 points, 15 of which are the more sensitive cross-type and 11 that operate down to f/8, which is especially useful for photographers who want to use an extender with their telephoto lenses. There is a Group Area AF mode to help when shooting subjects that are comparatively small and against a high-contrast or distracting background.
Exposure metering is handled by a 91,000-pixel RGB sensor. There's also a useful highlight metering option, calibrated to take greater note of the brightest part of the scene to prevent it from being burned out.
While video is limited to 1080p, the D750 can record up to 60 frames per second. And videographers will appreciate the microphone port, headphone port, audio level fine-tuning, Spot White Balance mode, Flat Picture Control mode, and Zebra patterns to indicate which areas are in danger of burning out. There are plenty of video-orientated cameras around today that don't have a headphone port, though the Nikon D750 came out long before anyone had thought of log modes. The camera can also output uncompressed footage via an HDMI connection to facilitate high-quality recording to an external device.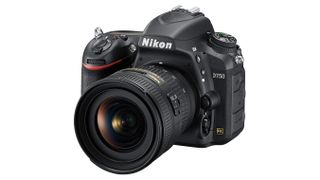 Build and handling
Nikon has used a monocoque construction for the D750. A combination of magnesium alloy and carbon fibre means that it has a good solid feel without excessive weight, and it's reassuring to know that the camera has the same degree of weatherproofing as the high-end Nikon D810 from the same era. Inside there's a Kevlar/carbon fiber composite shutter, which has been tested to 150,000 cycles.
The D750 looks similar to the Nikon D610, now discontinued. However, the mode dial on the top-plate has the addition of Effects for accessing the Special Effects modes. A couple of controls on the D610 are also in a different position on the D750 and there's an 'i' button. When this is pressed, a list (rather than the usual grid) of features appears. There are a couple of customisation options (for example Assign Fn button) in this list, and we don't understand why these are in a quick access menu instead of being restricted to the main menu. And surely the 'i' and Info buttons' functions could also be combined into a single control?
The D750 interface has changed a little in comparison with the D610's. When the White Balance button is pressed, for example, the screen shows more clearly which control is used to switch between preset values, and which adjusts the selected value to make images warmer or cooler.
Although the main menu looks at first glance like a close match for those on other Nikon DSLRs, a second look reveals that the video options now have their own tab in the menu structure. This is a good move that will help you find the options you want more quickly.
As the D750 is an SLR, there's also an optical viewfinder for composing. This isn't the brightest available, but it's still very good and it covers 100% of the field of view, so there shouldn't be any surprises around the frame edges. If time and subject permits, however, we recommend using Live View when focusing manually.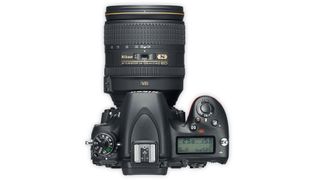 Performance
As the D750 has a 24MP sensor with an anti-aliasing filter, it isn't be able to match higher resolution cameras for detail, but it delivers exactly what we'd expect from a 24MP sensor. Our tests also reveal that the D750 controls noise well: even when the noise reduction is turned off in the processing of RAW files shot at ISO 6400, there is only a little chroma noise (colored speckling) visible at 100%.
Step up to the native maximum of ISO12,800 and chroma noise becomes more noticeable, but it is still controlled well, and the level of detail is impressive, even in shadow areas. Simultaneously captured JPEGs have no chroma noise, but there is luminance noise, and images look a little softer under close inspection.
Although dynamic range and detail levels drop off at the expansion sensitivity settings, the results still look decent. Even images taken at the maximum sensitivity (ISO 51,200) can make acceptable A3 prints.
The D750's automatic white balance system also does a very good job in most conditions. The second Auto setting, which is specifically intended to retain the warm notes of warm lighting, is useful on occasion. However, if you really want the warm glow of evening sun to be recorded, the Daylight option is your best bet. Occasionally, there is an inexplicable color shift in a sequence of images when using the Automatic White Balance settings. It seems likely that the automatic scene recognition system aspect of the processing is responsible.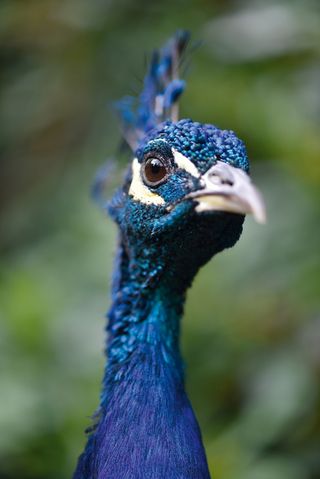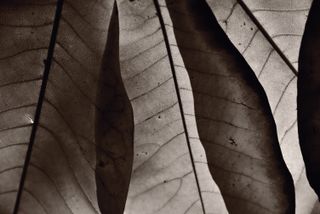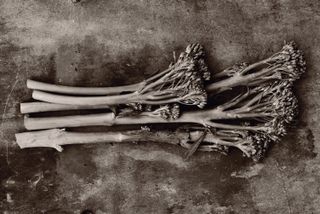 We have yet to come across an infallible metering system, but the D750's Matrix-metering is very good. During our testing it managed to deliver perfectly exposed results, even when shooting bright subjects like backlit leaves. Exposure compensation was required on a few occasions, but never when you wouldn't expect – and it wasn't needed on a few occasions when we might have expected it to be.
The Nikon D750's AF system performs superbly with a decent lens; when using a Nikkor 70-200mm f/2.8, for example, it gets subjects sharp incredibly quickly and is capable of tracking the subject around the frame when the appropriate mode is selected. The fact that it's sensitive down to -3EV means that it's also useful in low light conditions. In many situations it still manages to latch onto subjects quickly. Nikon has since brought in an even more advanced 153-point AF system for its higher-end pro cameras, but the 51-point AF module in the D750 still stacks up extremely well, even today.
It's a different story in live view mode, where the D750 most obviously suffers in comparison to newer mirrorless cameras and up against Canon's DSLRs with Dual Pixel CMOS AF. The autofocus works in live view, but slowly. The introduction of on-sensor phase detection AF in the new D780 should fix this and bring Nikon's live view DSLR AF performance into line with that of Canon DSLRs and mirrorless models.
Nikon introduced its new Clarity control to the Picture Control options in the D810, and it's present on the D750. Clarity adjusts micro contrast, giving the impression of greater sharpness or detail without creating haloes along high-contrast edges – it's useful for giving images extra bite straight from the camera. Part of the beauty of the Picture Controls is that they can be used when shooting RAW and JPEG files simultaneously, so you have a full color file for processing as well as a treated JPEG.
Conversely, rotating the mode dial to the Special Effects option results in only JPEG images being recorded – even if RAW and JPEG recording is selected elsewhere. These Effects can be previewed in Live View mode… and in many cases, previewing an Effect is enough to convince you not to use it.
Nikon has included Wi-Fi connectivity in the D750, but Nikon's free Wireless Mobile Utility app only offers limited control over the camera. In effect, it's just a wireless remote.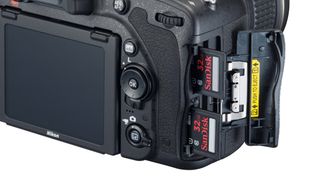 Lab tests
We chose three rival cameras to put up against the Nikon D750 in our lab tests. The Canon EOS 6D Mark II is a much more modern camera with a 26-megapixel sensor, vari-angle screen an on-sensor phase detection AF, the Sony A7 is a contemporary of the Nikon D750 and is also now very cheap, while the Canon EOS RP is a modern full frame mirrorless cameras that's among the cheapest on the market.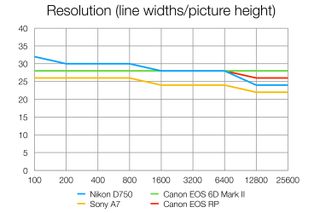 Resolution
Technically, the D750's 24-megapixel sensor should deliver the same resolution as its 24-megapixel rival (the Sony A7) and less than the 26-megapixel alternatives (Canon EOS 6D Mark II and Canon EOS R). In fact, our lab tests show the Nikon D750 to be a little bit sharper than the rest at low to medium ISO settings. As we always say, megapixels aren't everything.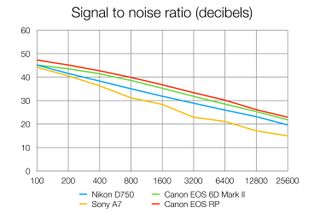 Signal to noise ratio
The Nikon D750 is starting to show its age here with higher noise levels than the newer EOS 6D Mark II and EOS RP, but it's still significantly better than the Sony A7.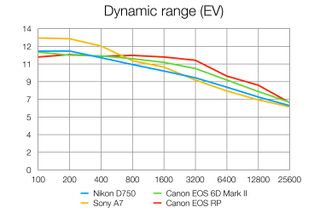 Dynamic range
Its noise control might be poor, but the Sony A7 beats the rest – even the newer Canon cameras – for dynamic range at low ISO settings. By ISO 800 the tables have turned and the Canons take over. The D750 performs well enough in absolute terms, but is bottom of the pack here. That's quite surprising given that we've found in the past that Nikon DSLRs have very good dynamic range. The D750's figures are fine, but we're a little surprised it's not near the top.
Verdict
The Nikon D750 is a great camera, even by today's standards. Its Matrix-metering system is very capable, delivering correct exposure in a wide range of situations, and it produces images that have natural yet vibrant colors. The D750 captures an impressive level of sharp detail, and noise is controlled well.
One of the D750's biggest selling points, however, is its AF system. There's an array of AF modes and customization options to tailor the system to the photographer and the subject. It takes some getting to know, but it affords pro-level control.
If the D750 was still being sold at its original price, it wouldn't be a very appealing buy. But it's now considerably cheaper, so where a couple of years ago its ageing technology might dampened its appeal, its price today brings it into a whole new market, where first-time full frame users can get a very good, very efficient and very effective camera at a really good price. Like the older Sony A7 mirrorless models, it's an older camera that's enjoying an unexpected second life as a born-again bargain.
Read more:
The best DSLR in 2020: DSLR cameras for beginners, enthusiasts and pros
The best Nikon camera in 2020: including Nikon DSLRs, Nikon Z and Coolpix
The best full frame DSLR in 2020: top cameras for enthusiasts and pros alike