While Sigma also offers a capable 17-50mm f/2.8 lens, which was launched back in 2010, we prefer this newer offering. The Sigma 17-70mm f/2.8-4 DC Macro OS HSM | C has a bigger zoom range packed into a more compact, lightweight build. Announced in 2012, this was actually the first 'Contemporary' class lens in Sigma's Global Vision line-up. As such, it aims to keep size and weight to a minimum without compromising image quality.
As you'd expect from a lens that's only about two-thirds the size and weight of the competing Canon 17-55mm f/2.8 zoom, the Sigma lacks a constant f/2.8 aperture. Even so, it delivers f/2.8 at the short end of the zoom range and only shrinks as far as f/4 towards the longer end, which is still an f/stop faster than many competing zooms. That's no mean feat considering the physical compactness and generous zoom range of the lens.
Handling is slightly impaired by the fact that the focus ring rotates during autofocus, and there's no full-time manual override. This is common for ultrasonic systems that use a motor rather than a ring-type design, and it does help to minimise the size of the lens.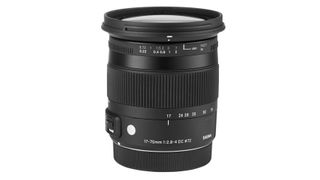 Performance
Having put the Sigma 17-70mm f/2.8-4 DC Macro OS HSM | C through a series of rigorous lab tests, we can report that image quality is very good overall, with better sharpness across the whole image frame than the older Sigma 17-50mm lens. Autofocus isn't quite as quick or quiet as in the competing Canon lenses that feature ring-type ultrasonic systems, but it's not far off. The lens also comes with a petal-shaped hood.
Optical highlights in the lens include two top-grade FLD ('Fluorite' Low Dispersion) elements, which help produce images with minimal distortion and aberrations. The lens's macro credentials are also in no doubt, with close-ups aided by the short 0.22m minimum focus distance enabling the useful 0.36x magnification. The four-stop image stabiliser also works well and, overall, the Sigma is excellent value at the price.
Read more:
The best Canon telephoto lenses