Nigh identical in size and almost identical in its control layout too, the Panasonic Lumix ZS200 (known as the TZ200 outside North America) is an obvious sibling to the same manufacturer's 30x optical zoom lens Lumix TS70/TZ90. Both are to be filed in the 'Travel Zoom' category of portable digital compacts.
While the ZS200's optical zoom isn't quite as impressive at 15x, we do get a 20.1-megapixel larger-than-average-for-a-compact-camera one-inch sensor secreted into its chassis, in theory allowing for optimal image quality when compared to the smaller 1/2.3-inch sensor size found in most other compacts. At one time Panasonic's long running 'TZ' series of compacts ruled the roost for anyone looking for a pocketable companion for pictorial keepsakes from their holidays and weekend breaks. A few years on from its original announcement as its manufacturer's range topper in 2018, can the ZS200 still offer a compelling reason for anyone looking for a capable digital compact to make a purchase?
Specifications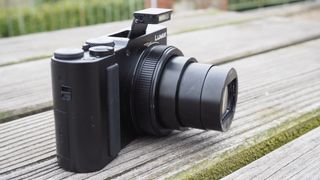 Sensor: 20.1 megapixels one-inch CMOS sensor
Sensitivity range: ISO80-25,600
Video: 4K maximum resolution at 30fps
Lens: 15x optical, 24-360mm equivalent
Monitor: 3-inch, fixed 1240K-dot resolution LCD
Viewfinder: EVF, 2,330K dots
Battery life: Maximum 350 shots if using LCD, or around 300 images if using the EVF
Dimensions: 111.2x66.4x45.2mm
Weight: Approx. 340g with battery and SD memory card
Key features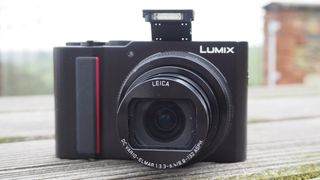 The chief features worth noting when it comes to the Panasonic Lumix ZS200 digital compact are its 15x optical zoom lens married to that larger than average for its class one-inch sensor. Said lens here offers a focal range equivalent to a useful 24mm-360mm in 35mm film camera terms, so everything from landscapes to portraits and bringing the faraway closer is ticked off the checklist. Additionally we can get as close as 3cm to our subject if selecting the macro mode option via the four-way control pad on the back.
Unusually for this size of camera, we also get an eye level electronic viewfinder with a whopping 2,330K-dot resolution. It is tiny, however, and in practice we much preferred using the 3-inch back screen instead, which provides a perfectly viewable resolution of 1,240k dots. Unlike its predecessor in the TZ90 and Panasonic's own LX15 premium compact, however, the screen here is unfortunately fixed rather than tilting, which feels oddly like a step back.
Being a Panasonic camera we do get the advantage of its maker's pioneering expertise when it comes to video though, with the ZS200 offering a generous 4K resolution, coupled with the usual 30fps frame rate. And, just like other models in its maker's range, if desired there is the ability to extra an 8 megapixel equivalent still – in effect a 'grab' – from a 4K video sequence.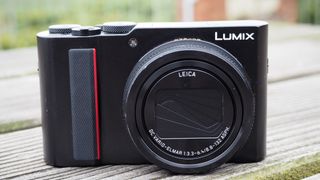 Versus
Compact camera models to compare and contrast with the Panasonic Lumix ZS200 include the previous year's Panasonic Lumix TZ90 release, along with competitor's models including the Canon PowerShot SX740 HS. The latter boasts a similar form factor to both the Panasonic cameras mentioned, but ups the focal range courtesy of a 40x optical zoom, as opposed to the ZS200's 15x optical reach. However, while the Canon offers a 20.3-megapixel 1/2.3-inch sensor, the Panasonic ZS200 on paper at least ups the ante by providing that physically larger one-inch sized chip.
If you do feel you need a one inch sensor at the heart if your compact, also check out the Canon G9 X Mark II as a comparable example, thanks to it, like the ZS200, also incorporating a one-inch CMOS sensor. However this Canon doesn't quite keep up when it comes to video shooting, in offering a mere Full HD 1980x1080 pixels resolution.
Handling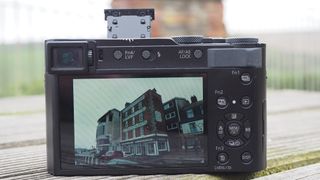 Probably a better fit for a jacket pocket or 'man bag' than the tighter pocket of our jeans, true to its manufacturer's consistent form the Panasonic Lumix ZS200 is well built and feels solid enough to be able to withstand the odd accidental knock when gripped in the palm, thanks to a construction that is more metal than plastic.
Battery life is said to be good for a decent 350 photos from a full charge of the supplied lithium ion cell, according to the manufacturer, though this falls in number to 300 if we're biasing use of the eye-level electronic viewfinder instead.
Operational controls here are almost identical to the TZ90 model in being ergonomically implemented and clearly laid out, with a lens control ring at the front something that is easily looked, yet which can provide swift access to favored settings. In short pretty much everything here falls readily at our fingertips and, though we missed a tilting LCD, it generally handles well.
Performance
Any camera that makes a big deal of packing a bigger than average focal length into a small chassis needs the back up of a decent image stabilization system, especially when the majority of users will be shooting handheld. For the Panasonic Lumix ZS200, its manufacturer offers up a five-axis anti shake mechanism. This is backed up by a light sensitivity range expandable beyond its core ISO125 settings to ISO12800 to ISO80-ISO25600 instead, although the camera will struggle to find focus in busier low light scenes.
While the camera will delivery reasonably detailed shots with plenty of color, we enjoyed dipping into the on-board creative filter effects Panasonic provides with this camera, readily accessed via a twist of the penny sized top plate shooting mode dial. These include our favorite of the color saturation boosting 'Expressive' mode, alongside an artistic new addition of a monochrome filter. We also get the usual options of aperture priority, shutter priority and full manual control, for the more enthusiast class of user.
Picture wise, lower light shots are noise free in the main and in general terms display plenty of detail, with colors realistically and vibrantly rendered.
Sample images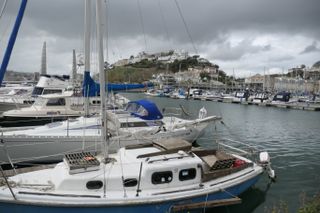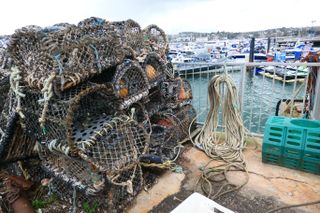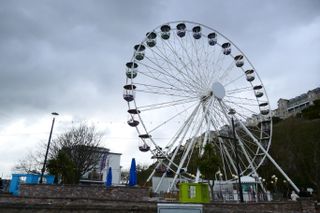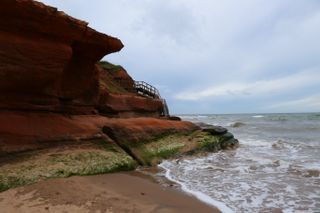 Verdict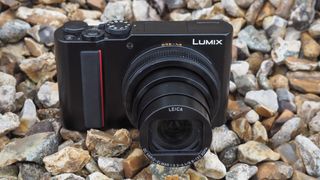 If you're seeking a holiday companion devoid of nasty habits, and moreover one that's reliable, then the Panasonic Lumix ZS200 proves to be easy company. While the camera was at the high end of what we'd consider paying for this class of camera on its original announcement back in 2018, its street price will have settled since then, making for a better deal for the more demanding point-and-shoot photographer seeking one compact option that offers a broader degree of control than their smartphone will typically allow.
Read more
Best Panasonic cameras
Best compact cameras
Best travel cameras
Best bridge cameras
Best waterproof cameras
Best point and shoot cameras