Suitable for various levels of photographer from beginners to intermediate users, pocket-sized digital cameras with generous focal ranges that belied their compact dimensions were once a product category in themselves: aka the travel zoom. They earned their existence by offering what smartphones couldn't: a built in optical zoom that, when the camera was dormant, was retracted within the body, thus maintaining their pocket friendly status and portability.
This was pitched as being a better, more proper option than using our smartphone's 'zoom' – essentially just a crop of the image to make it appear that we'd zoomed in closer. The Panasonic Lumix ZS70, with its Leica branded lens and 30x optical zoom was certainly one of the most enticing examples upon its original announcement in 2017. So how does it shape up for anyone seeking an all-round compact digital camera today?
Specifications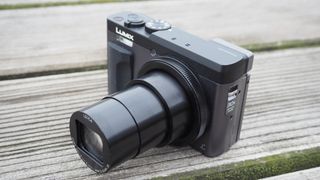 Sensor: 20.3 megapixels 1/2.3-inch CMOS
Sensitivity range: ISO80 to ISO6400
Video: 4K maximum resolution
Lens: 30x optical, 24-720mm equivalent, f/3.3-6.4
Monitor: 3-inch, tilting 1040K-dot resolution LCD
Viewfinder: EVF
Battery life: Maximum 380 shots if using LCD, or around 250 images if using the EVF
Dimensions: 112x67.3x41.2mm
Weight: Approx. 322g with battery and SD card loaded
Key features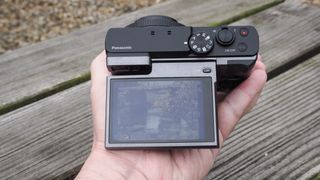 Upon release the Panasonic Lumix ZS70 (known as the Lumix TZ90 outside North America) was heralded as a 'selfie friendly' update to its manufacturer's long running series of travel zoom cameras; chiefly because it added a rear panel LCD screen that could be flipped upwards rather than outwards, enabling it to face whoever was standing in front of the lens – thereby allowing for more accurate framing of self portraits.
On top of the aforementioned 30x optical zoom here, equivalent to a generous 24-720mm in 35mm film terms, we are getting Raw as well as JPEG capture, plus the ability to shoot up to 4K resolution video clips, with a red record button on the top plate allowing us to jump straight to doing just that, without actually having to alter whatever setting has been pre-selected on the penny-sized shooting mode dial, handily located on the camera's top plate.
A nice, but perhaps unnecessary touch is the inclusion of an eye level viewfinder top left of the LCD screen at the camera back, along with an also easily overlooked lens control ring encircling the retracting zoom lens at the front.
Resolution has also been boosted to 20.3 megapixels on the ZS70, compared with the 18.1MP of its TZ80 predecessor, which is welcome if slightly unnecessary given the still diminutive physical size of its sensor. We further get Panasonic's usual travel compact functionality thrown in, including Post Focus and Focus Stacking modes, plus burst shooting of up to a useful 10fps, while another new feature on this model was 'Panorama Selfie', which aimed to place the photographer in the centre of a sweeping landscape.
While there were kits offering a spare battery and case available on launch, the rechargeable lithium ion cell that is included in the regular box is good for up to a decent 380 shots on a full charge – or around 100 shots less if choosing to use the eye-level EVF in the main. We can't envisage a practical reason why you would, however, mainly because the tiny EVF quickly gave us eyestrain and seems to have been included to boost specification and add a point-of-difference over similar models.
Versus
Though many manufacturers have ditched the production of standalone digital compacts entirely at the time of writing, models to compare with the Panasonic Lumix ZS70 include the Canon PowerShot SX740 HS, which boasts a similar form factor but ups the focal range courtesy of a 40x optical zoom, as opposed to the ZS70's 30x optical reach. However, both cameras share the same 20.3 megapixels 1/2.3-inch sensor specification, and both also deliver well saturated images that require either no, or just modest adjustment in the photo editor of your choice afterwards.
If neither boasts a suitably winning combination of compact size and big zoom power for you, also check out the Canon PowerShot SX430 IS, which goes further than most thanks to its built-in 45x optical zoom lens, and offers straightforward handling that makes it suitable for beginners.
Handling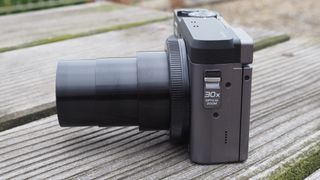 As with all Panasonic cameras, the ZS70 feels well built and solidly practical, sporting the usual blend of sturdy feel plastic and lightweight metal in its construction. The plastic function and control buttons manage to feel like they will withstand repeated use.
With a slender rubberized pad provided on the faceplate in lieu of a proper handgrip and a similarly raised pad for our thumb to rest provided at the back, it's possible to hold the camera steady enough with a single hand to fire off a shot, while nudging the zoom lever ergonomically encircling the shutter release button on the top plate. However, holding the camera with both hands when lining up a shot feels more practical and aids accuracy, in maintaining level horizons to boot.
We should also add that the ZS70 which helpfully offers 5-axis image stabilization, is commendably easy to use; though there are various creative settings and smartphone filter-like options to dive into if we want to give our images a bit of a mood or saturation lift in-camera, we can just leave it set to intelligent auto mode and get decent results the majority of the time.
Performance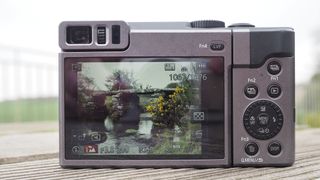 Since this is a travel zoom, we took the camera at its word and whisked it away on a week's break. Faced with weather that alternated between grey skies and deep blue, we found the Panasonic Lumix ZS70's 49-area autofocus is commendably reliable in a variety of shooting scenarios, and image quality was better than we remembered of this ilk of relatively small sensor size camera, with its metering system also able to cope with a broad selection of scenes and variable lighting conditions.
Its manufacturer puts AF response down as a swift 0.1 seconds; in practice if we see an image in our mind's eye a brief moment before squeezing the shutter release button, chances are that we're likely to be able to capture it. We didn't feel at any point like the ZS70 was struggling to keep up with and match our own creative urges. It was there and ready when we needed it to be.
Sample images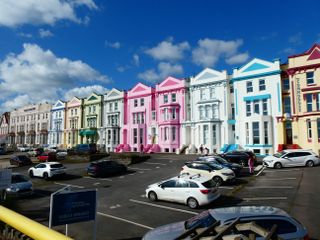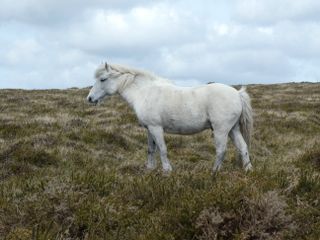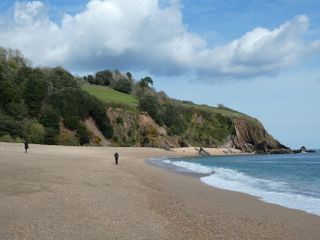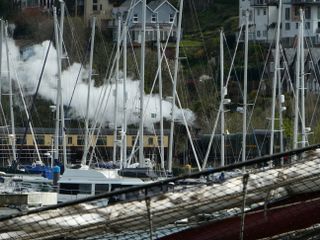 Verdict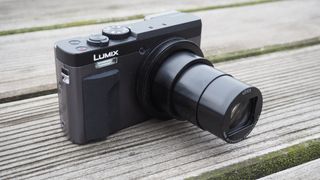 Revisiting the Lumix ZS70 made us realize how good Panasonic's range of unassuming point-and-shoot travel zoom cameras once was. This is a decent all round option for those looking for a compact camera that won't weigh heavily on the pocket, in every sense. Yes, it's obviously not quite as pin sharp when it comes to image detail as an interchangeable lens mirrorless camera or DSLR, each with larger sensors, would alternatively deliver. Yet, for the money and skill set it's aimed at, this is a reliable accessory to pack in our suitcases this spring and summer.
Read more
Best Panasonic cameras
Best compact cameras
Best bridge cameras
Best waterproof cameras
Best point and shoot cameras