The Panasonic Lumix G100 is a smart-looking little camera, but does the Lumix G range need another model? It could be argued that the Lumix brand has done more to contribute to the boom in vlogging than any other. As one of the leading innovators in video-capable digital cameras, Panasonic has a broad range of models that could do the job of the all-new G100. But if you're familiar with the Lumix G and GH ranges of cameras, you may be wondering why there's even a need for another camera in this packed segment.
However, as video traffic continues to dominate consumer internet use, thanks to platforms like YouTube, Twitter and TikTok, every camera brand is vying for the attention of a rapidly growing pool of content creators.
The news about Olympus getting has not been a good sign for the Micro Four Thirds market, but there's a distinct advantage to sticking with it. For one, it helps to keep cameras small, and the G100 is super compact, weighing just 412g with its 12-32mm kit lens. It's far smaller than the mighty Panasonic Lumix G9, at the top of the Lumix G range.
Another benefit of having an MFT lens mount is that the G100 has access to a plethora of quality and affordable lenses. Being able to change lenses gives it a distinct edge over the competition; smartphones and pocket cameras.
Small as it is, the G100 does face new competition from within the Panasonic brand. The new full-frame Panasonic Lumix S5 is twice the price, but not a whole lot bigger than the G100 and, if you are serious about video, it could prove worth the extra outlay.
Smartphones have inspired a generation of content creators and smartphone camera tech is continuing to make leaps and bounds, with no sign of slowing anytime soon. So the advantage of having a larger sensor is dwindling. The current most popular smartphone cameras are based around the 1/2-inch 48-megapixel Sony IMX586 sensor. But it's generally accepted that 100+MP smartphones, armed with advanced computational photography algorithms are on the horizon.
We're often asked what "the best camera" is or "what's a good professional camera" for someone who's looking to make the step up from a phone. But all too often the answer to the first question for a lot of people really isn't a camera, it's a better phone. But if we unpick the word "professional" from the second question, what do people mean? They want something that feels like a step up. They want "proper" camera ergonomics and functionality like full manual control with dials. They want the ability to change lenses to suit different photographic challenges. And this is where I think the G100 has done well. When trying to appeal to smartphone/social media creatives, a lot of companies strip back all of the controls. Then they put a half-decent sensor in a tiny camera body and release it in white.
The Panasonic Lumix G100 shows vloggers and social creatives a little bit more respect and it could pay off. Let's dive in!
Watch this Lumix G100 sample video (below):
Specifications
Model number: DC-G100 (DC-G110 in Europe)
Sensor: 20.3MP Live MOS Micro Four Thirds sensor
Image processor: Venus Engine
AF points: 49-area DFD contrast AF
ISO range: 200 to 25,600 (exp ISO 100)
Max image size: 5,184 x 3,888
Metering modes: 1728-zone multi-pattern sensing system, centre-weighted, spot
Video: 4K/30/25/24p, FHD/60p/50/30/25/24p
Viewfinder: EVF, 3.69m dots
Memory card: 1x SD/SDHC/SDXC (UHS I)
LCD: 3-inch vari-angle touchscreen, 1.84m dots
Max burst: 10fps (electronic shutter) 6fps (mechanical shutter)
Connectivity: Wi-Fi, Bluetooth
Size: 115.6 x 82.5 x 54.2 mm
Weight: 303g (body only)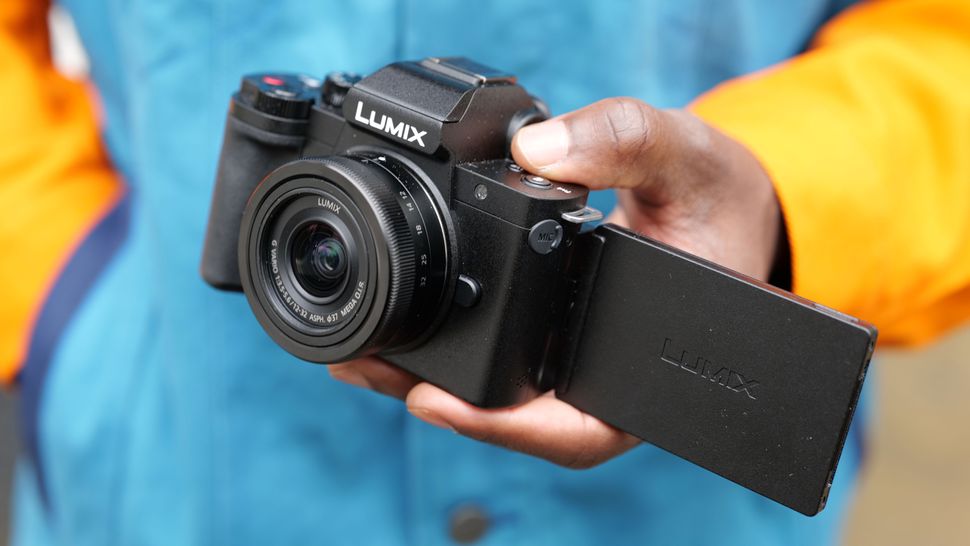 Key features
A 20.3-megapixel Live MOS sensor sits at the heart of the G100, capable of recording high-quality 4K/30p video. It can also record Full HD video at up to 120fps for dramatic slow motion clips. To keep things straightforward, Panasonic has placed all frame rate options, including up to 8x quick video modes all at the S&Q position on the camera's mode dial. It's also possible to create time-lapse and stop motion sequences inside the camera using its intervalometer settings. Perfect for creating dynamic B-roll footage.
The G100 is also equipped with 5-axis Hybrid I.S. when paired with a compatible lens. Hybrid image stabilisation is a fancy way of communicating that the camera uses a combination of the optical image stabilisation in certain lenses and electronic image stabilisation in the camera. When shooting in 4K the G100 is limited to 4-axis stabilisation.
When the LCD screen is flipped forwards to face the user, the camera automatically switches into Video Selfie Mode. This increases the depth of field, keeping your face as well as the background in focus. We're pleased to report that the G100's intelligent face-recognition and tracking algorithms can identify and lock onto faces consistently.
The camera utilises this same tech to implement its ultimate USP; an OZO Audio by Nokia microphone array. As the first consumer camera of its kind to offer OZO Audio, the G100 uses three microphones and face tracking to follow whoever's speaking on camera. The idea is that as a user speaks to the camera, the G100 will optimise the direction of the audio recording signal to match the position of the presenter.
For example if you have the camera on a tripod, and you're standing in front of the camera, it will boost the range directly in front of the camera and record very little coming from behind the camera. But if you are pointing the camera at a scene or product in front of you, while speaking about them, the G100 will record the signal most prominently from the rear of the camera. And despite the fact that there's no tally light (little red lamp showing that recording is in progress), a bright red box appears around the frame of the LCD when recording in Video Selfie Mode, which is great! Of course the user can define which audio recording mode is used or leave the camera to decide for itself.
The optional DMW-SHGR1 pocket tripod/tripod grip is a solid companion accessory and given the bundle pricing, it's pretty much a no brainer if you opt for the G100. The SHGR1 screws into the camera's tripod thread and plugs into its microUSB port via a small non-removable cable. It has three buttons on it – shutter, record and sleep – as well as an adjustable ball head. Ergonomically, the tripod grip makes capturing selfies much more convenient and adds an extra bit of length to your arm. This will help battle the cropping issues caused by shooting in 4K and with E-stabilisation on.
The G100 has a combination of features that appeal specifically to travel vloggers, especially as it removes the need to carry around an external microphone, and makes it especially easy to get quality footage on-the-go in front of and behind camera.
Although we feel Panasonic dropped the ball in one area in particular area. The G100 only has microUSB instead of USB-C for its power input. This is an issue because despite having an external microphone input, there's no way to monitor audio coming out of the G100. Fujifilm faced the same dilemma with the X-T200, a camera also targeting vloggers. But the X-T200 has a USB-C input and comes with a dongle in the box to add a standard 3.5mm headphone port to the set up as needed. It's a simple thing, but a glaring oversight for Lumix, a brand known for giving video creatives what they need. Perhaps Panasonic felt vloggers generally don't need audio monitoring. But it's especially strange when you learn that the G100 includes the ability to shoot in V-Log L, which is a flat colour profile that allows advanced video creatives to better colour grade their footage. Advanced creatives often want to monitor audio too.
A final additional perk is the dedicated Share button on the left shoulder of the G100, intended to provide seamless connectivity for pairing to a smartphone or tablet. The Lumix Sync app works consistently well in our experience, but unfortunately with our pre-production G100, we were unable to get it to pair to a smartphone via Bluetooth or Wireless. We imagine this will be addressed by Panasonic via firmware update in time for the camera's wider release.
Build and handling
At about half the physical size of the Lumix GH5, the G100 is one of the smallest interchangeable lens cameras with a fully articulated LCD touchscreen available right now. Measuring 3-inches, the implementation of the camera's 1.84m-dot LCD touchscreen is spot on. It's bright and contrasty, making it easy to see, even in direct sunlight. We were able to test the G100 alongside Sony's latest vlogging-focused camera, the Sony ZV-1, and the screen on the ZV-1 was barely usable in comparison. The touch commands of the G100 aren't quite as zippy as those on higher end Lumix models, but that's no surprise. And if you needed it, the G100 also features a 3.68m-dot electronic viewfinder with 0.73x magnification, another advantage over the ZV-1 and smartphones.
Despite its diminutive size, the G100 feels solid in construction. It's made from a tough polycarbonate material and features few points that seem susceptible to drop damage. The only real point of weakness we feel would be its cute pull-up TTL flash, which sits at the front of the camera's EVF, just above the Lumix logo. And although it doesn't come with a weather-sealing rating, Lumix informed us that the G100 should be fine in light rain, provided due care is taken with it.
Sporting a more "traditional" camera form factor, the G100 will encourage less experienced users to explore full manual controls without being intimidating. The control layout is approachable with a bright red button dedicated to video recording and four customisable Function (Fn) buttons. We found it easy to adjust most settings on the fly using the rear thumb wheel and shoulder dial, occasionally dipping into the menus to toggle settings such as E-Stabilisation. The camera also has a textured thumb rest placed perfectly for comfort. The combo of its thumb rest and its relatively deep grip elevate the usability of the G100, whether shooting single-handedly or with both hands.
Performance
It may be targeting vloggers with a bevy of video-centric features, but the G100 is also a highly capable stills camera. Its 20.3-megapixel sensor renders details superbly, thanks to the omission of a low pass filter. In good light, the G100's JPEGs are punchy and rich in contrast. But it can also shoot in raw, which will provide greater latitude for editing post shoot.
The G100 uses a tried and trusted pairing of AF and metering. The same 49-Area contrast detection AF and 1728-zone multi-pattern metering systems deployed in the LUMIX G7, G85, G9 and GH4, features in the G100. It's not the fastest or most advanced system around, but it works well enough for general purposes and is rated to achieve focusing in as little as EV -4. We found it worked decently enough in low light and the G100 deploys an AF assist lamp when needed. Although the G100 seemed to recognise faces fairly quickly, we found it hunts a little during filming, which will annoy the most eagle-eyed creators. But thankfully we didn't experience a complete loss or lack of ability to focus on faces.
Increasingly, cameras targeting smartphone users feature filter modes. The intention is welcome, but they aren't particularly sophisticated and can't compete with apps on smartphones like FaceTune, Snapchat and Instagram. They're there if you need them, but we would recommend making the most of the camera's brilliant sensor and editing after the fact. The G100 also offers a range of scene modes to assist when taking pictures in scenarios that require specific settings. Scenarios featured include; "Clear Sports Shot", "Handheld Night Shot" and the oddly named "Cute Dessert" and "Sweet Child's Face" for example.
We don't know what specific settings would be required for a demon child, but if you're unfortunate enough to meet one, note there is no scene mode to photograph them on the G100.
We were only able to test the G100 with its 12-32mm f/3.5-5.6 kit lens. Despite not being particularly bright it features OIS so we were able to comfortably capture handheld shots as low as 1/10sec. But in circumstances where you want to keep the shutter speed higher, the G100 features a max ISO sensitivity of ISO 25,600. We would avoid pushing it to its limits, but the G100 was still able to deliver usable images at ISO 3200. At least usable for social media. The same can't be said for video at higher ISO settings or in low light scenarios however. You'll want to ensure you have decent light when capturing videos with the G100, otherwise you will see a noticeable dip in visual quality.
With such a heavy emphasis on the inclusion of OZO Audio by Nokia, how well did the built-in microphones of the G100 work in practise?
In typical vlogging configuration – camera held pointing at the user's face, screen flipped out – it works like a treat. Provided you are facing the camera, the G100 will isolate and pick-up your voice excellently. However, as the camera is focusing on where the sound is coming from, the dip in audio level is quite steep if you turn away from the camera and continue speaking. That's because it's not picking up audio in an omni-directional pattern in this mode. We'd recommend sticking with a more ambient pickup pattern if you're going to be speaking and turning away from the camera frequently. But yes, with all things considered, the G100 has one of the best internal mic offerings of any camera aimed at vlogging.
In our testing the G100's stabilisation modes worked well for both walking and cycling (although we don't recommend cycling one-handed). But it's worth noting that there is a significant crop on the video if you keep E-stabilisation turned on. Although it delivers competently steady footage, walking and talking to camera while E-Stabilisation is turned on will leave very little room for the scenery around a tightly framed shot of your face. Not a deal breaker by any means, but it's worth noting.
We'll bring you full lab tests just as soon as we can get a full production version of this camera for testing.
Verdict
There are small niggles that we have with the Lumix G100, like the lack of a headphone jack or USB-C port, which could have fixed that. We also would have loved some level of in-body stabilisation, but we accept that would come with a size/weight increase. Another drawback is the lack of 4K/60p video recording, which much of the competition (including smartphones) will offer.
But as the first camera from LUMIX explicitly targeting vloggers, the G100 is a stellar effort. It's compact and will deliver high quality stills and video in a range of scenarios, particularly for travel and home studio-style presentations.
For anyone who's approaching the limits of their creativity with a smartphone or pocket camera, the G100 is a significant step towards raising one's production level. Having access to a hugely popular lens mount and impressive in-camera audio also puts it in a different league to much of its competition. The G100 represents a gateway into a proven system of cameras in Lumix that can truly take a creative person from amateur to full-time professional.
Read more:
• Best cameras for vlogging
• Best lenses for vlogging
• Top vlogging tips
• Best microphones for vlogging
• Best Panasonic cameras
• Best Micro Four Thirds lenses