The OnePlus 7T Pro is official, two weeks after we reviewed the OnePlus 7T, it comes loaded with a OnePlus 7 Pro design and a few enhancements peppered across its spec-sheet. With an expected launch price of around £700, it may seem like OnePlus is duping us and relaunching the same phone all over again, and in a way, it is - but that shouldn't put you off; this is an excellent phone for anyone looking to upgrade.
We'll start by summarizing what's different with OnePlus's latest flagship compared to the 7 Pro: for starters, there's a new ultra-wide camera mechanism that enables Super Macro, so the lens can lock in on subjects as near as 2.5cm away. There's also a new Super Stabilization video shooting mode.
• Read more: Best OnePlus 6T phone cases
Next up, the processor is a bit more powerful - the 7T Pro features a Snapdragon 855 Plus by comparison to a Snapdragon 855, and the phone comes in a lighter Haze Blue colour. There's also a bit more battery on-board - an extra 85mAh, and the phone supports Warp Charge 30T, a faster charging system that prioritizes charge-speed at the beginning of the charging process
As for everything else, at least from a hardware perspective, it's exactly the same as the OnePlus 7T.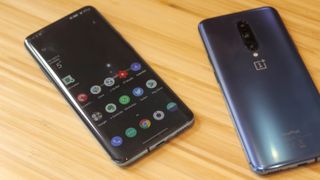 OnePlus 7T Pro: Specs & modes
The OnePlus 7T Pro's triple camera features a primary 48MP half-inch sensor with 0.8µm pixels and a wide f/1.6 lens. There's also an 8MP telephoto camera, with 1µm pixels and a 2.87x zoom f/2.4 lens, which we'll round up to 3x in this review. Finally, there's an ultra-wide 117° 16MP module with an f/2.2 aperture.
It also brings back the same shooting modes as found on the OnePlus 7 and 7 Pro – Video, Photo, Portrait, Nightscape, Pro, Time-lapse, Panorama and Slow-motion – though the Photo mode is supplemented with the new Super macro feature mentioned earlier.
Dip into the settings and OnePlus enables customized shooting mode shortcuts, and you can also toggle Ultra Wide Lens Correction and Manual HDR on or off, or load up your viewfinder with a 3x3, 4x4 or golden ratio grid.
The phone's Nightscape mode supports exposures as long as 30 seconds, if the phone is being held on a tripod or steadied on a surface, and in Pro mode, it also overlays a histogram and horizontal line reference, which can be toggled on or off.
Despite packing a 48MP sensor, by default, photos are taken at 12MP (4,000 x 3,000) unless you fire up Pro mode. Using a technique called pixel binning, the quad-Bayer Sony IMX586 sensor grabs detail from four pixels and compresses them down into one pixel of information to produce shots with lower overall resolution, but better dynamic range and noise handling.
The OnePlus 7T Pro's camera also has optical image stabilization across its primary and telephoto modules - the latter missing from the more affordable 7T. Photos are held steady across focal lengths as a result, even with slight handshake.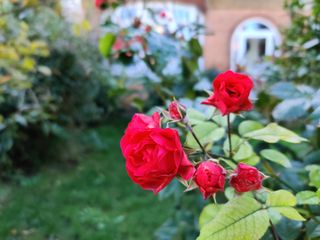 OnePlus 7T Pro: Image quality
As far as images shot on the 7T Pro go, while this isn't the best camera phone you can buy, it's still impressive, given its expected price. The 7T Pro captures shots quickly, locking onto its subject without too much fuss. You can forget about keeping a rock-steady hand and it will still take a clear picture in good lighting with the main camera..
In bright conditions, auto-HDR fires up, brightens backlit subjects and prevents blown out skies, or blobs of black in darker areas. This feature also extends to the selfie camera, which is excellent despite lacking autofocus or 4K video capture.
Like the new iPhone 11 Pro and the Pixel 3A, the OnePlus 7T Pro has a night mode - Nightscape. This handheld long-exposure mode can keep the shutter open for as long as 30 seconds if you can find a tripod and shoots for about four seconds when handheld. As you can see from the comparison grid below, while it can't stack up to Huawei's excellent new Mate 30 Pro, it's about on-par with the Galaxy Note 10 Plus, producing more fringing but at the same time grabbing more detail.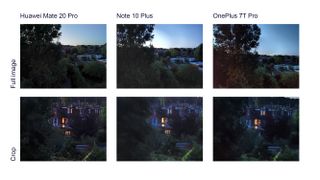 For the first time on a OnePlus phone, Nightscape now works on the ultra-wide camera too, which makes for some impactful low-light landscape shots.
The new Super Macro mode introduced on the ultra-wide lens also impresses. This locks focus as close as 2.5cm and as far as 8cm. The UI suggests you can capture Super Macro samples on the wide and telephoto camera, displaying toggles to switch across focal lengths. That said, you can't; when toggling, it actually just crops into the ultra-wide sensor's shot, so we would probably stick to the widest angle when in this mode to avoid lossy zooming.
The ultra-wide camera's lens distortion is corrected for by default, just like on the OnePlus 7T, but what's better about the Pro variant is that the distortion is much more uniform, with a fisheye effect that adds a GoPro feel to shots. This means, on the Pro, you may actually want to turn off distortion-correction in favor of the widest angle possible and a bit of intentional barreling.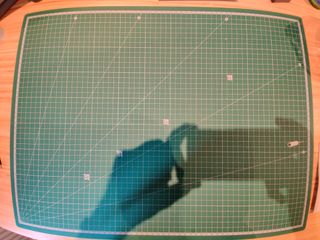 This all comes together very well for the 7T Pro; it's a great camera phone with a versatile set of modes and focal lengths. It betters the OnePlus 7T with its ultra-wide and telephoto cameras and shares the same strong primary sensor/lens combo.
It also records 4K footage at up to 60fps with image stabilisation fired up, coupling smooth video with punchy colours and plenty of detail when recording in good lighting. In fact, if you're happy shooting at 1080p, OnePlus has included a new Super Stabilisation feature that locks everything together to make footage gimbal-smooth, and it's amazing in excellent lighting. Noise handling in this mode is noticeably worse than standard video mode, but it still gives you action camera-esque stable footage on your phone which is a boon.
As for slow-mo footage, it's captured at up to 240fps in 1080p, and 480fps in 720p.
OnePlus 7T Pro: Battery, OS and connections
The OnePlus 7T Pro is as future-proofed as an Android phone gets right now, running Android 10 and loaded up with OnePlus' excellent Oxygen OS interface over the top.
While it looks clean and stock, it's highly customized and customizable. You can flick on Zen Mode on, for example, which disables everything but the phone's camera and access to making emergency calls if you need some down time from your tech. The 7T Pro also supports smart gestures, so you can unlock it straight to an app of your choice.
Unlike upcoming Huawei phones, OnePlus hasn't been affected by the politics of the US/China trade war, so features full access to the Google Play Store, and in turn, offers excellent app support.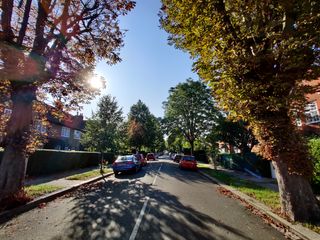 Running with a Snapdragon 855+ chipset, the 7T Pro is also about as powerful as a phone gets today, and combined with 8GB RAM and 256GB storage, there's plenty of onboard space for your photos and 4K videos. That said, there's no microSD card slot present, just a dual-SIM slot, so this capacity isn't expandable.
Just like the OnePlus 7T and 7 Pro before it, the 7T Pro's screen has a fast 90Hz refresh rate, which means it looks smoother than almost anything else in its price range. The Fluid AMOLED tech means it showcases deep blacks and punchy colors, and it's sharp too, with over 500 pixels-per-inch, bettering every iPhone around and Huawei's P30 Pro.
The OnePlus 7T Pro's stereo speakers are also loud, and its under-display fingerprint scanner combines with face unlocking to get you into your phone quickly, though, the scanner isn't as quick as some flagships.
The 7T Pro also has a 4,085mAh battery, slightly larger than its predecessor, and it makes it through a full day without any trouble. Meanwhile, Warp Charge 30T fast charging powered up the phone from 0-60% in around 30 minutes - very fast indeed.
OnePlus 7T Pro: Verdict
While there's no getting around the fact the OnePlus 7T Pro's design is virtually identical to that of the 7 Pro, its screen is sharper than most of the competition, its processor is more powerful and its camera system is at least as versatile.
Married with the fact it's running the latest version of Android and battery performance is strong, we're hard-pressed to fault OnePlus for recycling the 7 Pro's still excellent design and updating its internals. Can OnePlus get away with doing it again in six months? No; but for now, the OnePlus 7T Pro is a fantastic phone with a solid camera that's very easy to recommend.
Read more
Best budget camera phone: these are the best cheap camera phones right now
Best iPhone camera for photography: the iPhone 11 Pro or a cheaper model?
Best 5G phone for photographers in 2019