The OnePlus 7 Pro is the most expensive and advanced OnePlus phone to date. This series' prices have crept up every year, but this is its first ultra-high-end camera phone, and it boasts an impressive-looking 3-camera array with 3x zoom capability.
It does not set new standards. The main sensor isn't quite a match for the Huawei P30 Pro's, and neither is ultra-low light image quality. It also stays away from attention grabbing features like extended hybrid zooming, extreme slo-mo and next-level video stabilisation.
However, the OnePlus brand is good enough to make our list of best camera phones, and the OnePlus 7 Pro takes excellent photos in the vast majority of shooting scenarios. It delivers the high-end experience OnePlus promises.
• The best OnePlus phones in 2021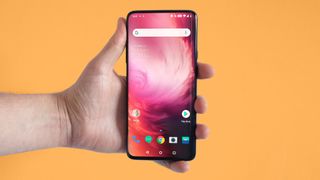 Design and features
There are three very notable parts to the OnePlus 7 Pro design. It's very large, its screen fills the front, bar a sliver of border, and the selfie camera extends out of the top like a Bond gadget.
Use the surprisingly quick face unlock feature and this camera yo-yos up and down all day. But OnePlus says it tested the mechanism for 300,000 operations. A few users will break it, no doubt, but that figure accounts for 100 times a day for eight years.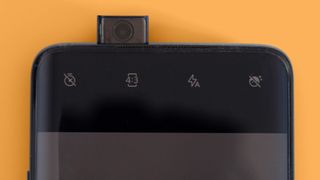 This camera makes the notch- and hole-free display possible. Its a huge, sharp 6.67-inch OLED with great colour and an unusual 90Hz refresh rate. This is not the brightest screen among £600-plus phones, though. Previewing your shots on a bright day isn't quite as easy as with an iPhone XS Max.
The outer, and inner hardware, is otherwise similar to that of other pricey phones. Its back and front are curved glass, the sides are metal. And the Snapdragon 855 CPU ensures great performance for all purposes, and an up-to-date ISP.
This is a large phone, even by the standards of top-end Androids. Bear it in mind.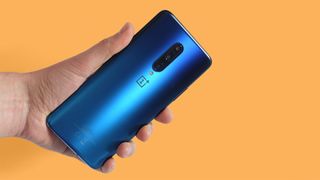 OnePlus 7 Pro camera
The OnePlus 7 Pro is the first triple rear camera phone from OnePlus. There are no "filler" depth cameras here either, commonly used today to bulk up specs with low-cost components like 2-megapixel sensors. Its lens has a fixed f/1.6 aperture.
Its main camera uses the 48-megapixel Sony IMX586 1/2-inch sensor. While this is a large figure, the very high resolution leaves it with small 0.8 micron sensor pixels, and the OnePlus 7 Pro uses pixel binning, just like every ultra-high-resolution phone, producing 12-megapixel photos rather than 48-megapixel ones.
It's a significant leap forward for OnePlus phones, if not quite phones in general. HDR processing is subtler and more realistic than previous models. The OnePlus 6T tends to leave mid-tones looking a little flat, and colour rather affected, in scenes of high light contrast. This new camera's images are more naturalistic, without sacrificing shadow details or highlights.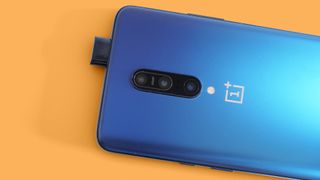 OnePlus 7 Pro video
The phone shoots at up to 4K resolution, 30fps or 60fps. But if you shoot at 60fps stabilisation reverts to OIS rather than the more effective software stabilisation available at 4K 30p and below. There's nothing ground-breaking like the Galaxy S10 Plus's hyper stabilisation mode either, which shoots video using the ultra-wide lens for a much greater cropping buffer (leeway).
Slo-mo video tops out at 480fps, 720p resolution, whereas some top phones can shoot at 960fps.
Performance
The OnePlus 7 Pro is not quite an "instant" camera like the Pixel 3XL. There's a fractional shutter lag before capture, but it is generally rapid and focusing is fast (and "laser" assisted). The Google phone only manages to eliminate shutter lag more-or-less entirely by capturing preparatory frames in the background before you press the shutter button.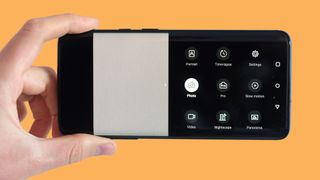 Usability is otherwise excellent. OnePlus's camera app UI is cleaner than Huawei's, for example. Only the basics are displayed at the top level, like switching between the three lenses and enabling/disabling the flash.You'll find few failures for "normal" shooting, but there are some strange observations.
The 3x zoom takes 8-megapixel images but according to the diagnostics app Hardware Info, there is no 8MP sensor here. It reports a Sony IMX486 (main), 16-megapixel IMX471, 16-megapixel IMX481 and 13-megapixel Samsung s5k3m5.
The latter, the lowest end of the lot, is presumably the zoom camera. Actual zoom images are shot using a composite of image data from this sensor and the main IMX486. This checks out: you can shoot 3x zoom photos with either of these lenses blocked, at least sporadically.
This lets OnePlus save some money on the zoom sensor and lens, and lets the zoom "borrow" the main camera's optical image stabilisation. The results aren't a disappointing kludge, though, as there's appreciably greater detail in zoomed images. And it does not have the distracting watercolour effect of the 48-megapixel shots.
Ultra-wide images are good too. They use the same dynamic range techniques as the main camera, and you can choose whether or not to apply geometry correction to offset the effect of the lens.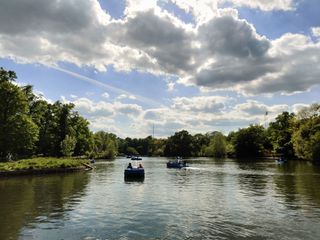 There's a simulated shallow depth of field mode too. Its results are charming and subtler than some, avoiding obvious edge detection errors most of the time. But this "Portrait" mode is very picky about the distance of your subject, and while it works with objects rather than people too, you often have to experiment with your position to get it to play ball.
The zoom and ultra-wide can't use the dedicated night mode either. Having used this feature all the time when shooting with the Huawei P30 Pro, this feels like a loss. But few would argue the OnePlus 7 Pro is really a direct match for that phone, and neither is the price.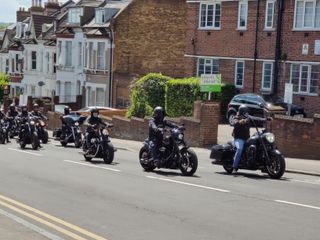 OnePlus 7 Pro image quality
Photos shot using the default mode are detailed and clean, but do have the characteristic look of mobile phone pixel binning. Down at pixel level there's no hint of noise most of the time, but some fine textures appear smoothed-out.
This is an excellent all-rounder camera, but don't expect quite the photographer-led approach of the Huawei P30 Pro or classic Nokia PureView 1020.
OnePlus's classic Pro mode returns in this model, though. It lets you shoot RAW images and 48-megapixel ones. However, the RAWs are just 12-megapixel files and the 48-megapixel JPEGs you can capture look so absurdly processed at pixel level, the extra detail seems to be provided some unseen AI with a paintbrush more than the sensor itself.
The 48MP JPEGs also use none of the clever HDR tricks of standard-res images, and your shots will often have blown highlights.
The OnePlus 7 Pro's improved NightScape mode offers excellent handheld low-light results and, crucially, capture only takes a second rather than the 5-7 seconds the class leader Huawei P30 Pro needs. Results are comparable with Huawei's, in the average street-lit light scene, but can't compete in ultra-low light conditions.
Like other such processing-intensive modes, dynamic range is the aim, and a lot of textural and fine detail is binned as a result.
We do recommend using NightScape, as standard Auto night shots are not as clean and often have hyped contrast. And if you attach the OnePlus 7 Pro to a tripod, or put it up next to something solid, it auto-senses the lack of movement and kicks NightScape up a gear. Capture then takes the best part of 30 seconds, but detail radically improves.
OnePlus seems to have aimed to get you A-grade results in 90% of shooting situations. You have to dig a little deep to find areas the highest-price Samsung, Huawei, Apple and Sony rivals clearly outperform the OnePlus 7 Pro. But they do exist.
Verdict
The OnePlus 7 Pro does not offer every benefit of every high-price rival. Huawei's P30 Pro its better in extreme low light and has a longer zoom. The iPhone XS Max's display is clearer outdoors. Samsung's Galaxy S10 has better video stabilisation.
Its 48-megapixel resolution is a bit of a red herring too.
However, the OnePlus 7 Pro otherwise offers everything expected of a top-end phone camera. Its image quality at day and night is great, you get three useful fields of view and performance is more than respectable.
The OnePlus 7 Pro is not categorically the best in any area, but it sits among the best comfortably enough.