The Samsung Galaxy Note-series is the do-it-all phone line combining an S Pen with power and a big-screen experience, year-on-year. A quick glance over the Note 10 Plus' spec sheet and you won't be disappointed. The phone outclasses the Huawei P30 Pro when it comes to RAM and storage, outguns the Samsung Galaxy S10 5G when it comes to power and according to DxO Mark, outperforms every other smartphone on the scene from an imaging point of view. With a virtually identical camera array to the S10-line though, is it really that different?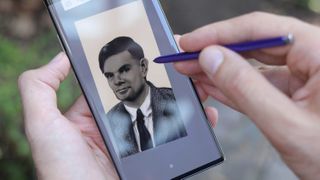 Samsung Galaxy Note 10 Plus: price, specs and features:
The Samsung Galaxy Note 10 Plus costs $1,099/£999, comes with 256GB storage and 12GB RAM, making it the most expensive 4G Android smartphone around, but also amongst the most powerful. Its 6.8-inch Dynamic AMOLED QHD+ screen is sharp, bright and notch-free, protected by Gorilla Glass, and the phone is IP68 water and dust resistant.
Samsung's decision to scrap the headphone jack on the Note 10-series made headlines; there's also no adapter in the box, just a pair of USB-C AKG headphones which will irk some. On the plus, they're decent headphones, and the Note 10 features Dolby-tuned stereo speakers, as well as plenty of EQ settings under the hood for audiophiles to play about with.
With its 4,300mAh battery, Exynos 9825 processor and 12GB RAM combo, power inside is ample and power management is very well handled indeed, with the Note 10 easily making it through a full day without breaking a sweat.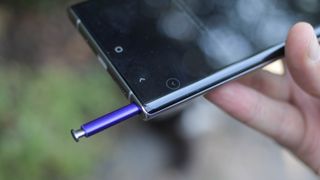 The phone runs Android 9 with Samsung's One UI over the top, and this is customised a step further than on other Galaxy phones to take advantage of the Note's S Pen. This stylus slots into the phone's base, and delivers 4,096 levels of pressure sensitivity thanks to the Wacom digitizer under the display of the Note.
Pull out the pen and you're presented with options to take notes or engage in smart actions like translate text you hover the pen over. There are also new gesture commands you can fire-up with the S Pen - wave it about to control elements on the phone.
Most of these, we could have done without, but one feature we love using is the Note's remote shutter button on the S Pen. Pop-out the pen, long-press the small button on its top-side and you can fire up the camera. Frame up your shot, whether on a tripod or a surface and you can use the pen as a shutter release - ideal for long exposures.
If you like handwriting, then no phone can stack-up to the Note-series, with the optical character recognition (OCR) being second to none. The Note 10 Plus even indexes your handwritten notes to make them searchable, which is incredibly handy for lecture notes or meeting minutes.
It's also the most precise way to apply spot corrections in Lightroom for mobile or draw using Autodesk Sketchbook Pro on a smartphone. You can see an example illustration created on the Note 10 Plus in our week with it below.
Samsung Galaxy Note 10 Plus: Camera specs
The Samsung Galaxy Note 10 Plus' rear quad camera is comprised of a 12MP primary camera (f/1.5/2.4 variable aperture, 26mm) with a 1/2.55-inch sensor, and 1.4µm pixels, complete with Dual Pixel phase detection autofocus (PDAF) and optical image stabilization (OIS). The telephoto 12 MP camera (f/2.4, 52mm) features a 1/3.6-inch sensor, 1.0µm pixels and OIS, which equates to a 2x optical zoom. The ultrawide 16 MP (f/2.2, 12mm) is the least specced-out module, with no autofocus or OIS, and finally, there's that Time of Flight camera for 3D depth detection.
As for the selfie camera, it's the same 10MP sensor as found on the Galaxy S10 Plus, with a 26mm wide-angle and unlike most front cameras, it sports autofocus. Unlike the S10 5G though, it isn't accompanied by a ToF 3D camera.
The Note 10-Plus packs shooting modes aplenty: Automatic, Video, Live Focus, Live Focus Video, Pro, Food, Night, Instagram, Slow Motion, Super Slow-mo, and Hyperlapse. Across most of these, you can choose whether to shoot with the ultrawide, wide or telephoto cameras.
Photos are captured at full 12MP resolution by default, and videos can be recorded at up to 60fps in 4K resolution. The front camera can also record 4K 30fps too, which is impressive. As for the ultrawide camera, it delivers heavy barrel distortion, but if you dive into 'Save options', in the settings, then tap 'Ultra wide shape correction', if corrects it, slightly reducing the wide angle.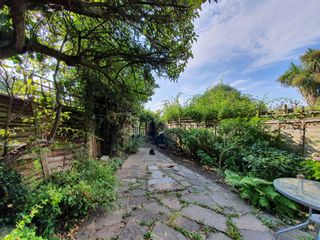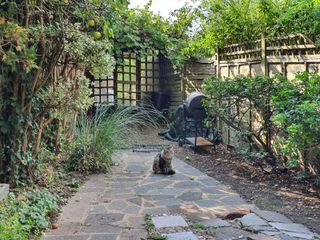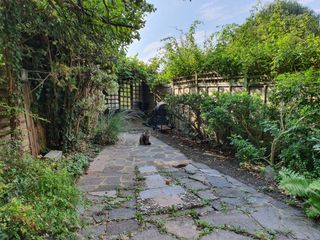 Samsung Galaxy Note 10 Plus: Camera performance
The Note 10's automatic mode, called 'Photo', delivers a fantastic point-and-shoot experience. You can leave it in this mode, snap away, and you're likely to get a decent shot time after time. Samsung's Auto HDR feature is on by default, and captures plenty of tonal detail across a scene, tapering blown-out areas like a pro, even in challenging conditions.
Photos also deliver plenty of clarity, too. While the phone's pixel-count doesn't rival that of the Honor 20 Pro, for example, it's still able to produce images that can easily be printed off and blown up, provided the lighting is right. As with the S10 5G, saturation is a bit on the boosted side, especially prevalent in scenes with a lot of green when the smart scene optimizer is turned on. Turn this off and it mutes things a touch, making pictures look less poppy, but more realistic.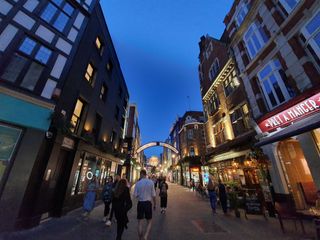 When the lights drop, the Note 10 Plus features a wide aperture, f/1.5 lens to help keep things clear in automatic mode, and there's a 'Night' mode too. The reality is, while it brightens things up quite a bit, shots in low light look mottled and lower on detail than the best out there. Even Night mode isn't quite class-leading, so while it's better than the iPhone Xs, with phones like the P30 Pro, Pixel 3 and Pixel 3A producing long-exposure night shots that can literally see in the dark, the Galaxy Note 10 Plus still hasn't taken that crown.
It does, however, feature an excellent Pro mode that unlocks variable ISO sensitivity, lens aperture (which you can set at either f/1.5 or 2.4), white balance, manual focus, etc. Grabbing a low ISO shot with a long exposure time is one way of overcoming any low-light limitations, but you'll need a steady surface or a tripod to really get P30 Pro-quality low-light photos on the S10-series. The maximum ISO in Pro mode is 800, and the maximum shutter speed is 10 seconds, with a nearest focal-range of about 15cm.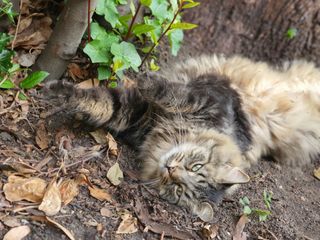 As for the ToF sensor, this turbo-charges the Live Focus mode, which senses the depth of a scene and blurs out the background. For clearly defined foregrounds and backgrounds, it works to great effect unless there's a huge amount of intricacy - capturing videos or photos of foliage and branches, for example.
As for video, it looks exceptional across the front and rear cameras - almost gimbal-esque when standing still. Walking while shooting with heavy footsteps creates an unnatural stabilised judder though, but light, gliding footsteps don't tend to come through as handshake, which is impressive. The Live Focus Video mode is also a bit of fun, blurring out the background in video in realtime, using the information from the ToF camera to show the effect live, though we wouldn't use it for anything serious. Meanwhile, the selfie camera captures sharp, good looking images with decent dynamic range, even if it can't stack up to the rear camera array.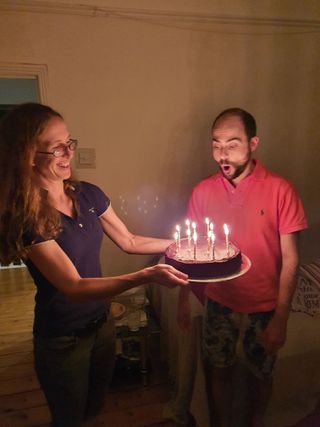 Samsung Galaxy Note 10 Plus: Verdict
The Galaxy Note 10 Plus is an excellent phone, there's no getting around that fact. Compared to an iPhone, it's actually reasonably priced, given its impressive specs and performance in the real world. This is especially true in the UK, with the 256GB Note 10 Plus costing £999/$1,099 and the 256GB iPhone Xs Max costing £1,249/$1,249 - Apple products offer better comparative value in the US.
If you don't need the pen though, it's a tough sell given the Android competition on the scene. The Galaxy S10 Plus, which comes in at £799/$999 is virtually identical from an imaging point of view. Meanwhile, the Oppo Reno 10X Zoom delivers a more versatile stills camera, and the P30 Pro sports comparable across the board features, with a periscope zoom and a lower price. So while the Note 10 Plus is the best Android phone you can buy right now, it might not be the right one for you, and more importantly, for your wallet.

Read more:
The best tablets for photo editing and photographers
Smartphone news, camera phone leaks and mobile rumors