To look at, the Huawei Mate 30 Pro is a slice of the future. It's screen rolls over the side of the phone into a metal body sensationally elegantly; it feels like a dream in the hand, and its fascia sports a class-leading 94.1% screen. The Mate 30 Pro is kind of like a phone of tomorrow, today.
Riding on the cristical success of the Mate 20 and the P30 Pro, Huawei has seen plenty of highs over the last year, but politically, it's suffered blows at the hands of the US-China trade war that could spell an end for its Western smartphone business.
That's why this jaw-droppingly well-made handsets, and one of the best camera phones, may never make it into your hands or pockets, and why its the most bittersweet piece of hardware we've probably ever tested to date.
Huawei Mate 30 Pro: design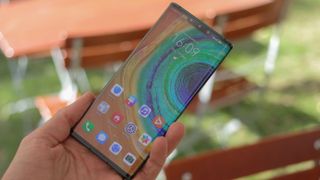 Starting with the back of the Mate 30 Pro, and the camera surround is round and striking. Huawei calls it a 'Halo design', and it features a raised area which houses four cameras. Around it is a ring with a matte finish. To the left of the ring is a flash, which looks like a xenon module, but sadly, it's an LED.
While there's a power button, there's no volume rocker on the Mate 30 Pro. Instead, the frame of the phone can register touches. To fire up the volume bar, double-tap the side of the phone and slide up or down to change it. While that might sound like a recipe for disaster, it worked very well in our time with the phone, though we can't report on how useful it will be when wearing gloves or trying to quickly silence the phone while it's in your pocket.
The Huawei Mate 30 Pro may be a fragile-looking glass and metal phone, but it's protected from the elements thanks to IP68 water and dust resistance. It also seemed to repel fingerprints nicely to our surprise, and there's tempered Gorilla Glass 6 on the front and back, as found on the Note 10 Plus.
Huawei Mate 30 Pro: display
The only phone with a curved screen that comes close in terms of the 'edge-to-edgeness' of the Mate 30 Pro is the new Note-series, and just like Samsung's flagship pen-toting phones, such as the Galaxy Note 10 Plus, the Mate 30 Pro looks glorious.
Its 'Horizon display' measures 6.53 inches and is a Flex OLED panel with a resolution of 2400 x 1176. That gives it a pixel density of 409 pixels-per-inch, which, while ample for most, makes it less sharp than the best out there like the Galaxy S10+ and OnePlus 7 Pro.
Despite the numbers though, in the flesh, it looks sharp, punchy and deep, with exceptional viewing angles, making for a beautiful viewfinder for its unique camera.
Huawei Mate 30 Pro: camera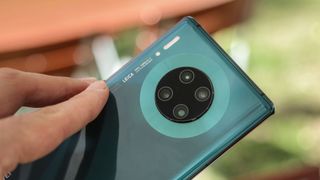 Huawei's 'SuperSensing camera array' includes four sensors.
When taking photos, it uses an ultra-wide super-sampled 16MP camera, which doubles up as 40MP wide cinema camera, an 8MP telephoto camera with an 80mm equivalent focal length and the phone also has a SuperSensing 40MP primary wide camera.
While the Mate 30 Pro also introduces Sony Xperia 1-esque cinema video features, this wasn't available on the version we got our hands-on.
When the phone is launched though, it will offer 4K 60fps capture, with an industry-high ISO of 409600, combined with dual AIS+OIS for stabilized footage. Equally over-the-top, the Mate 30 Pro can capture slow-motion video at 7680 fps, and this was available on our device - working well in bright conditions.
The rest of the phone
At the base of the Mate 30 Pro is a USB-C port which supports 27W fast wireless charging. With a 4500mAh battery, it can spare a bit of power for other phones with its clever reverse wireless charging feature. Despite this, the Mate 30 Pro is still thin at just 8.8mm.
Its Kirin 980 processor is one of the fastest chipsets on the scene, so it's little wonder that the phone flew in our brief time with it. While we didn't manage to try anything too intensive, beyond that incredibly fast frame-rate slow-motion capture, we don't expect any stuttering with up to 8GB RAM inside too - or 12GB if you opt for the Porsche Design edition.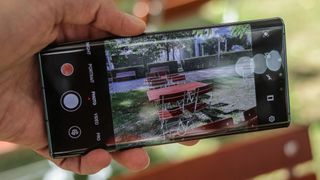 Running Android 10 with Huawei's EMUI 10 over the top, there's no Google Play Store loaded up, but it is a familiar Android experience otherwise. While pricing was announced at 1099 Euros for the 4G Mate 30 Pro, and 1199 Euros for the 5G version, Huawei has given no indication as to when the Mate 30-series will launch. When it does though, it will be an incredibly interesting, bittersweet device, with its sensational design, exciting camera, killer spec-sheet, missing Google Play Store and bold price tag.
Read more:
The best camera phone in 2019
The best budget camera phone in 2019