The Hex Ranger DSLR Sling bag definitely fills a gap. Sometimes a camera backpack is just too cumbersome. Sure, you can always cram more into a backpack than you can a sling – including the camera-plus-lens Hex Ranger – but you may need a photography bag that's as much about accessibility.
Able to swing around to your chest for easy access to your camera and a surprisingly amount of accessories, the Hex Ranger DSLR Sling is aimed at anyone who doesn't want to keep removing a camera backpack every time a lens/cable/filter/SD card is required.
That instantly makes the Hex Ranger ideal for wet conditions where you don't want to lay a backpack down. Even more so because it also comes with an integrated rain cover.
However, there's a lot more to this sling that makes it worth considering for anyone who likes to venture out on short urban photography shoots and take just enough gear.
Specifications
Weight empty: 730g
Dimensions: 40x21x13cm/15.5x8x5 inches
Materials: 500D Cordura nylon
Waterproofing: Water resistant, rain cover also included
Pockets: 2x zipped flat faux fur-lined pockets, front section for a phone, rear zone for a 10-inch tablet
Key features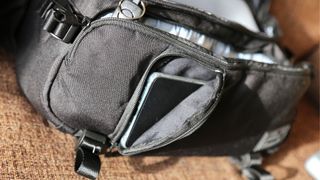 The Hex Ranger's main compartment is good for a crop-sensor DSLR or mirrorless camera, or a drone, or a complete vlogging set-up. But not all at once. The lid has a mesh pocket for stashing cables and memory cards. This microfleece-lined area has a couple of dividers that fasten to the walls using Velcro. They can be repositioned to snugly fit what's inside. There are a couple of compression straps on the exterior's ends to make it an even cosier custom-fit for your camera. Meanwhile, a couple of compressions straps on the Hex Ranger's undercarriage easily stow a tripod.
Beyond the main compartment is a foldout accessory zone filled with small pockets ideal for taking an adaptor, a portable battery, a flash, a spare battery, memory cards and cables. It's also got a built-in keyring.
On the front, there's a faux fur-lined pocket for storing a phone or anything else you don't want to scratch – such as a filter, a pair of sunglasses or some earphones – while the rear's faux fur pouch takes a 10-inch tablet.
The shoulder strap itself is highly adjustable and also includes two 'hidden' pockets. They fasten with Velcro but are can't take much more than SD cards or adaptors.
Quality and usability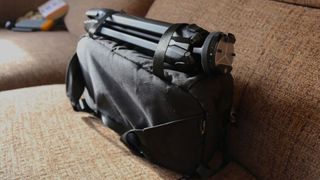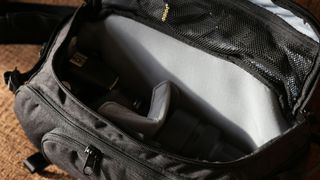 In use we found the Hex Ranger DSLR Sling to be ideal for day trips out with a camera. A full-frame DSLR is a real squeeze, however, and fat wide-angle lenses are a challenge too far. However, if you've a regular DSLR or mirrorless camera, it's possible to take a lot more than just an extra lens.
That said, it's best not to overload the Hex Ranger because the strap's shoulder pad lacks serious padding. If you load yourself down, not only does it become uncomfortable after a few hours, but it makes it harder to easily grab gear from the bag. That's partly why we wouldn't particularly recommend you travel with a 10-inch tablet; it's only possible to fit it in that rear pocket only if everything is lined-up nicely, and getting it back in is tricky. That pocket is more suited to a mini-tablet or a smartphone.
With the Hex Ranger, you're also not getting a huge amount of protection for your gear; though there's sufficient padding there's not as much as you would expect on a pricey camera backpack.
We found that the straps on the bottom of the Hex ranger can stow a tripod of all sizes, though it's best suited to hosting a compact travel tripod. However, if you're not going to use a tripod it's useful for stowing a rolled-up extra layer, a raincoat, or a small hiking umbrella.
Verdict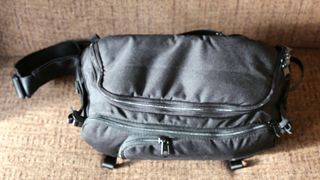 The Hex Ranger is ideal for taking a compact set-up out and about. There are some limitations, not least an inability to comfortably hold a full-frame DSLR and/or wide-angle or long lenses. However, if you stick to a crop DSLR – or any mirrorless camera – it's possible to cram the versatile Hex Ranger with an extra lens, a tablet, a smartphone, and more than enough accessories for a day out. Add a rain cover, compressions straps for securing a tripod, and some useful faux fur-lined pockets, and here's a versatile and customisable shoulder sling bag ideal for any compact photography and/or vlogging set-up.
Read more
• Choosing the best camera bag
Types of bags
• Best messenger/shoulder bags
• Best camera backpacks
• Best camera sling bags
• Best camera holsters/pouches
• Best roller bags
• Best hard cases for camera kit