We tested the Fujifilm X-T100 against three key rivals in this sector: the Canon EOS M50, the Olympus OM-D E-M10 Mark III and the Sony A6000. All three are mirrorless cameras with viewfinders aimed at relative newcomers to photography.
Resolution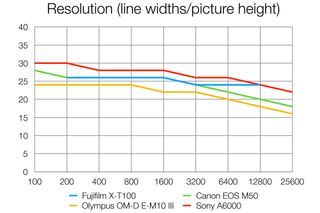 The X-T100 doesn't quite match the resolution of the older Sony A6000, but there's not much in it and it's very similar to the Canon EOS M50. The 16MP Olympus trails slightly behind.
Signal to noise ratio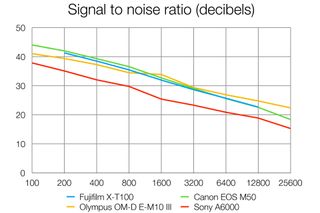 Here, there's very little to choose between the top three cameras. The Fujifilm, Canon and Olympus offer almost identical noise levels across the ISO range. The older Sony A6000, however, is visibly nosier.
Dynamic range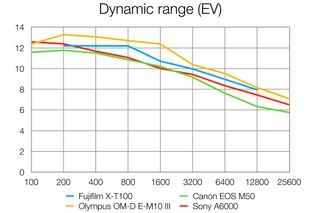 Interestingly, it's the Olympus OM-D E-M10 III that takes the lead here, a characteristic we see often with Olympus and Panasonic Micro Four Thirds sensors. The rest are very close together, with the Fujifilm X-T100 showing a slight dynamic range advantage at medium ISO settings.