Our Fujifilm X-S10 vs X-T30 comparison guide sees Fujifilm's mid-range mirrorless cameras go heat-to-head.
Until now, the Fujifilm X-T30 has been the natural choice for those looking to make the step up from one of Fujifilm's entry-level cameras like the X-T200 or X-A7, but can't quite justify Fujifilm's flagship X-T4.
With the arrival of the Fujifilm X-S10 however that arrives at a similar price point, things have got a little more muddled. The X-S10 though isn't designed to be a replacement for the X-T30 however, but an alternative option to appeal to new set of users who until now haven't been drawn to the retro-inspired control layout of Fujifilm's current crop of mirrorless cameras.
• Read more: Best Fujifilm cameras
This means that both cameras share many of the same core features. This means that the sensor used in the X-S10 and X-T30 is identical, with both using the same 26-megapixel X-Trans CMOS 4 sensor (that's also used by the pricier X-T4 and X-Pro3). Other key features like burst shooting speeds are also the same. Both the X-S10 and X-T30 can achieve a continuous shooting of 8fps with the mechanical shutter, while both can shoot at up to 20fps when switching to an electronic shutter (or 30fps with a 1.25x crop applied).
The X-S10 though isn't just a X-T30 with a different design, but comes with a number of benefits. Here's we will explore what these advantages are and if they're a deal breaker for you.
Fujifilm X-S10 vs X-T30: Design and handling
Perhaps the most obvious thing that separates the X-S10 and X-T30 is the two different design directions they take. While the X-T30 follows Fujfilm's other mirrorless cameras with a shallow handgrip and plenty of external controls that includes Fujifilm's distinctive trio of control dials for shutter speed, ISO and exposure compensation, the X-S10 does things a little differently.
For starters, there's a much more pronounced and comfortable handgrip, while Fujifilm's stripped back the amount of body-mounted controls and replaced them with a more commonplace PASM dial (Program, Aperture, Shutter Speed, Manual). This is designed to appeal to DSLR users who until now have been deterred from switching to an X-Series camera because of what at first glance appears to be a confusing set of controls.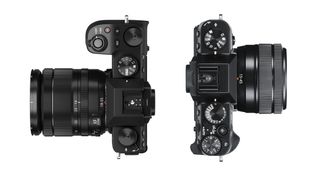 Fujifilm X-S10 vs X-T30: Video
Both the X-S10 and X-T30 support DCI 4K/30p recording with no crop, either internally at 4:2:0 8-bit or 4:2:2 10-bit if you're going to output to an external recorder via the mirco-HDMI port.
There are some differences however. Thanks to a newly designed heat dispersion system, the X-S10 can record for up to 30 minutes compared to the 10 minute limit on the X-T30 when shooting 4K. The X-S10 can also record 1080p/240p slow-motion footage, while there's a digital image stabilization system that works with both the camera's IBIS and lens-based systems.
Finally, the X-S10 sports a dedicated movie record button on the body of the camera, while the X-T30 requires you to be in the camera's movie shooting mode before activating recording by pressing the shutter button.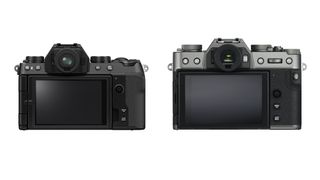 Fujifilm X-S10 vs X-T30: Autofocus
Both cameras enjoy Fujifilm's 425-point hybrid autofocus system that sees both phase-detect and contrast-detect AF sensors used to acquire focus. There's a host of settings, from independently selecting one of the 425 points to advanced focusing tracking modes.
There is a subtle difference between the two though in that the focusing system in the X-S10 can focus in lower light compared to the X-T30. This sees the X-S10 focus down to -6EV, while the X-T30 can only manage -3EV. This might not be an issue if you're planning to shoot in moderately bright conditions or better most of the time, but if you're planning to shoot regularly in darker-lit environments, this is something to consider.
Fujifilm X-S10 vs X-T30: Image stabilization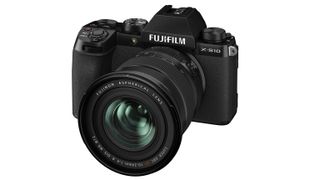 While the X-T30 relies on Fujifilm lenses that feature the company's Optical Image Stabilization (OIS) to provide compensation from camera shake (and the level of compensation is dependent on the lens), the X-S10 benefits from Fujifilm's in-body image stabilization (IBIS). This is the third time we've seen this in-body system in a Fujifilm camera, following both the X-H1 and X-T4.
This unit though is a completely new design that's some 30% smaller than the mechanism found in the X-T4 and sees the X-S10 deliver up to 6 stops of compensation when paired with a Fujifilm lens. Not only does this enhance the performance of OIS-equipped lenses, but means many of Fujifilm's fast prime lenses that forego OIS can be used at much slow shutter speeds on the X-S10 compared to the X-T30 and still capture images without signs of camera shake.
Fujifilm X-S10 vs X-T30: LCD display
Both the X-S10 and X-T30 feature 3.0-inch touchscreen displays that sport a matching resolution of 1.04m-dots. The difference is in the mechanism and the movement the two displays provide. While the X-T30's screen can be tilted up and down by 90-degrees, it's nowhere near as versatile as the X-S10's flip out display. Hinged at the side of the camera it can be pulled outwards to face the subject - handy for those selfshooters and vloggers, while it can also be folded flat against the back of the camera to protect it from scratches when on the move.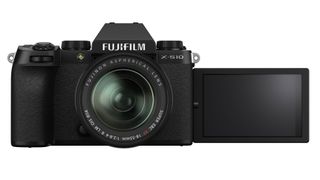 Read more:
Fujifilm X-S10 vs X-T4
Fujifilm X-S10 review
Fujifilm X-T200 review
Fujifilm X-T30 review
Fujifilm X-T4 review
Fujifilm X-Pro3 review
Best Fujifilm lenses