We have seen some great deals on the Fujifilm X-A5, which was launched almost two years ago at the start of 2018. And now its successor, the Fujifilm X-A7, has reached the shopts - promising a lot more in terms of features than its predecessor.
The basics remain the same. This is a simple mirrorless model with no eyelevel viewfinder, and using a 24 megapixel APS-C sensor. And thanks again to its flip-out LCD screen, is going to particularly appeal to those who love selfies, or who are serious vloggers.
However, beneath the hood, the X-A7 makes some serious changes to the X-A5 spec... which aim to justify a higher selling price.
Fujifilm X-A7 vs X-A5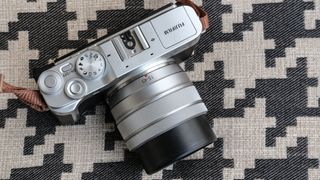 The X-A5 promised 4K video on its spec sheet - but in reality only shot 4K at a slightly useless 15fps. The X-A7 gives the user proper 4K with a range of frame rates up to a maximum of 30fps. Video shooting is also improved with the provision of an external microphone socket - although this does use a rather unconventional 2.5mm plug, necessitating the use of an adaptor to be able to use a standard consumer mic jack.
Bigger changes have been made with the screen. For a starters it has been enlarged to a 3.5-inch LCD (up from 3 inches) making this a particularly impressive screen for a camera of this type. There are 2.7 million dots on this touch-sensitive display too, that give a very detail image.
There are improvements too to the movement of the screen... this is now fully articulated, allowing you to tilt and twist the display for self-shooting and for taking pictures from awkward angles (the X-A5's screen was a tilt-only affair).
Incredibly, despite the increase in screen size, the X-A7 is significantly lighter - being some 40g lighter than the X-A5, before you add your chosen lens to the mix.
Disappointedly the standard kit lens that is usually supplied with this camera is the 135g Fujinon XC15-45mmF3.5-5.6 OIS PZ. The focal length and aperture ranges are fine... offering the equivalent of a 22-66mm range of coverage... and the lens does bring the benefit of optical image stabilization. But the downside is the motorized Power Zoom (PZ) system, that insists that you use a motor to change focal length. This motorized system doesn't give you the speed or precision of the tried-and-tested twist-to-zoom manual system of most other kit lenses on the planet - and will soon get you hunting for a replacement X-mount lens.
A range of color options for the X-A7 – silver/black, camel brown/silver, mint green/silver, and dark silver/black. But it will depend where you live or shop if these are actually available; in the UK you will only find the silver/black option.
Key features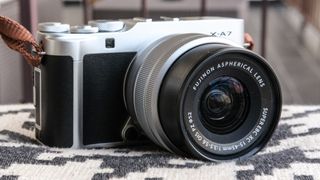 Sensor: 24.2MP APS-C CMOS, 23.5 x 15.7mm
Lens mount: Fujifilm X
Crop factor: 1.5x
AF points: 425
ISO range: 100 to 51,200
Max image size: 6,000 x 4,000 pixels
Metering zones: 256
Video: 4K UHD at 30/25/24fps, 1080p at 60/30/25/24fps
Viewfinder: None
Memory card: 1x SD/SDHC/SDXC (UHS-I)
LCD: 3.5in vari-angle touchscreen, 2,760k dots
Max burst: 6fps
Connectivity: Bluetooth, Wi-Fi
Size: 119 x 67.7 x 41.1mm
Weight: 320g (with battery and memory card)
Handling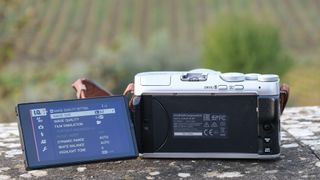 Even if you have fitted another lens, the handling issues with this camera do not entirely go away. There is a really nice joystick control for menu navigation at the back of the camera - but unfortunately it is badly placed, slightly out of reach of your thumb.
With no eyelevel finder, or additional indo display, all menu settings and options are accessed using the rear LCD. There are a number of buttons and the joystick to help you get to the options that you need . But it is often easier to use the touchscreen to find the ones that you are looking for. A new Smart Menu facility is there to help and guide those who are less familiar with camera settings - and this includes a very neatly implemented way of previewing the various Film Simulation that are a hallmark of Fujifilm cameras, where you get a slider to to show the before/after effect of, say, swtiching to Sepia.
The touchscreen does also allow you to set the autofocus point, or to actually fire the shutter. The latter seems a really useful feature - however, if this engaged you do end up taking a fair few pictures of your feet, as it takes picture as you accidentally touch the screen.
Another handling gripe is the ISO control. To find this in the main menu system, or using the Smart touchscreen interface, takes you a route that feels far too long and torturous for a control that is so essential in everyday shooting.
Fujifilm X-A7: sample images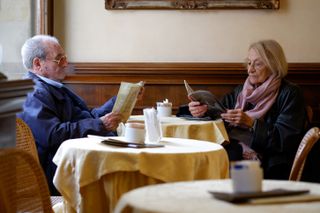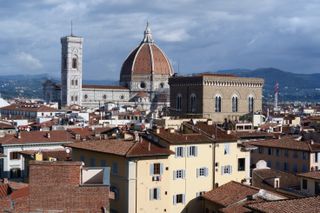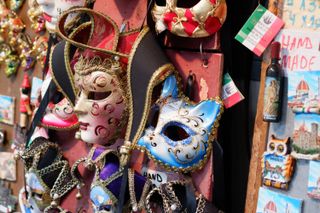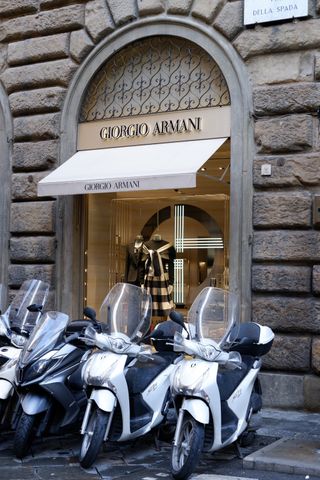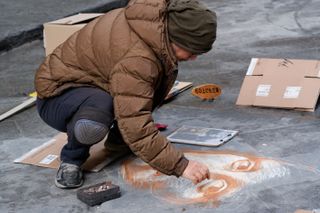 Lab tests
Fujifilm X-A7: lab tests
Our lab tests are designed to benchmark lenses using a series of industry-standard optical tests. In the graphs and commentary below, we compare the results obtained from the Fujifilm X-A7 with three other similar mirrorless cameras that we have previously tested: the Canon EOS M50, Olympus PEN E-PL9, and the Sony A6000.
Signal-to-noise ratio: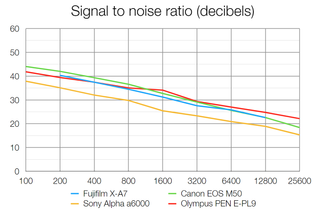 The X-A7 performs roughly on par with rival cameras from Canon and Olympus when it comes to image noise present throughout the sensitivity range. Up to ISO 800 it produces ever so slightly noisier images than the EOS M50 and PEN E-PL9, but the balance tips in the X-A7's favor at ISO 1600 and beyond. Sony's a6000 is showing its considerable age and lags well behind the others, producing noticeably more image noise at all sensitivities.
It's worth noting that while the X-A7 can shoot at ISO 100 and as high as ISO 51,200, it can only do so in JPEG mode. Raw shooting is restricted to ISO 200-12,800.
Dynamic range: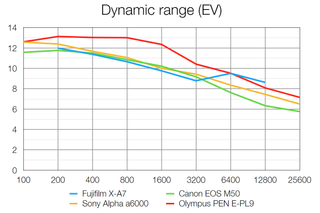 The Fujifilm X-A7 is capable of capturing respectable dynamic range, comparable to the Canon EOS M50 and Sony a6000, though the Fujifilm camera does produce an inexplicable boost in dynamic range at ISO 6400. However, none of the APS-C cameras can stay with the mighty Micro Four Thirds Olympus in this test.
Resolution: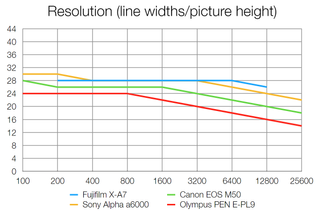 Unsurprisingly, the three 24MP APS-C cameras are closely matched in their ability to resolve detail, though the EOS M50 isn't quite able to rival the X-A7 and a6000. The 16MP PEN EPL-9 predictably struggles in this test, though perhaps not to the extent you might expect. The X-A7 is particularly noteworthy for its high ISO performance, as its image noise patterning doesn't obscure too much fine detail.
Verdict
Fujifilm X-A7: Performance and verdict
Our lab results tell one story, but our pictures taken in the field tell a rather different one. We were very impressed with the images that we got with this camera - shooting in a range of lighting conditions on the streets of Florence.
Autofocus proves very accurate, even with challenging subjects. And the images have a great control of color and dynamic range.
If we were to judge the X-A7 on the basis of the pictures that it takes, then we would highly recommend it. However, the difficulties it presents to the user however make this a hard camera to recommend, given the price and the amount of often cheaper choices there are available in the market.
Read more:
10 cheapest mirrorless cameras in 2019