The Fujinon XC50-230mm f/4.5-6.7 OIS II is a tempting compact, lightweight and affordable telephoto zoom. It's a strong candidate as the first additional lens to buy, for Fujifilm camera owners who already have a Fujinon XC15-45mm f/3.5-5.6 OIS PZ standard zoom as part of a kit with bodies like the X-A5, or another 'XC' series standard kit zoom.
Specifications
Mount: Fujifilm X
Full frame: No
Image stabilization: Yes
Autofocus: Yes
Lens construction: 13 elements in 10 groups
Angle of view: 31.7-7.1 degrees
Diaphragm blades: 7
Minimum aperture: f/22
Minimum focusing distance: 1.1m
Maximum magnification ratio: 0.2x
Filter size: 58mm
Dimensions: 70x111mm
Weight: 370g
Key features
From Fujifilm's relatively low-cost and lightweight 'XC' line-up, this telephoto lens neatly picks up the baton from the Fujinon XC16-50mm f/3.5-5.6 OIS II standard zoom. As we're seeing more and more nowadays with lenses that are designed for slinky mirrorless cameras, the aperture rating is quite narrow, enabling a more compact construction. As such, it has downsized 70x111mm dimensions and weighs in at just 370g. To put that into perspective, it's much smaller and only about half the weight of most 70-300mm telephoto zooms for full-frame cameras.

However, part of the weight-saving is due to the lens featuring a plastic rather than metal mounting plate. Typical of the breed, the physical length of the lens extends at longer zoom settings, stretching to a maximum of 177mm.

Autofocus is courtesy of a stepping motor, and the lens also features a 3.5-stop optical stabilizer. The optical path includes one aspherical element and one ED (Extra-low Dispersion) element. With a fairly short minimum focus distance of 1.1m (at least for a telephoto lens), the maximum magnification ratio is a pretty generous 0.2x at the long end of the zoom range.
Performance
Autofocus speed is fairly fast, useful for tracking moving subjects in sports and wildlife photography, to which the lens is well suited. In our tests, the optical stabilizer lived up to its 3.5-stop billing. Typical of Fujifilm's X-mount lenses, color fringing and distortion are automatically corrected in-camera, so these aberrations aren't an issue in practice. However, levels of sharpness are a bit underwhelming.
Lab results
We run a range of lab tests under controlled conditions, using the Imatest Master testing suite. Photos of test charts are taken across the range of apertures and zooms (where available), then analyzed for sharpness, distortion and chromatic aberrations.

We use Imatest SFR (spatial frequency response) charts and analysis software to plot lens resolution at the center of the image frame, corners and mid-point distances, across the range of aperture settings and, with zoom lenses, at four different focal lengths. The tests also measure distortion and color fringing (chromatic aberration).

Sharpness: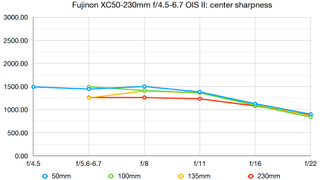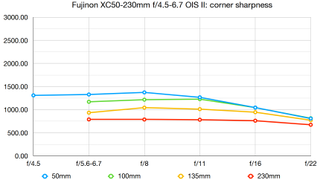 The lens isn't a great performer in terms of sharpness, as reflected in the lab results at all focal lengths. On the plus side, levels of sharpness are reasonably consistent from the center to the edges of the image frame.

Fringing: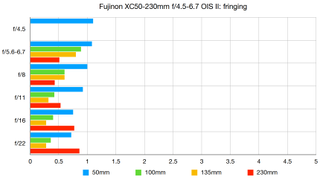 Helped by automatic firmware corrections, color fringing is of a very low order, throughout the entire zoom range.

Distortion: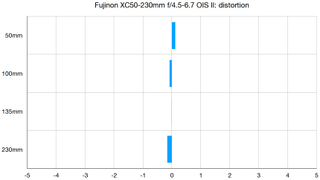 As with color fringing, automatic corrections enable virtually distortion-free image quality in practical terms.
Verdict
Impressively compact and lightweight for a telephoto zoom, this practically pocket-sized lens weighs in at just 370g and is very easy to live with. Designed for Fujifilm's APS-C format X-series cameras, the lens's zoom range equates to a useful 76-350mm in full-frame terms. However, downsizing and weight-loss come at the expense of a less than speedy aperture rating and a plastic rather than metal mounting plate. Performance is good overall but levels of sharpness could be better.
Read more:
• Best Fujifilm lenses
• Best Fujifilm cameras
• Best camera lenses to get
• Best Canon lenses
• Best Nikon lenses
• Best Sony lenses