While camera makers like Sony, Olympus, Fujifilm and Panasonic have been forging ahead with their high-profile mirrorless camera ranges, Canon has been quietly pottering away on a different path. Its M-series models to date have been pretty conservative box-shaped shooters with a modest M-mount lens range – although they can take regular EOS lenses via an adaptor.
The EOS M5 is different. It's shaped more like a miniature SLR and has a built-in electronic viewfinder. This may not be a big selling point if you've just moved up from a smartphone, but for anyone weighing up the pros and cons of a SLR versus a mirrorless camera, the lack of a viewfinder is likely to be a deal-breaker.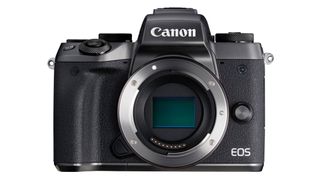 The EOS M5 is Canon's flagship mirrorless camera, replacing the EOS M3 at the top of its line-up – though the EOS M3 continues, as does the entry-level E-M10. Canon says the aim with this camera is to provide enthusiast photographers with the speed, quality and handling of an EOS camera in a much smaller body. The new model presents Canon fans with an interesting dilemma: it's a fraction of the size of the Canon EOS 80D SLR, but it has the same sensor and many of the same features.
It's a tiny camera, but it still packs in a 24.2-megapixel APS-C sensor. The resolution is the same as the existing EOS M3, but the M5 has the more advanced Dual CMOS AF system found in the EOS 80D, where each photosite is split into 'left' and 'right' parts to offer on-chip phase-detection autofocus. This AF system works across 80% of the width and height of the frame. This sensor is matched up with a Digic 7 image processor, which offers in-camera diffraction correction for sharper images at super-small apertures and improved noise reduction.
The EOS M5 can tackle action too, at an impressive nine frames per second if the focus is locked on the first frame, or 7fps with autofocus. The specs don't include the buffer capacity, but Canon has posted a video introduction quoting a buffer capacity of 20+ raw images.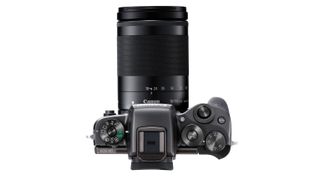 The M5 doesn't shoot 4K video, but it can shoot full HD at up to 60fps for smooth 2x slow-motion effects. It also has five-axis digital stabilization; that's not the same as proper optical image stabilization, but it should improve handheld footage whether or not the lens being used has built-in image stabilization.
EOS M cameras use a different lens mount to the regular EOS range. There are just eight Canon EOS M lenses at the time of writing. Designed principally for beginners and enthusiasts rather than pros, they collectively cover a range of focal lengths from 11-200mm, and they all come with Canon's STM stepper motor autofocus technology, for smooth operation while filming video. However, Sigma, Laowa and others are now making lenses for the EF-M mount, so choice is increasing (and you can see the top options in our guide to the best EF-M lenses).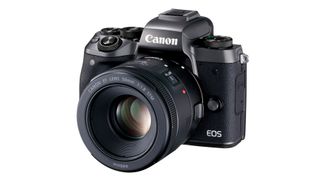 The EOS M5 has Wi-Fi and NFC built in, but it also has always-on Bluetooth LE technology. The camera maintains a constant low-energy Bluetooth connection with your smartphone or tablet, so when you launch the Camera Connect app on your mobile device, it automatically launches a Wi-Fi connection.
Build and handling
For such a small camera, the EOS M5 handles remarkably well. There's not a lot of room on the top plate, but Canon has still found room for a good-sized mode dial on the left, two control dials on the right and a separate EV compensation dial.
One of the control dials is for customisable camera functions. You press the central button repeatedly to choose the function, then turn the dial to change the setting. It works really well, but initially only two functions are assigned to it, and you have to dig pretty deep in the custom settings menu to find out how to add more.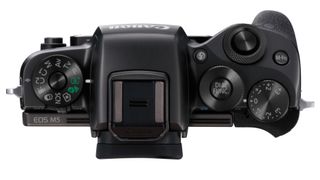 If you don't know where to find a particular shooting setting, chances are it's on the camera's Q Set screen, which displays a row of settings icons down the left and right of the screen.
The memory card and battery sit next to one another under a door on the base of the camera – a bit of a nuisance when you're changing cards, but a common compromise in small camera bodies. The lens retraction button on the 14-45mm kit lens is fairly flush with the lens barrel and a little fiddly to operate.
This lens has a plastic rear-mounting plate: this isn't unusual on low-cost kit lenses, but it's disappointing to find the more expensive 18-150mm kit lens option also has a plastic mount. The fact is that both these lenses feel a little cheap. They're not especially fast, either, since both have a maximum aperture at full zoom of just f/6.3.
Performance
The M5's touchscreen focus works well, but if you use the viewfinder and the touch-focus feature on the main screen at the same time, it's all too easy to touch the screen accidentally with your nose and focus on something you didn't mean to.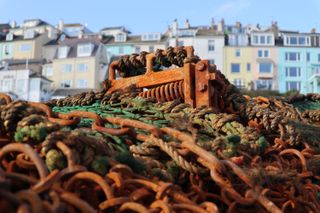 While Canon's Dual Pixel autofocus is better than regular contrast autofocus, it seemed to hunt and fail sometimes in poor light situations, where we'd expect an EOS SLR to focus without any trouble. In good light the autofocus works fine. With the 15-45mm STM kit lens, it felt almost but not quite as snappy as a mid-range EOS SLR – and that's not bad in a camera squashed down to almost half the size.
The image results are very good, although the response of the Evaluative exposure metering system proved hard to predict. Very bright subjects led it to under-expose now and again, so we had to dial in some positive exposure compensation to restore brightness to the scene.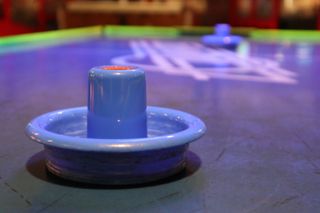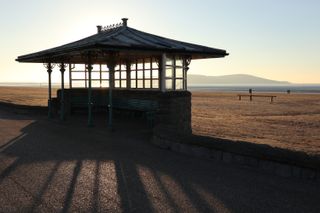 The dynamic range proved good but not exceptional in both our lab and real-world tests. Bright, overcast skies could be an issue, for example, as the camera tends to cut off the brightest areas fairly abruptly.
At ISO 1,600, the EOS M5's images look crisp, colourful and relatively noise-free at this setting. They're a little noisier and softer at ISO 3,200, and more so at ISO 6,400 – which is probably about as far as you'd want to go. The results at ISO 12,800 are still OK, but at the maximum setting of 25,600, the combined effect of noise, smoothing and general softness is pretty excessive.
Canon EOS M5 specifications
Sensor 24.2MP APS-C CMOS (22.3 x 14.9mm)
Focal length conversion on lens 1.6x
Memory 1x SD/SDHC/SDXC
Viewfinder EVF, 2.36 million dots
Max video resolution 1,920 x 1,080
ISO range 100-25,600
Autofocus Dual Pixel CMOS AF, 49 points
Max burst rate 9fps, 7fps with AF
Screen 3.2in, 1,620k, tilting touchscreen
Shutter speeds 30-1/4,000 sec, Bulb
Weight 427g (body only, with battery)
Dimensions 116 x 89 x 61mm
Power supply LP-E17 lithium-ion battery (supplied)
Canon EOS M5 lab tests
We use Imatest and DxO Analyzer hardware and software to test cameras for their colour accuracy (colour error) signal to noise ratio (the amount of noise in the images) and dynamic range (their ability to capture detail in very bright and dark areas). We also pick three rival cameras to test them against.
Colour error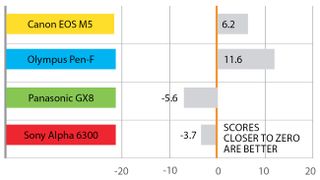 We tested the EOS M5 against three of its main rivals: the Olympus PEN-F, Panasonic GX8 and Sony A6300. The EOS M5 yields very similar colour error results to its rivals, the Panasonic GX8 and Sony A6300. The Olympus Pen-F's results are a little more saturated.
Signal to noise ratio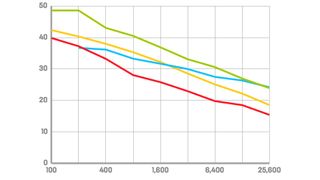 The EOS M5 may have an APS-C sensor, but it fares no better than the smaller-format GX8 and Pen-F in this test. The results are good right up to ISO 6,400, however.
Dynamic range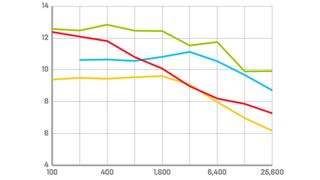 Dynamic range was not really the EOS M5's strong point in our tests. It's still perfectly adequate for everyday use, but its rivals edge ahead in this respect.
Canon EOS M5 verdict
The EOS M5 really opens up the SLR-versus-mirrorless debate. Many people like electronic viewfinders because they show the image exactly as the camera will capture it, but others prefer the visual clarity of an optical viewfinder. The M5 is tiny, where similarly powerful EOS SLRs like the 80D are big, but the lens range is restricted.
Canon EOS M5 competition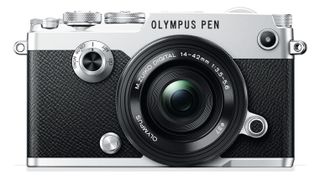 Olympus PEN-F
The MFT sensor is smaller than the EOS M5's, but the Pen-F is a retro beauty that delivers great handling and super-sharp images.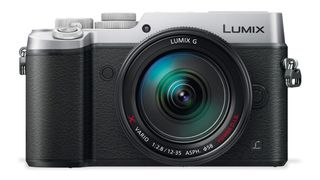 Panasonic GX8
The 20MP GX8 is Panasonic's current flagship rangefinder-style camera. Prices are falling, and this prestige model looks good value now.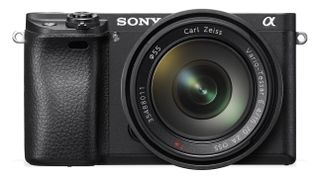 Sony A6300
The 24MP APS-C sensor delivers excellent images and the autofocus is impressive, though there is a better A6500 model too.