While camera makers like Sony, Olympus, Fujifilm and Panasonic have been forging ahead with their high-profile mirrorless camera ranges, Canon has been quietly pottering away on a different path. Its M-series models to date have been pretty conservative box-shaped shooters with a modest M-mount lens range – although they can take regular EOS lenses via an adaptor.
The EOS M5 is different. It's shaped more like a miniature SLR and has a built-in electronic viewfinder. This may not be a big selling point if you've just moved up from a smartphone, but for anyone weighing up the pros and cons of a SLR versus a mirrorless camera, the lack of a viewfinder is likely to be a deal-breaker.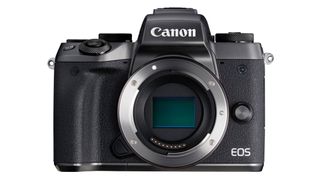 The EOS M5 is Canon's flagship mirrorless camera, replacing the EOS M3 at the top of its line-up – though the EOS M3 continues, as does the entry-level E-M10. Canon says the aim with this camera is to provide enthusiast photographers with the speed, quality and handling of an EOS camera in a much smaller body. The new model presents Canon fans with an interesting dilemma: it's a fraction of the size of the Canon EOS 80D SLR, but it has the same sensor and many of the same features.
It's a tiny camera, but it still packs in a 24.2-megapixel APS-C sensor. The resolution is the same as the existing EOS M3, but the M5 has the more advanced Dual CMOS AF system found in the EOS 80D, where each photosite is split into 'left' and 'right' parts to offer on-chip phase-detection autofocus. This AF system works across 80% of the width and height of the frame. This sensor is matched up with a Digic 7 image processor, which offers in-camera diffraction correction for sharper images at super-small apertures and improved noise reduction.
The EOS M5 can tackle action too, at an impressive nine frames per second if the focus is locked on the first frame, or 7fps with autofocus. The specs don't include the buffer capacity, but Canon has posted a video introduction quoting a buffer capacity of 20+ raw images.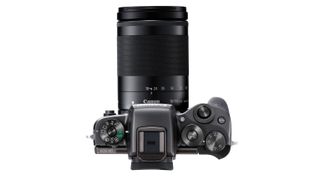 The M5 doesn't shoot 4K video, but it can shoot full HD at up to 60fps for smooth 2x slow-motion effects. It also has five-axis digital stabilisation; that's not the same as proper optical image stabilisation, but it should improve handheld footage whether or not the lens being used has built-in image stabilisation.
EOS M cameras use a different lens mount to the regular EOS range. There are just seven EOS M lenses at the time of writing. Designed principally for beginners and enthusiasts rather than pros, they collectively cover a range of focal lengths from 11-200mm, and they all come with Canon's STM stepper motor autofocus technology, for smooth operation while filming video.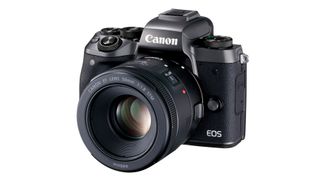 The EOS M5 has Wi-Fi and NFC built in, but it also has always-on Bluetooth LE technology. The camera maintains a constant low-energy Bluetooth connection with your smartphone or tablet, so when you launch the Camera Connect app on your mobile device, it automatically launches a Wi-Fi connection.