When you think of the benefits you get from an Amazon Prime subscription: exclusive discounts, priority shipping and Prime Video streaming immediately come to mind. But did you know that signing up to Prime also gives you unlimited full-resolution cloud photo storage in the form of Amazon Photos?
Now we're seeing cloud photo storage providers like Google restricting the resolution of stored images, while the likes of Flickr cap its free storage at 1 terabyte, truly unlimited online photo storage is becoming increasingly special.
Like the best cloud storage services, using Amazon Photos means you can upload your images to the cloud so they're safely backed up. This then means you can delete images from your phone or tablet to free up storage space on your devices, while still being able to access them quickly and easily through the Amazon website, or via a dedicated Amazon Photos app for iOS or Android.
Let's take a look at what else Amazon Photos gives you, and whether it alone could be worth the monthly cost of signing up for a Prime membership...
What files can I upload?
In short, pretty much any image file format, whether compressed or raw. We tested this with raw files from recent Canon, Nikon and Panasonic cameras and encountered no problems. Even an unusual 51MP, 101MB .3FR Hasselblad raw file uploaded and previewed on Amazon Photos without issue. It's worth noting that animated picture files like iOS Bursts, Google Motion photos and 3D photos are not supported.
You can also uploaded video files to Amazon Photos, but given this is Amazon Photos, video storage isn't really the prime (ahem, pun alert) focus here. As such, storage capacity for video files is limited to 5GB and will soon fill up if you shoot 1080p video or higher. You can chose to increase this for an extra monthly premium on top of your Prime membership cost. Currently, 100GB will set you back $19.99/year (£1.49/month), 1TB $59.99/year (£7.99/month), and 2TB $119.98/year (£15.99/month).
Can I share my photos easily?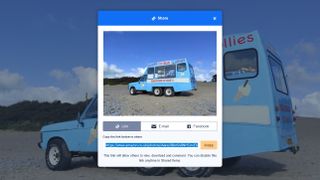 Amazon Photos isn't just a private online vault in which to back up your photos. If you want, you can also share stored photos to friends, family via a direct web link to one or multiple images, or you can share direct to your Facebook news feed.
Not only that, there's also the Family Vault. This acts as a communal folder for you and up to 5 members of your family to access and add photos to, so each participant can share images by simpl copying them from their private Photos storage into the Family Vault. All you have to do to invite family members to join your Vault is send an invitation via email or SMS.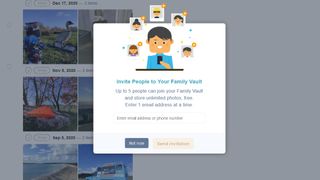 Extra features
Not only can Amazon Photos store your images and display them in folders of your choice, you can also use it for basic image editing. Now, don't get too excited - Photoshop this is not. The editing options available range from your typical brightness, contrast, saturation and exposure compensation sliders, through to cropping, aspect ratio and image rotation adjustment. You can also apply multiple image enhancement filters, both color and monochrome, as well as add text to an image, and that's about it. It's no substitute for even free image editing software, but if you just need to make a quick tweak to an image, these editing options can be handy to have.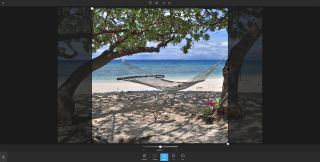 If you want to upload other files types like documents or music, there's also Amazon Cloud Drive. This is separate to Amazon Photos and works as a general cloud storage folder for any file type - think Amazon Drive as just an external hard drive, but on the internet. It storage capacity is tied to the video folder of Amazon Photos, so you get 5GB of storage included with your Prime membership, but to get additional Amazon Drive capacity, you'll need to pay extra for either the 100GB, 1TB or 2TB storage boost options.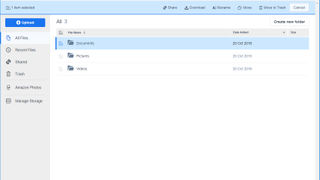 What happens if I cancel my Prime membership?
Amazon isn't completely forthcoming about what would happen to your photos if you unsubscribe from Prime. It simply states that:
"If you cancel your Prime membership, you will no longer receive unlimited photo storage. Your total storage amount will be reduced to 5 GB, which is the amount of storage available to non-Prime Amazon customers…If your stored photo and video content exceeds 5GB, you can purchase additional storage".
However, for users that have purchased additional Photos storage to store extra videos, Amazon has a bit more detail on what would happen should you cancel an addition storage plan (separate from your core Prime subscription):
"if your stored content is greater than the free storage quota on your account, you will not be able to upload additional files. You will, however, be able to view, download, and delete content. You should delete the over-quota content within 180 days or sign up for a different storage plan. After 180 days, content will be deleted starting with the most recent uploads first, until your account is no longer over-quota."
Now, this policy may not apply in the same way to an expired Prime subscription, but it at least suggests that stored photos might not be immediately deleted should you unintentionally or intentionally cancel Prime, and you could at least get a grace period to log in and download your shots to a local hard drive before Amazon pulls the plug. Even so, this is still speculation and you should assume that if you cancel prime, there's still a chance Amazon could quickly delete images stored on Amazon Photos.
Verdict
If you're after a simple and convenient way to keep your images backed up, or just free up some space on your phone or tablet, Amazon Photos makes a strong case for itself. By offering completely unlimited storage capacity for original quality, full-resolution compressed and raw images, it immediately outguns many rival cloud image storage solutions. If you've already got a Prime membership, it's a complete no-brainer - use Amazon Photos!
If you don't already have Prime, the cost of a Prime membership just to get Amazon Photos isn't bad value, but you should also consider the best cloud storage providers. Our top pick is currently iDrive, which at the time of writing offers 5TB of storage for $52.12 for your first year, equating to $4.34/month. That not only undercuts an Amazon Prime subscription by a significant margin, but it also allows you to store any file type in your 5TB storage allowance, not just images. Remember, Amazon will only let you have a maximum of 2TB of any-file storage in Amazon Drive, and even that will cost you an extra monthly premium on top of your Prime subscription, making it very poor value next to a service like iDrive.
To sum up: if you just want to store a ton of images at original quality, Amazon Photos is great, providing you already have a Prime membership, or will use other Prime services like Prime Video to help justify the cost. But if you want to store videos or other files, signing up to a conventional cloud storage provider will offer better value.
More buying guides