Is your ring light too small for you? Then this new light from Smith-Victor might be just what you're looking for – it's the largest ring light on the market, requiring two stands to hold it up, and is so big that you can literally walk through it!
The Saturn Pro 48″ Bi-Color LED Ring Light is undoubtedly the best ring light if you want sheer size and pure power, with its 48" / 121cm head pumping out 1200W incandescent equivalent or 2200 Lux at up to 3 feet – both of which are more than enough to illuminate a full-length subject, multiple people, or a very large product.
Its 1,408 individual LEDs are rated 95 CRI, and give the Saturn Pro high quality bi-color capability with a variable color temperature from 3000~5500K. The ring light features granular 100-point dimming, with a beam angle of 120º, and can be tilted up to 360º for variable direction and even overhead lighting.
Its settings can be controlled directly from the unit itself, via a separate wired control module with a clear OLED screen, or via a remote console thanks to the support for DMX lighting controllers.
Of course, given its gargantuan size, you might be wandering about portability – well, at least the ability to pack down this behemoth, or to transport it from your studio to homes or venues when shooting clients.
Thankfully the Saturn Pro breaks down into four convenient crescent sections, all of which fit into a durable fitted case along with the control module and mounting pieces (though you'll obviously have to lug the light stands separately).
The Saturn Pro 48″ Bi-Color LED Ring Light from Smith-Victor is available now for $479.99. For more information, visit the manufacturer's website.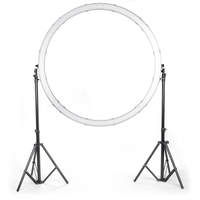 Read more:
Best ring lights: beautiful lighting for vlogging, video calls and selfies
The best LED light panels: portable lighting for photography and video
The best photography lighting kits: for studio, location and video
Best video lights: continuous video lighting for vlogging and filmmaking