Sigma has started a live feed to a special launch event on its YouTube channel, scheduled to start on Thursday October 05 at 08:00 EST / 12:00 GMT / 22:00 AEST. The event has led to a lot of speculation as to what could be presented, with many hoping to see new lenses for their desired cameras.
Earlier this year the manufacturer announced two new lenses for Fujifilm's X-mount, the Sigma 23mm f/1.4 DC DN Contemporary and the Sigma 00-400mm F5-6.3 DG DN OS Contemporary – the latter being the first Sigma telephoto zoom created for the mount. This has led many Fujifilm fans to question whether this announcement will provide them with any new lenses.
Another possibility could be the launch of a Canon RF or full-frame Nikon Z-mount lens, which Sigma has yet to add to its extensive catalog. With Canon opening doors to third-party lens manufacturers for their RF system, albeit on a case-by-case basis, could we possibly see the first Sigma lens for the RF mount announced? The release of the Nokton 50mm f/1 from Cosina on the EOS R system may have opened the doors to more third-party collaborations.
Nikon mirrorless users will also have some opinions over the announcements. Sigma, at present, only offers three lenses for the Z-mount and they are only for APS-C. A full-frame Z-mount lens would be big news for Nikon users, as it could open the door to an extensive lens lineup.
I personally have used Sigma lenses for many years on my DSLR cameras, and I have loved the Art and Contemporary lines. Sigma produces quality lenses at a price point lower than that of native optics, providing more accessibility to lower f-stops and great glass. This may be why some companies are less quick in allowing Sigma to make lenses for their systems.
On a selfish note, I would love to see Sigma contribute to the best Fujifilm GF lenses. It has yet to venture into the world of medium format and, with the increase in popularity and accessibility, more and more people would benefit from more affordable lenses.
The possibilities are endless at this point – maybe we'll even get an update on the foveon sensor camera. We will all have to tune in next week to get our answers!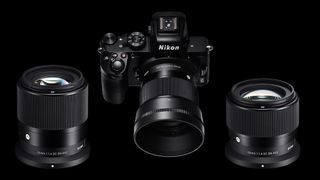 Will Sigma add to the best Canon RF lenses for the first time? Maybe it will continue challenging the best Nikon Z lenses available, or tread more familiar territory by adding to the best Sony lenses and best L-Mount lenses.