Most lenses are longer than they are wide, and are often very long indeed. It's because we want long zoom ranges and fast maximum apertures, and lenses that offer these features are necessarily quite long.
But long lenses can be a nuisance. They take up more space in your camera bag, they're too easy to knock on doorways and other objects as you walk around, and they can be quite heavy and also rather obtrusive if you're taking pictures in a public space or in a cramped and busy interior.
• See the Digital Camera World A-Z Dictionary of photography jargon
So-called 'pancake' lenses are the answer. They get the name from being shorter than they are wide, and some are slim that they really do have the thickness of a pancake. See our guide to the best pancake lenses for more.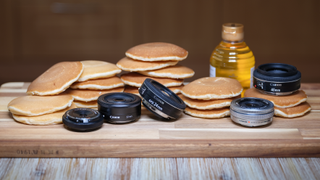 Can you get pancake zooms?
Why you can trust Digital Camera World Our expert reviewers spend hours testing and comparing products and services so you can choose the best for you. Find out how we test.
Yes you can, if you don't mind stretching the 'pancake' definition just a little. It sounds like the perfect lens – short in length but still with zooming capability. These do exist… but are they any good?
Some pancake lenses from the big name makers are very good indeed and rival regular kit lenses for image quality. Something has to give, of course, to get the more compact lens design, and this is typically the zoom range or the maximum aperture.
The Sony FE 28-60mm f/4-5.6 kit lens for the Sony A7C is a good example. It's a bit of a stretch to call this a 'pancake' lens because it does stick out some way from the camera body, but its compact size and retracting mechanism make it drastically smaller than regular kit lenses for full frame cameras, so we think it's fair to stretch the 'pancake' lens definition to include it. In our tests we also found this to be a very sharp, high-quality lens.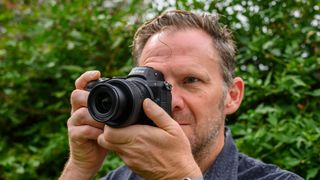 Nikon bundles a similar kind of lens with the Z5, this time a Nikkor Z 24-50mm f/4-6.3 retracting lens. This also performs very well optically.
But what you will notice from both lenses is the very restricted 2x zoom range, where even the most modest regular kit lens will offer a 3x zoom. The Nikon lens also has a pretty small f/6.3 maximum aperture at full zoom.
Ultimately, lens size is related to the camera sensor size, so smaller format cameras have smaller lenses. The Olympus M.ZUIKO Digital ED 14-42mm f/3.5-5.6 pancake zoom bundled with cameras like the OM-D E-M10 IV or OM-D E-M5 III is very slim indeed but still offers a 28-84mm equivalent 3x zoom range. This is much closer in size to what most people would consider a 'pancake' lens.
Sony makes a 16-50mm f/3.5-5.6 pancake zoom for its APS-C mirrorless cameras like the Sony A6000. This too offers a 3x zoom range (24-75mm equivalent), though this time we would say that the optical quality does suffer.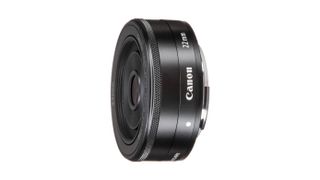 Pancake primes are smaller
Zoom lenses are by nature bulkier than prime lenses, so it's no surprise that the slimmest and lightest pancake lenses are prime lenses.
On notable recent example is the 27mm f/2.8 pancake prime being sold as a kit lens for the new Fujifilm X-E4. The Canon EF-M 22mm f/2 STM is a great little pancake lens for Canon's APS-C EOS M mirrorless cameras, and the Sony E 20mm f/2.8 is a super-slim 30mm equivalent lens for owners of Sony APS-C mirrorless cameras.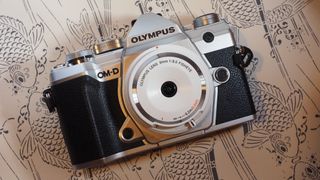 Are body cap lenses any good?
These really are the ultimate 'pancake' lens, being barely thicker than the body caps used to protect your camera when there's no lens fitted. There are three in particular that we've tried and used that deserve a mention…
Two are made by Olympus for its Micro Four Thirds cameras. The Olympus 9mm f/8 Fisheye Body Cap lens is tiny and plasticky, with a fixed f/8 aperture but remarkably sharp. It doesn't go quite as wide as a regular (and much more expensive) fisheye lens, but its performance is way beyond what we would expect for this money.
The Olympus 15mm f/8 body cap lens is less good. It's just as small but nowhere near as sharp. It's a jolly little thing to shoot with, but the results lack definition.
We have also tried the Funleader 18mm f/8 Cap Lens for full frame Sony mirrorless cameras. This delivers pretty heavy vignetting and slightly soft detail, but you can correct these digitally to produce pretty good results.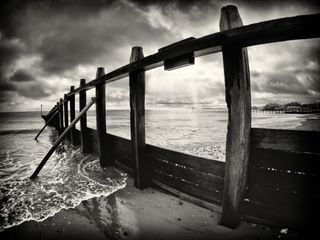 Do you need a pancake lens?
There are two good reasons for getting a pancake lens:
1. You want to travel light with the minimum of kit and you don't mind moving around more to find the best camera position with a prime lens or a limited range zoom.
2. You want to explore some new creative effects without spending any real cash, particularly if you don't mind a lo-fi 'retro' look and images that swap technical quality for a little 'character'.
Read more:
• Best pancake lens
• Lenses for street photography
• Best cameras for travel
• Best wide-angle lenses
• Best standard zooms