The Fujifilm X-E4 has just been announced to replace the X-E3 model, which was already becoming hard to find. Where other X-mount cameras like the X-S10 and X-T4 are styled more like DSLRs, the X-E4 is styled lie a classic compact rangefinder camera, with the viewfinder built into the camera body rather than mounted on the top.
The Fujifilm X-E series has been going as long as the Fujifilm X-T series, and has always had strong appeal as a more compact, traditionally styled alternative. The X-E1 was sold alongside the X-T1, the X-E2 alongside the X-T2 and so on.
The Fujifilm X-T4 has been out for a while, though, so we were worried that the X-E3 might have been the end of the line. The new Fujifilm X-E4 is very welcome, then, and not just as a more compact design but because it's also quite affordable, coming in at a lower price even than the enthusiast-orientated X-S10.
More Fujifilm announcements:
• Fujifilm GFX 100s
• Fujinon GF80mmF1.7 R WR
• Fujinon XF27mmF2.8 R WR
• Fujinon XF70-300mmF4-5.6 R LM OIS WR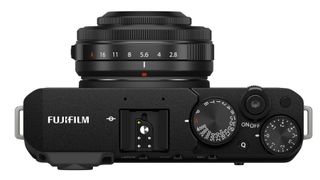 New Fujinon XF27mmF2.8 R WR kit lens
The Fujifilm X-E4 has many interesting new features, but in-body stabilisation is not one of them. Fujifilm has managed to incorporate this into its larger X-S10 and X-T4 models, but we assume the X-E4's smaller body won't accommodate the stabilisation mechanism. It's disappointing, but probably not surprising.
The new kit lens is especially interesting. In keeping with the X-E4's design, styled around the iconic Fujifilm X100V, this camera will come with a pancake prime lens rather than a zoom – though it will of course, take regular X-mount lenses too, and retailers may decide to offer a zoom option as a kit.
The Fujinon XF27mmF2.8 R WR pancake lens is a new version of a lens that's been in the X-mount range for a long time. This version has the same optical configuration as the old model (which is great, because for its size this lens is a stellar performer), but Fujifilm has improved the autofocus (the old lens was pretty slow) and added an aperture ring, both of which are very welcome additions. The new lens is also weather sealed (hence the 'WR' now included in the model name).
Otherwise, the X-E4's specifications hold few surprises, as it has a lot in common with the X-S10 model. The sensor is the same 26.2MP BSI X-Trans APS-C sensor used across Fujifilm's latest cameras. Here are the full specs: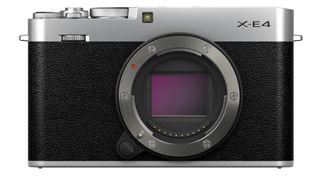 Fujifilm X-E4 specifications
Sensor: 26.2MP APS-C BSI X-Trans CMOS
Image processor: Quad-core X-Processor 4
AF points: 117/425/91 point hybrid contrast/phase AF
ISO range: 160 to 12,800 (exp 80-51,200)
Video: Uncropped DCI 4K/UHD up to 30p
Viewfinder: EVF, 2.36m dots, 100% coverage
Memory card: 1x SD/SDHC/SDXC UHS I
LCD: 3-inch 180-degree touchscreen, 1.62m dots
Max burst: 8fps (mechanical shutter), 30fps (electronic shutter)
Connectivity: Wi-Fi
Battery: NP-W126S, 380 shots
Weight: 365g (body only)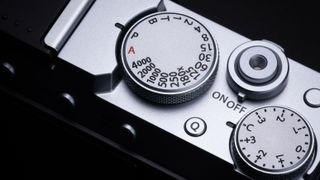 Fujifilm X-E4 design features
Externally, the X-E4 has some interesting features. It now has a 180-degree rear screen for vlogging and selfies, and while the shutter speed dial on the top plate echoes the external exposure controls of previous X-mount cameras, Fujifilm has added a 'P' setting for program auto exposure.
On the X-S10 (and on the new GFX 100S, surprisingly), Fujifilm has dropped the shutter speed dial in favor of a regular mode dial presumably to appeal to a broader audience. Fortunately for fans of the traditional design, the X-E4 does not.
Round the back of the camera there is a focus lever but no four-way controller. Later Fujifilm cameras manage perfectly well without one and it saves a lot of accidental button presses.
Just in case you find the X-E4 just a little too compact, there will be an optional clip-on TR-XE4 Thumb Rest or, for even more additional support, an optional MHG-XE4 Metal Hand Grip. We've seen add-on grips on other cameras, notably the Olympus OM-D E-M5 III, and it really does make them easier to handle with bigger lenses.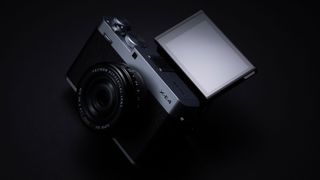 Fujifilm X-E4 video features
Recognising that video has now become as important to many photographers as still images, Fujifilm hasn't held back with the X-E4.
It's not designed to match the high-end video capabilities of the flagship Fujifilm X-T4, but it does offer uncropped DCI 4K/UHD video capture at up to 30fps, and enhanced output via its Micro HDMI port.
Internally, the X-E4 can record 4K 4:2:0 8-bit, while externally it can output 4:2:2 10-bit video. Fujifilm's F-Log recording is included, and the camera has both a 3.5mm microphone socket and headphone monitoring via its USB-C port. There's a Tally Light to show when the camera is recording, Time Code support and zebra pattern exposure warnings.
It can record slow motion in Full HD at up to 240p (8x slow motion effect) and offers a maximum bitrate of 200Mbps. It also has Fujifilm's ETERNA Film Simulation, one of 18 different Film Simulation modes built in, and it can also be used as a webcam connected to a computer.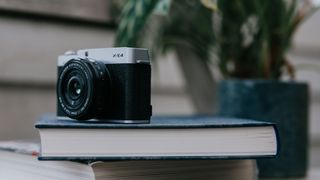 Fujifilm X-E4 price and availability
Fujifilm is keen that the X-E4 should be seen both as an affordable interchangeable lens camera and as a storytelling tool. The price is certainly competitive, and the X-E4 is a welcome addition to the APS-C mirrorless market which has been looking a bit stale of late.
The Fujifilm X-E4 will be available from the end of February 2021 both in body only form at $949 / £799 / AU$1,399, or with the new XF27mmF2.8 R WR kit lens for $1,049 / £949 / AU$1,799.
• Pre-order the Fujifilm X-E4 now at Adorama
• Pre-order the Fujinon XF27mmF2.8 R WR at Adorama
Read more:
• Best Fujifilm camera
• Fujifilm X-S10 vs X-T4
• Best mirrorless camera
• Best Fujifilm lenses
• Best enthusiast cameras