The Sony FE 28-60mm f4-5.6 is the company's first attempt at a compact, retracting kit lens for its full frame mirrorless A7 models. It's being bundled with the new Sony A7C but will soon be available as a standalone purchase to fit any Sony mirrorless camera.
The Sony A7C is being pitched as the smallest ever full frame mirrorless camera (with a viewfinder), but really it's this 28-60mm lens that makes the package so compact.
Specifications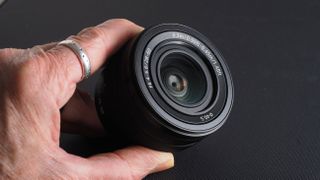 Mount: Sony E (FE)
Full frame: Yes
Autofocus: Yes
Image stabilization: No
Lens construction: 8 elements in 7 groups
Angle of view: 75-40 degrees
Diaphragm blades: 7
Minimum aperture: f/22-32
Minimum focusing distance: 0.3-0.45m
Maximum magnification ratio: 0.16x
Filter size: 40.5mm
Dimensions: 66.6x45mm
Weight: 167g
Key features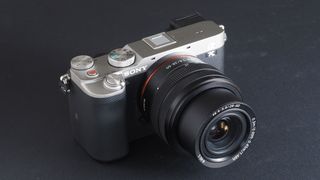 There are two main points of interest about this lens. The first is that it is very compact when retracted and makes the A7C practically a jacket-pocket camera.
The second point of interest is the very short 2.1x zoom range. Sony isn't the first to do this in the name of compactness, as Nikon has done the same thing with the 24-50mm retracting kit lens for the Nikon Z5.
The maximum aperture of the Sony lens is f/4-5.6, so this is hardly stellar either. All in all, users pay a pretty hefty price for this lens's compactness, mostly in zoom range. You're almost better off getting a 35mm f/2.8 prime, which would hardly be any larger and would at least be 1-2 stops faster.
Build and handling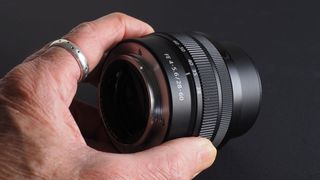 The retracting mechanism is mechanical not electrical, so it's quick and intuitive to use, and the camera will remind you if you've forgotten to do it. This is much better than the electrical power zooms on many other 'pancake' zooms.
Once the lens is extended it has light but firm zoom action with focal length markings at 28mm, 35mm, 40mm, 50mm and 60mm – it feels like you're getting lots of focal length choice, even if it's over a very narrow range.
In use, it does feel restrictive. 28mm doesn't seem especially wide by today's standards – the 24mm focal length offered by some kit zooms gives a noticeably wider field of view – and the 60mm maximum definitely feels quite short.
On the plus side, this lens does make the A7C (and other A7 bodies) feel much more wieldy and lighter to carry around if you just like to have a camera with you when you go out.
Performance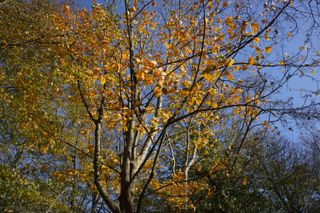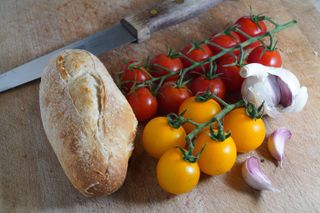 If the specifications are limiting, there's nothing wrong with this lens's performance. The optical design looks quite simple, with eight elements in seven groups, but real-world images show impressive edge-to-edge sharpness and no sign of chromatic aberration or distortion, though the latter relies heavily on digital lens corrections, as is revealed by our lab data distortion test (below).
The autofocus is fast and quiet too, but this lens does have one annoying characteristic – the minimum focus distance changes with the zoom setting, so you might find you can focus on an object when zoomed out but the camera can no longer focus if you decide to tighten the framing.
This can be especially frustrating while vlogging because it makes it hard to judge how close to the camera objects can be without going out of focus.
Lab tests
Sharpness
The sharpness scores in the two graphs below are produced by shooting a monochrome test chart covered in multiple sharp boundaries between black and white. This image is then assessed by specialist software, with the extent of blur on the contrast boundaries at the centre, mid and edges of the image converted into a spatial frequency value to determine how many line widths per picture height the lens is capable of resolving. A higher spatial frequency corresponds to a greater number of finer lines over a given distance that the lens can resolve - this number is the sharpness score.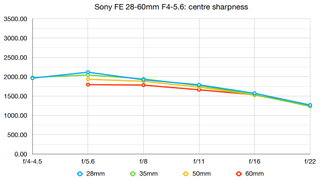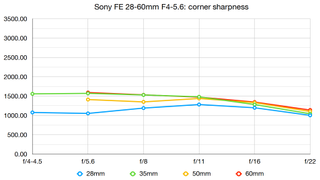 Considering this is a relatively inexpensive kit zoom lens, centre-frame sharpness is excellent, as these sharpness scores are on par with some premium constant aperture standard zooms. Things do get a bit softer at 50mm and above, but not noticeably so.
Corner sharpness is inevitably less impressive, but the FE 28-60mm still manages a respectable performance. Only at 28mm is sharpness mediocre, though this will in part be due to the difficulties in maintaining good corner sharpness when shooting our large, flat test charts at such close range.
Fringing:
The chromatic aberration scores are calculated using the same chart we use for measuring sharpness. This time the processing software assesses the sharp black-white contrast boundaries and determines the width in pixels of the colour fringe that divides black from white - the larger the width of the fringe, the greater - and worse - the fringing score.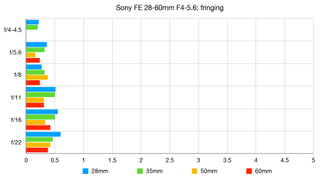 A fringing score below 1 will result in aberrations so negligible that you're unlikely to spot them in real-world shooting. Consequently, the FE 28-60mm is as good as a fringing-free lens, no matter what focal length or aperture you're shooting at. We'd expect to see such minimal fringing from a high-end premium lens, so to achieve scores like this from a relatively inexpensive kit zoom is simply superb.
Distortion:
At the top and bottom of our lens test chart are horizontal black bars that run its full width. A lens that bulges these lines towards the edges of frame produces barrel distortion, the degree of which is indicated by a negative score. Shrinking (pincushion) distortion, usually produced by a telephoto lens, produces a positive score. The higher the number - positive or negative - the greater the distortion. A score of zero indicates no distortion.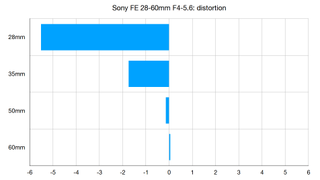 Finally, the limitations of Sony's otherwise marvelous new FE kit lens start to show. Even with its modest zoom range, there's severe barrel distortion at 28mm, and it's still noticeable at 35mm. At least at 50mm and beyond, distortion is finally eliminated. It is worth noting, however, that these scores are obtained with in-camera distortion correction disabled. We do this to preserve a level playing field between lens manufacturers when testing, and to measure the true optical characteristics of a lens, free from software/firmware enhancements. However in real world shooting, there's rarely a good reason to disable in-camera distortion correction, and with it enabled, the FE 28-60mm's optical distortion simply becomes a non-issue.
Verdict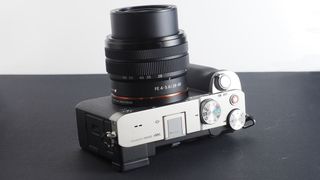 The Sony FE 28-60mm f4-5.6 is a great kit lens not just for the Sony A7C but any full frame mirrorless Sony. The limited zoom range is a constant handicap, though, so you either accept going out with more limited focal range or you take another lens or two with you – which kind of defeats the object. But while the zoom range is a constant issue, the optical quality is not. This lens performs far better than we expected with great edge-to-edge sharpness.
Read more:
• Best Sony lenses
• Best Sony cameras
• Sony A7C review
• Best cameras for vlogging
• Best travel cameras