If you're a keen photographer or content creator that loves shooting video from 4K to 8K, as well as stills the best Sony cameras might have tempted you over to the system with the Sony A7R V's 61-megapixel sensor and 8K video capabilities or perhaps the Sony A9 Mark II with its blisteringly-fast 20fps.
While cameras certainly take up most of the 'work' on your creative projects, we all know that lenses can make a great difference in the way your images or videos look, as well as helping you out while be that giving you better reach.
So what do Sony photographers actually buy? New York photo megastore B&H Photo Video has shared with us this list of the ten most popular Sony lenses it sold in 2022.
These range from the best Sony telephoto lenses to some of the best Sony wide-angle lenses for every budget so If you're looking to match optical performance with your Sony A7 IV, or you want to have a 'do-it-all' lens for your Sony A6400 each lens on this list is perfect for your budget and need, so scroll down and see what other customers are buying, and why maybe you should too.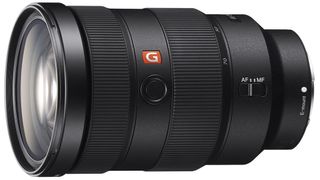 Leapfrogging the Zeiss badged FE 24-70mm f/4 ZA OSS, this G Master lens is as good as it gets for an own-brand Sony standard zoom. And so it should be, costing about five times the price of the FE 28-70mm f/3.5-5.6 OSS kit lens. The weather-sealed construction of the lens feels really solid and sturdy, and the lens features a customizable focus hold function, along with AF/MF and zoom lock switches.
There's no optical stabilizer but this is only an issue with first-edition Sony mirrorless full-frame cameras that lack in-body stabilization. Image quality is spectacular in all respects: even when shooting wide-open, sharpness is simply phenomenal, throughout the entire zoom range.
Read more: Sony FE 24-70mm f/2.8 G Master full review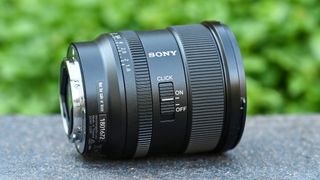 There's a raft of 20mm ultra-wide-angle prime lenses for E-mount full-frame cameras but for a long time, they've only been available from independent manufacturers like Sigma, Tamron, Samyang/Rokinon, and Tokina.
Sony finally joined the fray with its own rather fabulous 20mm f/1.8 lens. It has a tough, weather-sealed construction and a top-grade optical path. High-speed autofocus combines with excellent handling, helped by the inclusion of a high-precision manual focus ring, a customizable autofocus hold button, and an aperture ring with a de-click switch.
Image quality is absolutely phenomenal in all respects, with stunning sharpness, gorgeous color rendition, and absolutely minimal coma, distortion, and color fringing. It's a pricey lens, but you get what you pay for.
Read our full Sony FE 20mm f/1.8 G review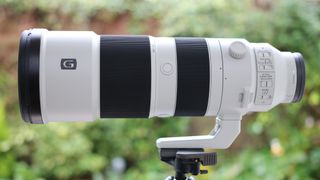 Fast super-telephoto lenses on full-frame cameras are always expensive, and the Sony FE 200-600mm F5.6-6.3 G OSS is no exception, but compared to fast super telephoto primes it's actually not THAT expensive, and probably just about falls within an achievable price range for keen amateurs. It doesn't boast Sony's G Master badge of optical excellence, and it does have a relatively restricted maximum aperture of f/5.6-6.3, but in the stratospheric world of full-frame super-telephotos, this one is both effective and achievable.
Read our full Sony FE 200-600mm f/5.6-6.3 G OSS review for more details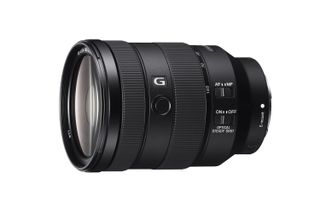 The Sony FE 24-105mm f/4 G OSS isn't Sony's 'best' standard zoom lens for its full-frame cameras. However, compared with the top-flight Sony 24-70mm f/2.8 G Master, this lens is smaller, lighter, and feels better balanced on A7-series bodies.
It also has a more generous zoom range and adds optical stabilization which is lacking in the bigger lens, and it only costs about two-thirds of the price. Sure, you lose a f/stop in aperture rating compared with the G Master lens, but we think the 24-105mm is the best Sony lens for affordable everyday photography.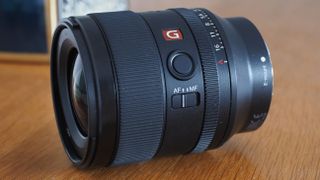 While the Sony Distagon T FE 35mm f/1.4 has been around for a while now, Sony's now got another fast 35mm prime in the shape of the FE 35mm f/1.4 G Master: a premium option that sits above the older optic. A mix of an ultra-fast maximum aperture and modest wide-angle focal length means it's a very versatile lens, suited to anything from portraits and weddings, to landscape and astrophotography.
As you'd expect, it isn't cheap, but it delivers a spectacular optical performance. It's not the smallest 35mm prime we've seen, but the handling really impressed, with a perfectly weighted 'de-clickable' aperture ring, to the smooth and light focus ring. A lovely lens, but it inevitably comes at a hefty price.
Read our full Sony FE 35mm f/1.4 G Master review for more details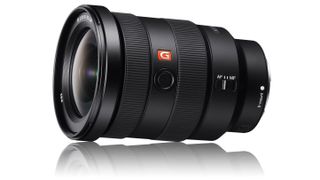 Featuring exotic glass that includes two ultra-high-precision XA (Extreme Aspherical) elements, the Sony FE 16-35mm f/2.8 G Master was Sony's top-quality wide zoom until the arrival of the even wider Sony FE 12-24mm f/2.8 G Master.
Having said that, many might find the 16-35mm range just a little more usable, and it does take conventional filters where the 12-24mm lens does not.. Other highlights include nano-structure coatings, a keep-clean fluorine coating on the front element, and extensive weather seals.
There's a fast and constant f/2.8 aperture and, when stopping down, the aperture remains extremely well-rounded thanks to an 11-blade diaphragm. The DDSSM autofocus system is incredibly accurate and the lens also features a customizable focus hold button on the barrel. For outright quality, this is the best Sony lens for landscapes, interiors, travel, and other subjects where space is tight.
Read our full Sony FE 16-35mm f/2.8 G Master review for more details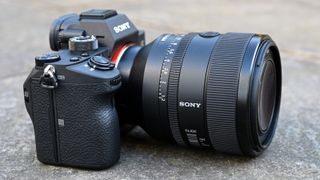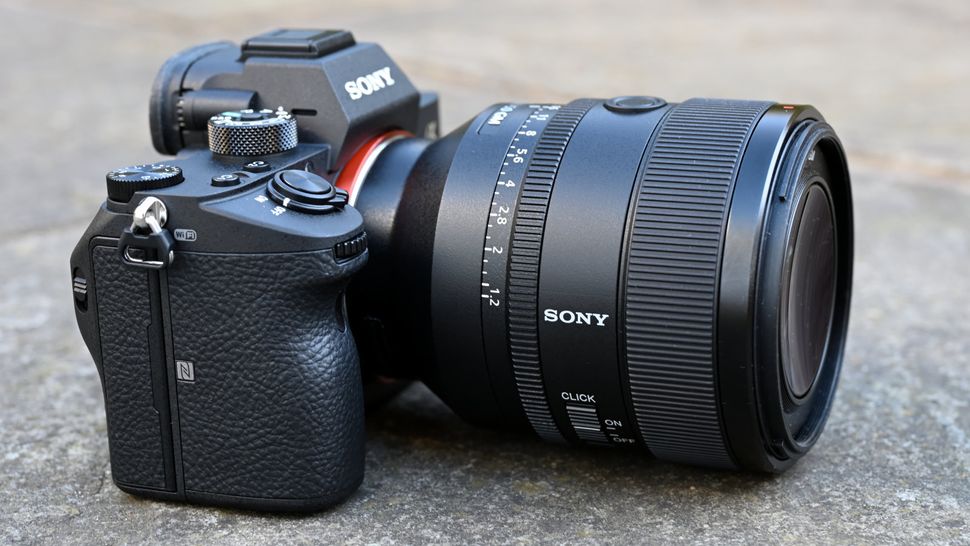 Although this lens feels quite bulky on a Sony mirrorless body, it's still fairly compact and reasonably lightweight for an f/1.2 lens. Even so, it goes extra-large in terms of features and performance. The weather-sealed construction feels of fully professional-grade quality, there are two customizable function buttons that fall naturally under the thumb in both landscape and portrait orientation shooting, and the manual aperture ring comes complete with a de-click switch for step-less control during video capture.
Unlike most ultra-fast lenses, the Sony maintains spectacular sharpness across the entire image frame, even when shooting wide-open. Bokeh is beautifully smooth and both lateral and axial color fringing is very negligible. There's noticeable vignetting when shooting at f/1.2 but this pretty much disappears by f/2, and automatic in-camera correction is available anyway.
Read our full Sony FE 50mm F1.2 G Master review for more details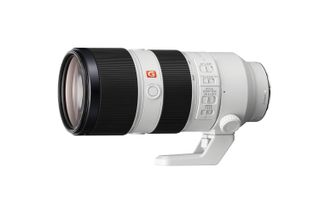 The Sony FE 70-200mm f/2.8 G Master OSS is one seriously well-specced optic. A feast of glass includes one double-sided XA (Extreme Aspherical) element, two other aspherical elements, four ED (Extra-low Dispersion) elements and two Super ED elements.
There's not one but two autofocus systems, incorporating a double linear motor plus an RDSSM (Ring Drive Super Sonic wave Motor), the latter being used for the heavier forward focus groups. The construction is fully weather-sealed and includes a fluorine coating on the front element. Handling is particularly refined, with an autofocus range limiter, customisable focus hold buttons, and dual-mode stabilization for static and panning shots.
All this translates into decent performance. Image sharpness is very good indeed wide-open at f/2.8, throughout the entire zoom range, becoming excellent at f/4. Color fringing is minimal but distortion is a little worse than average for this type of lens. In our tests, autofocus speed proved slightly underwhelming compared with competing lenses in its class. The 2-stop optical stabilizer is less effective than in most similar lenses, but its performance is boosted in later Sony cameras that add in-body stabilization into the equation.
Read more: Sony FE 70-200mm f/2.8 GM OSS full review for more details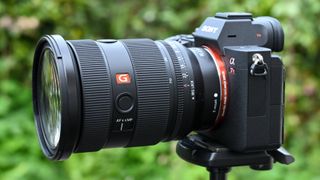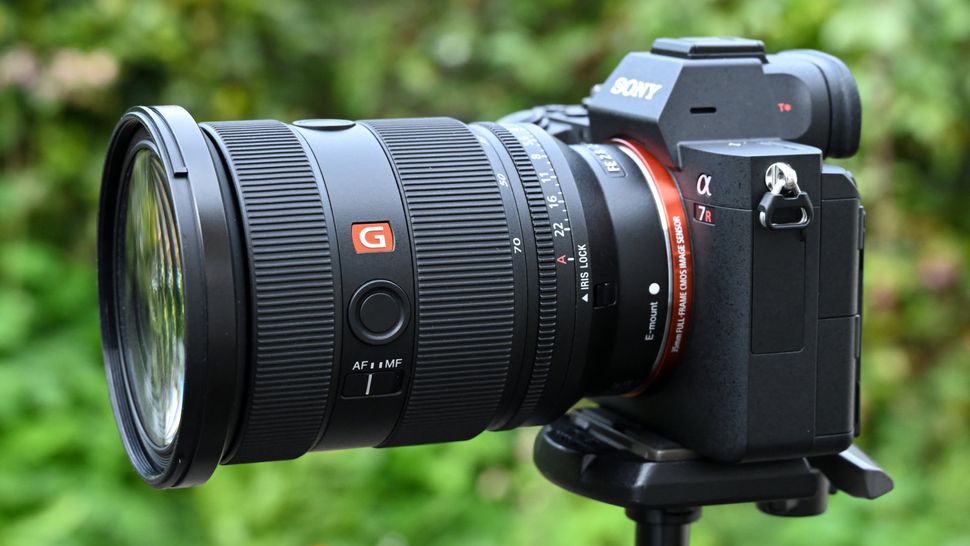 Optical design is naturally a 'key feature' of any pro-grade lens. In this case, the optical layout is completely redesigned from the original version of the lens. The GM II boasts five aspherical elements, including two XA (eXtreme Aspherical) high-precision elements, two ED (Extra-low Dispersion) elements and a further two Super ED elements. Next-generation Nano AR Coating II is applied to minimize ghosting and flare.
True to Sony's claims, the GM II delivers greater sharpness across the entire image frame. In our tests, we found a subtle increase in the already spectacular levels of center-sharpness throughout the entire zoom range, along with a massive improvement in mid/edge-sharpness which holds up especially well even at the widest aperture of f/2.8.

There's also a new floating autofocus focus system, based on no less than four XD (eXtreme Dynamic) linear stepping motors, designed for optimum speed and precision. Indeed continuous focus tracking keeps pace with shooting stills and movies at up to 30fps and 4K 120p, respectively, with compatible cameras.
Read our full Sony FE 24-70mm F2.8 GM II review for more details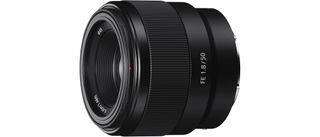 For most serious photographers, a fast 50mm is a must-have lens whether we shoot on full-frame or APS-C format cameras. It's the ideal focal length for a standard perspective on a full-frame body.
While giving a short telephoto field of view on an APS-C camera, ideal for portraiture and more besides. Naturally this Sony lens isn't as fast as an f/1.4 lens that some prefer, but it's wonderfully compact, lightweight and affordable, and delivers very good image quality.
Read our full Sony FE 50mm f/1.8 review for more details
As you can see this list features a vast array of focal lengths, some of them being the best know lenses from Sony, and are perfect if you're looking for the best lens for portraits or looking for the best telephoto for bird photography.
Hopefully, this list would have helped you in some way to make your purchase of some of the best Sony lenses on the market today. If this has been of interest why not take a look at what we think are the best cameras for sports photography, best cameras for wildlife or if filmmaking is how you make your bread and butter, why not take a look at the best 6K and 8K cameras.