Tokina has released its new and updated 2021-2022 lens roadmap but warns that "unstable global supply of the materials and electronic components" could change future release dates.
We first reported on Tokina's planned new lenses back in March 2020, but while Tokina has released two of the new X-mount primes, the rest have yet to arrive. The good news is that they are expected later in 2021.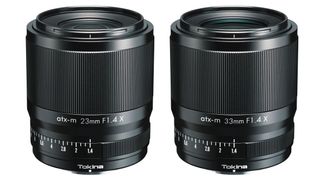 Tokina atx-m prime lenses for Fujifilm
Tokina has already released two of three prime lenses for the Fujifilm X-mount system. The atx-m 23mm F1.4 X and atx-m 33mm F1.4 X are already out, and will be joined by the third lens in this series, the atx-m 56mm F1.4 X in the summer of 2021.
These lenses feature fast and silent STM stepping motor autofocus systems and clickless aperture rings for video work. Fujifilm makes its own F1.4 X-mount primes, but these Tokina lenses are considerably cheaper.
Tokina atx-m prime lenses for Sony
These three lenses are also in development for Sony E APS-C cameras, where the choice of prime lenses is much slimmer. Tokina says the atx-m 23mm F1.4 E, atx-m 33mm F1.4 E and atx-m 56mm F1.4 E are "coming soon" will all arrive in the autumn/fall of 2021.
On top of this, however, are two new 'mystery' APS-C lenses, including an "ultra wide prime lens" and a "standard prime lens", to be available both in Fujifilm X and Sony E mounts in the winter of 2021.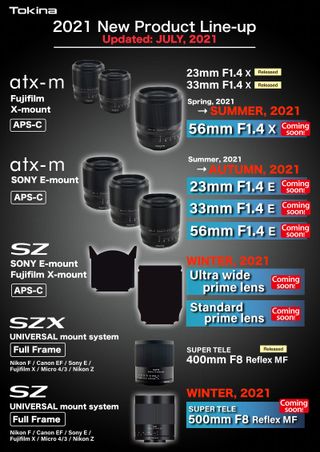 Tokina SZ 500mm F8 MF will arrive winter 2021
Tokina has already released an SZ 400mm F8 MF super-telephoto for full frame and APS-C cameras (it's equivalent to a 600mm F8 on APS-C), but it will soon be joined by an SZ 500mm F8 MF lens.
Like the existing 400mm mirror lens, the new 500mm F8 will use Tokina's 'universal mount system' and will be available for Nikon F, Canon EF, Sony E, Fujifilm X, Micro Four Thirds and Nikon Z.
So-called mirror lenses use an adaptation of telescope designs with a series of mirrors to reflect the light up and down the barrel of the lens for a much shorter, fatter lens design. They do not typically offer the optical quality of a regular telephoto of the same focal length, but are considerably cheaper and lighter.
Read more:
• Best Fujifilm lenses
• Best Sony A6000 lenses
• Best vlogging cameras
• Getting the best out of your Fujifilm camera